Down my way: Charlton Marshall Halt
Hugh Starkey on a relic of the short-lived Bournemouth-Blandford rail connection
Published in February '13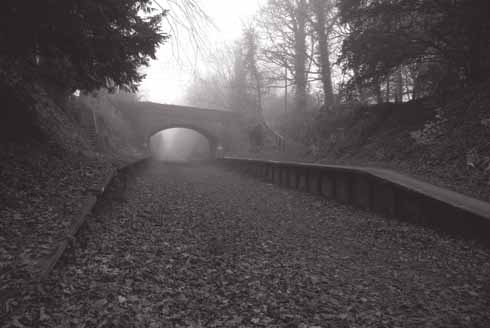 One of the joys of walking on the trailway south of Blandford is the often-misty section of former railway that runs beneath the bridge at Charlton on the Hill in Charlton Marshall. Emerging from the gloom as you approach it from Blandford, the concrete platforms of the halt appear (the missing track and autumn/winter abundant leaf cover notwithstanding) almost unchanged from the 1960s when the line was finally closed.
Both the main image (above) and the small historical image (shown below) are shot from the direction of Spetisbury, where work is underway to restore the equivalent halt and former station (Spetisbury was downgraded).
The reason the trailway exists at all to this side of Blandford is  because the long-ago proposed Charlton Marshall and Spetisbury bypass never got off the ground; the motorist's loss is the cyclists', walkers' and dog-walkers' gain.
Although the halt was only open to passenger traffic between 5 July 1928 and 17 September 1956, one particular passenger class continued to use the station until 1 December 1963. There was a train at the beginning and end of each term from London Waterloo for pupils of Clayesmore school, who would alight at Charlton Marshall Halt.
During its heyday, this section of line was a fast one, with a speed limit – anecdotally often exceeded – of seventy miles per hour, as the halt lies at the nadir of a gradient from both directions. The halt itself was apparently not much liked by footplate staff, owing to its poor lighting and the difficulty in seeing it coming from Blandford until it was too late. This partnered with the fact that the platform could, at best, accommodate the loco, tender and a single carriage.
The Somerset and Dorset Joint Railway ceased to exist on 6 March 1966 – two months after many of the other Beeching casualties, owing to a bus company tender to take over the service being withdrawn.