A lot o' pottery
Paul Burbidge meets Poole Pottery collector Roger Hartley
Published in February '13
Poole Pottery products are nearly as common as running water in Dorset households, but one would struggle to meet anyone whose home is quite as packed with vases, animals and plates as Corfe Mullen enthusiast Roger Hartley.
The qualified accountant and former deputy principal of Newbury College moved to the county fourteen years ago. Although Dorset is hardly short of wildlife, it was not the native fauna, but the Poole factory's stoneware, blue and bone china animals which instantly caught his imagination.
'I probably started collecting pottery forty years ago with traditional vases and so on,' he said. 'I've been collecting the animals for 10 years. We lived in Reading and one day we were down here at Cottee's Auction House in Wareham. There were about 100 lots there, and the bidding went frantic. I wondered: "what's that?". It was a pair of snow buntings and they went for £420. Until that time, I don't think I had seen the animals – blue, stoneware or anything else.'
Nowadays, you would have to go a long way to find an animal Hartley hasn't captured. Last year, he released Poole Pottery Animals, the first definitive guide to everything from the blue dolphins found on many a mantelpiece to the one-off wonders that can sell at auction for four-figure sums. There is also a guide to the potters who brought the Poole animals to life and the processes involved in their creation.
Hartley took eight years to bring the book to publication as he meticulously photographed as many of the animals as possible. Producing the guide was an expensive labour of love as Hartley left no stone unturned to ensure even the rarest pieces, going back as early as the 1900s, were featured.
'I started,' he recalls, 'collecting the early animals (pre-1967). They're expensive, rare and they're hard to find. I have some of them now; it's a starting point. Gradually we can create a full record. There is no other way of doing it. Poole was a factory rather than a record keeper; the only way to tell how many they produced is to see how many come up on the market.'
Becoming a prominent purchaser at auctions, both in person and online, has given Hartley an insight into the Poole Pottery market that few can rival. And it is this insight that has helped him produce guide prices for each of the animals in the collection: 'If you see one piece a year, it's a pretty rare item,' he says. 'If you see one in ten years, it's very rare. Sometimes there is only one. The dolphins, seals and otters were produced in their thousands; they're a fiver each on eBay and you see them every day. People don't know exactly what the range is. Ten years down the road, I do. I rarely see an animal now that I haven't seen before or got. I bought them all to photograph for the book. There are bound to be pieces out there that I don't know about yet. I'm looking, it's a slow process and I don't find many.'
Hartley's book isn't just a glorified insurance guide or auctioneer's catalogue. He is motivated by a keen interest in the people behind Poole's animal masterpieces. 'The two main potters are Barbara Linley-Adams and Tony Morris,' he said. 'Tony started there in the early sixties. He's probably the most famous of all the Poole artists. He's still working today – he's in his 70s now. In 1967, he modelled the dolphin. We think that was one of the first of the blue animal models.
'Tony did some more items and he produced things like the otter with the fish and penguins. He's an ornithologist and one day I asked him 'why didn't you do birds?' He said "Barbara did the birds."
A penguin is a bird, but he managed to get away with those.'
The name Barbara Linley-Adams is synonymous with the Poole animals. She was recruited at a US trade fair in Atlantic City in 1972, by then sales executive Colin Day, and found Poole's clay suited to her detailed sculptures. Her passion for wildlife earned her a place on the executive committee of the Wildlife Artists' Association. Despite retiring in 1983, Barbara continued producing commissions for Poole Pottery from her studio in Budleigh Salterton in Devon, before she passed away following a period of ill health on 26 April, 1995.
'There are people around who worked with her and knew her, and this is how I got my information,' Hartley said. 'She was single. She was engaged at one time to be married to a guy in the Navy, but he got killed. So she remained single and there were no dependants. Barbara's favourite animal was an otter. She moved to Ottery St Mary in East Devon and died in the Royal Devon and Exeter Hospital. She wanted her ashes scattered in the River Otter.'
Even with Poole Pottery adorning every part of Hartley's home from his driveway to his attic, there are always going to be a few pieces that stand head and shoulders above the rest and others with a great story behind them. Here he picks out four of the best: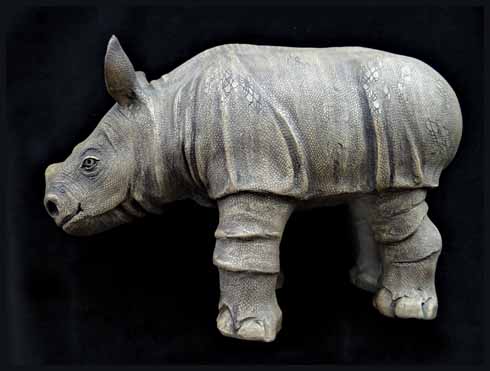 RHINOCEROS CALF – STONEWARE
'This is probably my favourite. Poole asked me to be their valuer in their museum once. I saw it and made them an offer they couldn't refuse. They had a Sotheby's catalogue from when they valued the items a couple of years previously and I said 'I'll pay you double what it's worth.' It was £1,000, so I paid them £2,000. They needed to pay the wages.
The folds in its skin are incredible and the man is a genius. The tooling on this must have taken ages. He threw the legs and body on the wheel and then put it together. There is only one of these, so it's obviously a very limited edition. 'It is initialled Guy Sydenham 'GS', Poole, England. I drove to Portland where he lived and knocked on the door. He came to the door and said "you've got my rhino!" We were mates after that and I met him several times. Sadly he died a few years back, but he was a great man.
It's stoneware clay and it's just prior to Barbara – 1971/72 – just as she started. It proves the clay was around before Barbara.'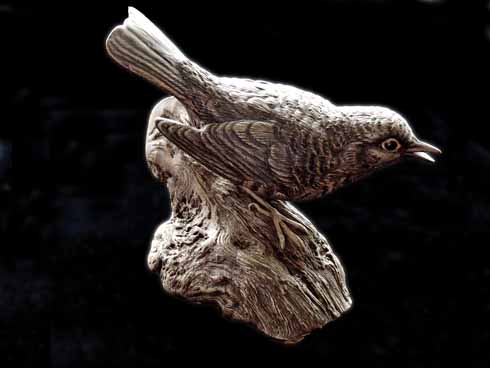 BLACKBIRD – STONEWARE
'This one is very rare. It has its beak open, which is a nice touch. It's on a handmade piece of wood, which is moulded and then curved around. We believe Poole had two windows on the side of their shop and they had displays of these. When you look at it, you'll see the blackbird has come out of a mould. They didn't go to all that trouble just to make one. But I've never seen another one. I guarantee you they won't be on the same base because this one is handmade. The blackbird must exist somewhere.'
Maybe there are 50 of them in Poole, but sat on what? I've never seen one.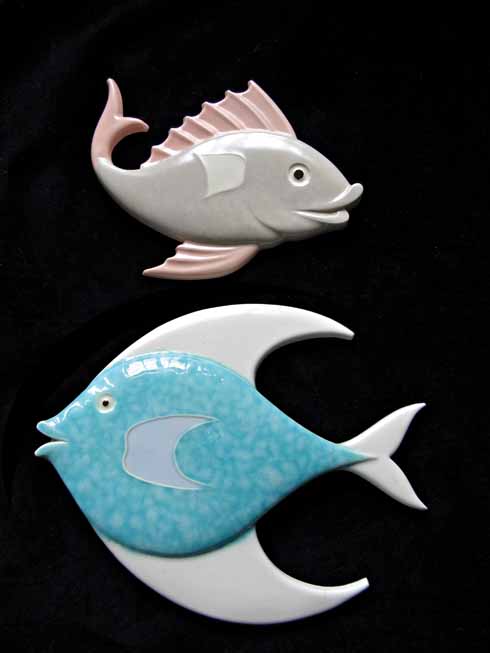 FISH WALL PLAQUES
'The initials are line, dot, line and we don't know who or what that is. It says No.6 on this one and it has to be model No.6. I found one more with a No.5. In which case, there have to be four more. 'This is all part of the investigation for me. When I know there are six different models and I have two, I have to find the other four. It's part of me and what I do. These are early models and could be from any time from 1905 to 1950, before the blue animals.'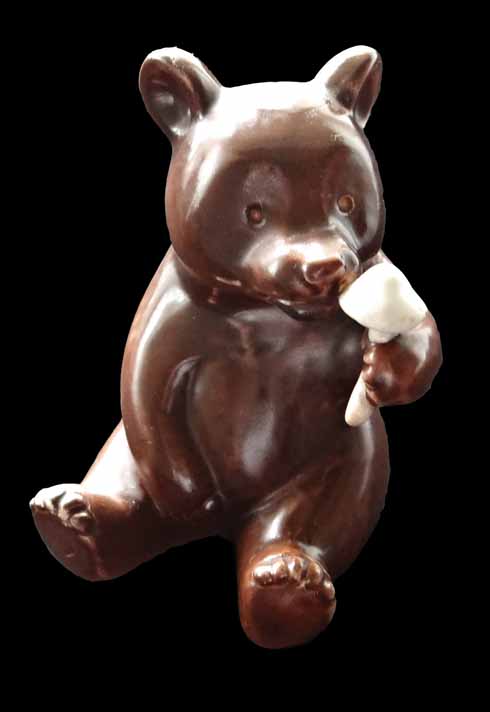 BEAR
'This one is from probably the early fifties. It's pretty solid. I call it the bear with the ice cream, but it's actually a toadstool. It's cute. It could have been a nursery piece, not for someone to play with because it would have broken, but it would have been on a shelf. I've got four of them and there were six made. I'm looking for one standing up with a mushroom and another sitting down. There are four in my book and I've put "picture not available" against the other two. Maybe they will come out of the woodwork.
Signed copies of the self-published Poole Pottery Animals by Roger Hartley (ISBN No.978-0-9571320-0-9) can be ordered via his website at www.animallblues.co.uk, by e-mail to animallblues@hotmail.co.uk or by telephone on 01202 658579.