Viva Iford: Bournemouth's radical Russian printers
Nick Churchill chronicles the incredible story of Bournemouth's radical Russian printing press
Published in September '12
As places in which to foment revolution, Iford and Tuckton are about as unlikely as they get. However, their Edwardian residents included an enclave of radical Russians, exiled dissidents dedicated to the printing and distribution of the works of Tolstoy, which were then banned in their motherland.
They were lead by the wealthy Count Vladimir Tchertkov, the son of a general and childhood friend of Alexander III who ruled Russia as a despot following the assassination of his reformist father in 1881. Having embraced the devout Christian liberalism of his mother the Countess, Tchertkov was already at odds with the Tsarist regime and had resigned his military career in 1879, leaving court to throw himself into the education of the serfs. His first meeting with Tolstoy in 1883 united the two men in moral and religious solidarity as the author of War and Peace and Anna Karenina would later be excommunicated by the Orthodox Church and censored by the State, which took exception to his anti-establishment stance.
By 1897 the authorities had also turned on Tchertkov, who chose to live abroad over internal exile and arrived in England to settle at Tuckton House, where Tolstoy had enjoyed a summer holiday in 1894. His mother, a committed Anglophile, had a holiday home called Slavanka in nearby Belle Vue Road in Southbourne-on-Sea, where it was hoped the apparent healing properties of the local water would improve her health.
Tchertkov brought with him thirty or so other émigrés, mainly middle-class artisans and professionals, who were resolved to publish the works of their mentor. To this end Tchertkov rented the old water works at Iford, built in 1875 as a pumping station by Bournemouth Gas & Water Company, and established the Free Age Press.
By 1900 the colony was organised in line with Tolstoyan principles of domestic simplicity and strict non-violence. It was an otherwise Spartan existence, teetotal and vegetarian, in which personal possessions were discouraged and although the tireless work ethic was anathema to the promotion of Bournemouth as the resort of pleasure and leisure, it soon attracted media attention.
In January 1902 the Daily Mail reported: 'The inmates rise at six o'clock, the majority beginning the day with a sea bathe at Southbourne. At about nine a mouthful of vegetarian food is snatched, followed by work till one when a light vegetarian lunch is eaten. Then work again until seven or eight when the meal of the day is partaken. At this, all members of the community sit down together, no-one serving, no-one acting as servant. The most striking point in the whole Tolstoy gospel is the equality of master and servant.'
Tchertkov liaised with publishers, translators and distributors, smuggling the unexpurgated works to and from Russia. Tolstoy's handwritten manuscripts were stored in a strong room with concrete walls eighteen inches thick – which were lined with firebricks, a steel grille door and a narrow iron-barred slit for ventilation. Considered fireproof, damp-proof and earthquake-proof, when the house was demolished in 1965 it took two workmen a full week to make a 15-inch hole in the wall!
The floors at Tuckton House were left bare but kept fastidiously clean. There were deal (plain softwood) tables and chairs in all rooms and army bedsteads in the sleeping apartments. The print works had roomy departments for compositors, photographers, stereotypes and printers with cases of Russian type lining the walls. It produced more than sixty distinctive, green-bound editions of Tolstoy's essays and thoughts from his diaries and letters such as Where Love Is, There God Is (1900), The Slavery Of Our Time (1900), The Only Means (1901), A Great Iniquity (1905) Patriotism and Government (1907) and A Murderer's Remorse (1909). It also produced a newspaper on very fine rice paper that could be folded in four and sent to Russia as an ordinary letter.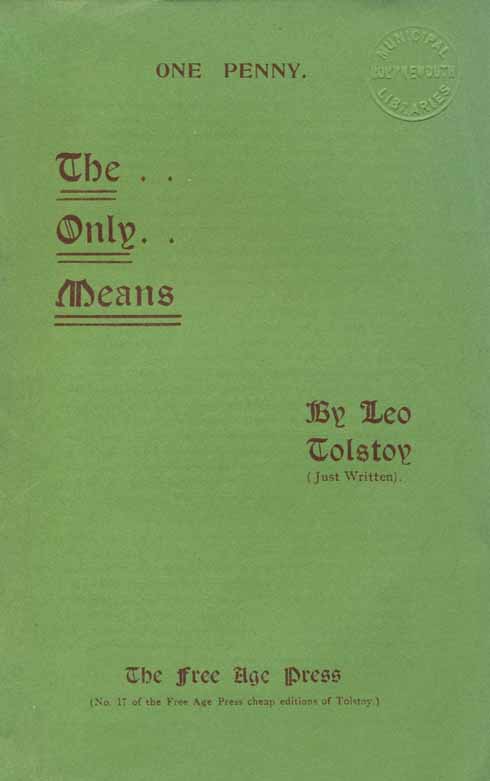 As the Russian colony expanded it also included Poles, Lithuanians, Austrians, Finns, Dutch, Danes, French, Germans and a few English all driven by high-minded concerns. The Free Age Press declared a mission statement that it 'stands for an attempt to assist in spreading those deep convictions in which the noblest spirits of every age and race have united – that man's true aim and happiness is unity in reason and love, the realisation of the brotherhood of all men – and that we must all strive to eradicate, each from himself, those false ideas, false feelings, and false desires, personal, social, religious, economic, which alienate us from one another and produce nine tenths of the sum of human suffering.'
In an interview with the Bournemouth Graphic on 2 February 1905 Tchertkov explained: 'We are witnesses of a struggle for political freedom in Russia, and in that struggle every class is taking part. The people in the past have been content to submit without protest to the authorities, but at last they have begun to speak out and openly protest, and we find them risking their liberty and material advantages for the sake of advancing the cause of the masses.'
Ever earnest, the exiles also involved themselves in the community with Tchertkov promoting progress meetings for consideration of the problems of life in Bournemouth and organising football and cricket teams. He reportedly caused a minor sensation after a football match against Charminster Road Congregational Club by placing a two shilling piece in the collecting box, quite a considerable donation.
Although he had made a short trip back to Russia in 1906, two years later Tchertkov was offered an amnesty by the third Duma (Parliament) following the 1905 Revolution and was free to return permanently and resume his work with Tolstoy, becoming his literary executor following the author's death in 1910.
After 1917 Tolstoy's works found favour with the Bolsheviks and Lenin recalled Tchertkov to Moscow to publish them in chronological order. The manuscripts were shipped to Leningrad (St Petersburg) and in 1940 transferred to the Tolstoy Museum in Moscow. By 1960, the 50th anniversary of Tolstoy's death, all his works had been published in Russia.
Although Tchertkov thrived in Soviet Russia until his death in 1937, his father was executed and his mother stripped of her money, property and possessions. Penniless, she arrived at Slavanka in 1919 and by 1921 had established it as Southbourne Missionary and Conference Centre. A trust was set up to buy the house from the Countess who lived there until her death, aged 90, on 25 January 1922. She is buried in Christchurch cemetery. The house was demolished in 2006 and replaced by Sunrise Senior Living.
The print works was sold in 1918 to Frank Kiddle & Sons, a commercial motor body repair works which produced the first motor car and coach to be built in Bournemouth, and by 1920 most of the émigrés had abandoned Tuckton House. The last tenant was Estonian-born Ludwig Perno who originally joined in 1903, but returned after 1917 having fled the Communists as he remained firmly opposed to all forms of violence. Remembered by locals for playing Russian folk songs on his balalaika, he lived at Tuckton with his wife and daughter from 1922 to 1929 when it was sold to Mrs C Angus who ran it as a nursing home – where babies were born, rather than revolution.
Melita Norwood: The spy who came in from the Co-op
The colony at Tuckton House was a hotbed of differing political opinions and among those questioning Tolstoyism as a path to reform in Tsarist Russia were Marxist sociologist Theodore Rothstein – later instrumental in the formation of the Communist Party of Great Britain – and Alexander Sirnis, the first translator of Lenin's anti-war writings into English.
Sirnis married Gertrude Stedman in 1909. Their daughter Melita was born in 1911 at Tuckton where she grew up with Tolstoy's grandchildren Ilya and Sonia. In 1932, she began work as a secretary at British Non-Ferrous Metals Research Association, which was involved in nuclear research. In 1936 she joined the Communist Party and a year later was recruited as a spy for the NKVD, the forerunner of the KGB, passing secrets to the Russians using the codename Hola. She was considered their most valued British spy for a time and, during Stalin's purges when there were not enough Soviet officers to keep in contact with all their spies, the KGB elected to persist with Melita rather than Kim Philby.
Melita retired in 1972 and despite one last approach by the KGB in 1974, was of no further use. In 1979 she visited Russia with her husband where she was able to collect the Order of the Red Banner she had been awarded in 1958. She also received a KGB pension of £20 a month sent in cash in the post until she told them to stop sending it.
Her espionage was revealed in 1999 in papers brought by Vasili Mitrokhin, the KGB archivist who had defected to the West in 1992. She never regretted her actions, telling The Times: 'It wasn't a major part of my life. What with the washing, shopping – at the Co-op – and the kid, I had other things to worry about.'
She was never prosecuted and returned to suburban obscurity in Bexleyheath where she died in 2005.