On a Wing and a Prayer: Felicity Irwin
Lorraine Gibson meets Felicity Irwin, whose professional fund-raising activities have spanned everything from neo-natal to hospice care
Published in September '12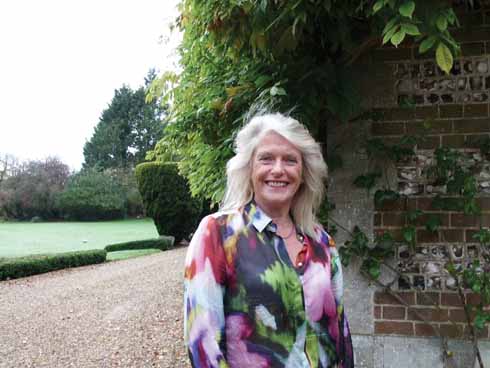 Flying planes, running marathons, wing-walking, sky-diving, endurance-cycling…; this is not a list of pastimes on James Bond's resume, merely a selection of the achievements of one of Dorset's most effective charity fundraisers, Felicity Irwin.
There is not much this intrepid adventurer wouldn't do in the name of a good cause and over the forty or so years she has been involved in securing funds for worthy projects, this hands-on approach has inspired people to dig that bit deeper or go a little further for those in need.
In the last twenty years alone – with the help of others, she is at pains to point out, she has raised in the region of £20 million. A staggering amount, and the results of which can be seen throughout Dorset.
Nowadays Felicity claims to have retired completely from fundraising, although she is not exactly sitting at home twiddling her thumbs. Her tireless can-do attitude is now being channelled into her current roles, including that of chairman of Care South (formerly the Dorset Trust), a local, not-for-profit organisation which provides residential and home care for all ages, and with whom she has been involved for the last 21 years. Then there is her job of assistant to Her Majesty's Lord Lieutenant of Dorset, Mrs Anthony Pitt-Rivers, which she describes as a
real honour.
Based in Stanbridge, in Wimborne, where she has lived, with her husband and family, in the same charming Victorian home for 25 years, Felicity has three grown-up daughters and is now relishing her other important role, that of devoting time to her four grandchildren.
Today, working with Care South, she is mainly addressing the issues of older people, but Felicity's fundraising career really began with children. 'I spotted an advert for the NSPCC in the Bournemouth Echo. They were looking for a local fundraiser. My children were a bit older and I wanted to do something useful, so I applied for the job, not sure if I was the sort of person they were looking for,' she says. 'The interview was held in London and I was amazed when I turned up and was told that I was the only person who'd applied. I have to say, I was ashamed for society that day. I got the job. It was tremendously enjoyable, especially as it involved going into schools and talking to the children, which was very rewarding because they were all so incredibly receptive and enthusiastic.'
Then she was chairman of the Great Ormond Street's 'Light up a Life' campaign, which turned out to be a huge success. 'I've done lots of campaigns over the years, but I believe the key to any successful fundraising, whatever the charity, is to make it fun,' Felicity says. 'People do things more readily if they are enjoying themselves.'
She has served as a Justice of the Peace, Chairman of the Wessex branch of the Institute of Directors, Relate marriage guidance, Dorset Conciliation and has acted as Governor of Bournemouth University, Poole Grammar School and Dumpton School.
At one time she was also a regional executive for Television South. 'The day we lost the franchise for TV South was really so sad. However, just as I was sitting absorbing the news that we'd lost it, two guys came into the office and asked if I would be interested in fundraising for MacMillan'. She jumped at the chance and, before she knew it, she was involved in generating funds to build Forest Holme, the hospice and specialist palliative care unit in Poole which aims to enhance the quality of life of patients with cancer and other life-limiting illnesses.
Her last (or rather most recent) project was spearheading a move to raise £4 million to save the legendary Vulcan XH558, an aircraft with a special place in her heart. 'I was born in New Zealand and I have very fond memories of the Vulcan flying out to open Wellington airport when I was a child, so when I heard that the last one was due to be scrapped, I knew I had to act,' Felicity explains.
She discovered that the aircraft had been languishing in a hangar in Leicestershire since she retired from flight in 1993 and began drumming up interest. 'I travelled round local villages and sent out mailshots asking everyone I could to donate £1. They did, and 60,000 replies were mailed back to me, all with £1 coins taped to them. Our postman was very understanding!'
Despite the overwhelming response, Felicity felt something even more dramatic was required to highlight the plight of the historic plane, so she embarked on a series of activities of the aviatrix kind. 'The wing walking with the Utterly Butterly team was a stunt to promote the Return to the Sky initiative to restore XH558. I flew on the wings to open the Royal International Air Tattoo at Fairford, Gloucestershire in 2002.
'I was followed by a plane trailing a banner which said 'Support Vulcan to the Sky'. It was a truly awesome experience, both frightening and totally exhilarating at the same time, standing above the propeller in the open air; at times just a few hundred feet above people's gardens. Truly amazing and an opportunity I feel honoured to have been allowed to undertake.
'The skydive, beginning in freefall V formation, was in support of 'Vulcan to the Sky' as well as Starlight, the children's charity. It too was awesome and to jump with the Red Devils was again a once in a lifetime treasured experience.'
And so, the Vulcan was saved and is now a star attraction at air shows across the country.
And Felicity? Well, she is free to hang up her fundraising flags for good . . . or perhaps just for now.