Shaftesbury: in the footsteps of Treves
Steve White and Clive Hannay follow Sir Frederick to 'Shaston'
Published in August '12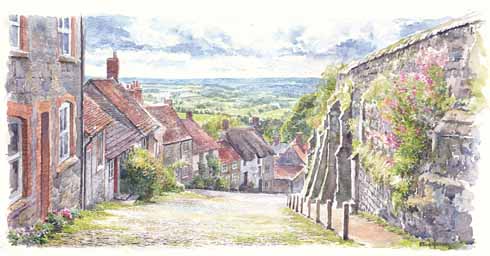 In 1906, Sir Frederick Treves began his book; Highways and Byways in Dorset, with Shaftesbury. Even a casual reader would quickly establish that the author was very fond of this town: 'The Shaftesbury of to-day,' says Treves, 'is a bright, pleasant, and healthy town, perched on the bluff end of a ridge. Viewed from afar off it is not imposing. From the North there is little to be seen of the place except the belfry of Trinity Church and the chimney of the gas works…The best sight of Shaftesbury is from Melbury Hill on the South. From this height it appears as a steep green ridge capped on the sky line by red-roofed houses and church towers and by comfortable clumps of trees'.
The view from Melbury Hill is spectacular, maybe a few more roofs can be seen, but distance reduces the impact of modernity. The gas works chimney has long gone, 'Shaftesbury Gas and Coke Works' was set up in 1837 at 19 Bimport and provided gas for the town streetlamps. The belfry of Trinity Church, now redundant and used as a community centre, still stands sentinel over this part of the town.
Treves now focuses on the houses of Shaftesbury: 'Most of the houses, of stone and red brick, cling to that austere simplicity of design which marks the habitation a child draws on a slate—a thing of four symmetrical windows, a central door, and two chimneys giving forth a curling smoke. There are, moreover, modern villas which would not disgrace the suburbs of Stratford-by-Bow.' One imagines that, thanks to the efforts of the Luftwaffe, the GLC and the London Organising Committee of the Olympic Games, there are probably more Edwardian villas still extant in Shaftesbury than in Stratford-by-Bow. Treves, meanwhile, continues: 'There will be found, on the other hand, dignified old houses with stone-mullioned windows, moss-covered walls crowned by apple blossom, lanes with brown-thatched cottages where a path of cobble stones leads through a garden to a porch of honeysuckle. Here and there are houses so low that any who will can look in at the bedroom windows, and houses which are so askew with age and so twisted and deformed that they might have been shaken by an earthquake.'
Shaftesbury has an interesting mix of houses nowadays and examples of all types mentioned by Treves are still to be found. St James's Street, at the bottom of Gold Hill is predominately older buildings for its entire length; aside from the metalled road it must be much as it was a hundred years ago with three notable exceptions: two houses and a bungalow unsympathetically built during the unenlightened late 1950s and early 1960s, which really upset the balance. This occurs throughout Shaftesbury: very modern sits cheek by jowl with very old; unfortunately this mix does not always work, but at least there are still old buildings to admire. Treves, who was particularly vociferous about the 'red-brick cancer' that was beginning to take over parts of Dorset in his day, would be distressed if he could see the new housing estate being built on the Salisbury Road: completely red brick houses that fit his stereotype of a house which a child would draw.
'The names of the streets recall the history of the old city,' Treves continues. 'There are "Commons" and "Parson's Pool, Angel Lane," where was a tavern of that name for pilgrims, and Bell Street, which owned a like inn, "The Bell"; Magdalen's Almshouse or Dolhouse, of unknown antiquity; and Bymport, which was the Bind Port of the time of Edward IV.'
The Commons, Parson's Pool, Angel Lane, Bell Lane and Bimport still exist. Some have seen radical change – it would be interesting to read what Treves would have written had he seen the supermarket and associated car park, which sits just off Bell Lane between the Commons and Parson's Pool.
Treves now visits Gold Hill. 'It is a cobbled way, slow to climb, at the summit of which are the not unpicturesque Town Hall, the crumbling Church of St Peter's, and the "Sun and Moon" Inn. On the right of the lane are thatched and tiled cottages, placed on the steps so as to obtain a sure foothold. On the left is a very ancient wall of grey-green stone. It is an embankment wall that centuries ago kept level the Abbey garden. It is supported by enormous straining buttresses. The foot of each is planted aslant on the paved slope; the shoulders of each lean back with fearful effort towards the line of houses on the ridge'. Gold Hill, darling of countless Dorset calendars and justifiably famous for both its beauty and its wonderful views can hardly have changed at all. Most roads around Dorset were tracks when Treves cycled this way, Gold Hill was and still is cobbled. The Sun and Moon Inn closed many years ago, its wrought iron bracket that would have held the inn's sign is still in situ. It is now a shop selling beads, while the building itself is called Sun and Moon Cottage. Unusually it is built directly onto the church suggesting that it, or its predecessor, was originally built for ecclesiastical use, probably as a priest's house. There is a blocked door in the cottage which once gave access to the church and upstairs is a small window which would have given a direct view into the church. Part of the cottage once served as a 'doss house'; in fact the 1911 census shows that there were several doss houses in Gold Hill. Treves' mention of the inn by name is unusual; normally he doesn't name them. This could be because he stopped for refreshment here, or he may have stayed at the inn – he makes reference to how Shaftesbury looked both at night and in the early morning, so he certainly stayed somewhere.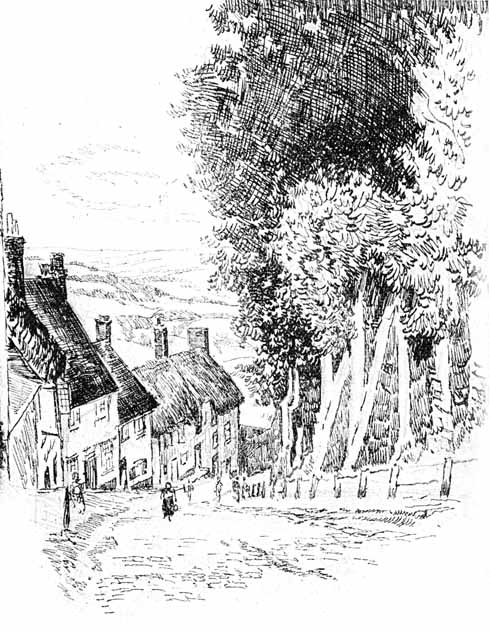 Always interested in churches, Treves now looks, somewhat scathingly, at St Peter's. 'The ancient church of St Peter's is the most conspicuous object in the High Street. Faded and pitiably senile, its stone is corroded by centuries of keen wind and biting rain, while its tottering doorway and porch stand by the church as emblems of venerable poverty…. Yet it has a noble tower, carrying six bells, on one of which still run the lines placed there in 1672:– "When you hear me tole, Then pray to God to save the soul." It has a rich embattled parapet, glorious with carvings in stone of the portcullises, pomegranates, and roses of the time of Henry VIII. The roses are woefully faded, but on the mouldy sill of one of the tower windows is a sympathetic wall-flower in generous bloom.'
What Treves saw back then was a near-derelict church; it is satisfying to be able to tell of an improvement, rather than things changing for the worse. There is an interesting story here as, in 1955, the church – part of which had been used as a grain store during World War 2, was deemed in need of help and work appears to have been carried out. Nevertheless, by 1971, the church was declared redundant. A group called the Friends of St Peter's, with help from the Redundant Churches Trust, restored the building and – most unusually – the church was rededicated in 1977. St Peter's, according to the church's walk-round guide, is the first church in the country to have been returned to being a full-time parish church after havng become redundant; for this to appen, the authority of the Crown was required. The church, restored and improved again between 2000 and 2007, is certainly appealing and worth a visit. It retains its full set of six bells; re-hung in 1926 – the bell Treves mentions being the oldest.
Further proof that Treves was enchanted by Shaftesbury comes in his next paragraph; 'On the southern edge of the ridge is a delightful wooded walk, called Park Walk, from which extends a view unsurpassed by few in England. This meditative avenue is on the very edge of the height, and is said to have been a walk in the Abbey Park…The view from the Abbey terrace is across a vast, verdant, undulating valley of the richest pasture land – a plain without a level stretch in it. It ever rolls away into shallow valley and low hill, with now and then a wooded height or the glittering track of a stream.'
The view from Park Walk, just a stone's throw from Gold Hill, is breathtaking. Standing here it is apparent why Treves was so fond of this place.
The entrance to the Abbey gardens and ruins can be found here too, but this must come after a pause to take in the sublime view. Like many Dorset towns and villages, Shaftesbury has seen many changes in the last hundred years, but Treves would probably admit that the most impressive parts of the town still remain.
• Thanks to Ruth at 'Beadster' and the other people of Shaftesbury who helped with researching this article.