Roger Guttridge – A Dorset Life For Me
By Roger Guttridge. The illustration is by Becky Unwin
Published in August '12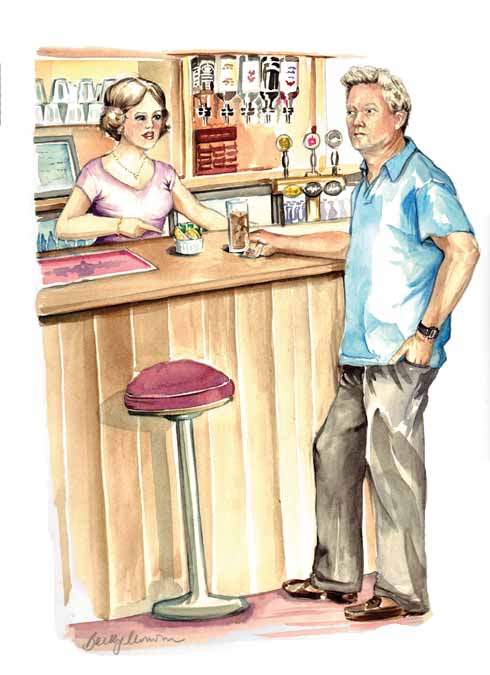 To ignore, or not to ignore, that is the question: whether 'tis nobler to mention the slings and arrows of the home Olympics that are about to unfold or to pretend they're not happening, as some non-sporting types would possibly prefer.
I took my wife to the pub to mull it over. Not just any pub but Gulliver's Tavern at Kinson, to whose unexpected link to Olympic history I will return shortly. What happened next was like an excerpt from the Two Ronnies' famous Fork 'andles sketch.
'A Coke and a bitter lemon, please,' I said to the barmaid.
She poured the Coke and placed a pot of sliced lemon next to it.
'Is that all?' she said, implying that as there were two of us we might at least have ordered two drinks.
'And a bitter lemon, please,' I repeated.
Puzzled if not mildly irritated, the female Ronnie impersonator pointed to the pot of sliced lemon on the bar.
'No, not a "bit o' lemon" but a "bitter lemon". It's a drink,' I said, adding a thin slice of sarcasm.
'We don't have that,' she replied.
As I ordered an alternative option, a fellow muttered 'They only get hardened drinkers in 'ere.'
Those drinkers probably once included the man who gave the former Dolphin its current name – the smuggler Isaac Gulliver. Unless he was the landlord, of course. There are some who think he may have been, and he certainly owned property aplenty in Kinson and Longham around 230 years ago.
If smuggling had been an Olympic sport, Isaac would have won gold medals, but it wasn't the Gulliver connection from which I was seeking inspiration. My quarry on this occasion was a proper Olympian – Britain's very first Olympic track and field champion, in fact.
Charles Bennett, born at Shapwick, near Wimborne, in 1870, returned from the 1900 Paris Olympics with two world records and three medals after coming first in the 1500 metres and 5000 metres relay and second in the 4000 metres steeplechase. His son, Reg, told me some years ago that Charles was carried shoulder-high through the streets of Wimborne after one of his triumphs. Yet the hero of 1900 was largely forgotten until a member of Wimborne Athletics Club did some digging about twenty years ago. Then, in 2000, as the Sydney Olympics got underway, the 100th anniversary of Bennett's Paris triumph was commemorated by the Charles Bennett Mile, a star-studded road race in his native Shapwick.
We also know that Bennett worked as an engine driver at Bournemouth Central Station and that from 1903 to 1918 he was landlord of the Dolphin at Kinson – hence my visit to the renamed pub. Scouring the walls of Gulliver's Tavern, I saw old pictures of cricketers, huntsmen, fish, ducks, sailing ships and even, to my slight amusement, a framed page from my 1984-published book Dorset Smugglers (page 41, for those interested in detail). But not a mention of the former landlord who once made sporting history for Great Britain.
Which is a shame. Still, at least they know how to slice a bit o' lemon.
Animal obituaries are usually reserved for champion racehorses, canine heroes and zoo celebrities. Not this one. I am sad to report that Woodland Robin, the subject of this column in the April 2012 issue, has gone to that great robin nest in the sky.
This cleverest of little birds was at his busiest, visiting many times a day to collect bundles of three, four or five mealworms for his hungry brood in the wood opposite my house. As he has done for the last two-and-a-half years, he would sit on the telephone wire outside my first floor office window to request food, perch outside the living room window if I was not in the office or fly straight at us to attract attention as we opened the front door.
The sparrowhawk flew low and fast through the gardens, striking with surprise like a fighter plane coming out of the sun. Woodland Robin didn't stand a chance. He probably didn't see what hit him, but sadly my wife did. It was all over in a moment and the splash of robin red she saw in the predator's talons offered a literal illustration of that most familiar of wildlife clichés: 'Nature – red in tooth and claw.'
'That's just nature's way,' people told us. 'He has probably fed a nestling sparrowhawk.'
We know that, of course, but it was still distressing to lose a feathered friend who had become as precious as any pet – a creature who was endearingly cheeky, endlessly resourceful and displayed almost total trust in us from the outset.
The sight of his more timid mate looking for him was hard to watch but she soon became more purposeful and increasingly willing to accept our mealworm offerings, ferrying them by the beak-load to her one-parent family. Perhaps she could have fledged her brood unaided but we certainly made it easier for her.