Dorset Garden: 54 Lonnen Road, Colehill
Chris Shaw and Colin Varndell visit a triple-terraced garden to the north of Wimborne
Published in May '12
It is an Alice-in-Wonderland experience, going through a narrow entrance at the side of a small bungalow and emerging into a dramatic and totally unexpected world of colour spread out below. Jenny Parr and Malcolm Case moved here in 2001, when the garden at No 54 was just a steep slope to the bottom of the hillside.  They immediately decided to terrace the land, taking two years to plan and lay it out. Since then the garden has been maturing beautifully with an amazing collection of plants.
The highest of the three terraces provides a sitting out area with a view over the remainder of the garden. Although the garden had only been open a matter of minutes when I arrived visitors had already settled into chairs, cups of tea at the ready, content to rest in the sun and enjoy a bird's eye view. The terrace is packed with colour, including heuchera banked around a small ginkgo with its pretty fan-shaped leaves. At the top of steps leading down to the middle terrace, massed pots brim with summer colour including chocolate cosmos and nemesia.
The upper terrace is edged with decorative balustrading which has almost totally disappeared beneath climbers. There are several clematis, which contrast not only in colour but also in flower shape. The small, flat deep mauve and cream flowers of Clematis viticella 'Minuet' mingle with the satiny red tulip cups of C. texensis 'Gravetye Beauty'; twisted petals of deep violet C. 'Petit Faucon' share their space with the large-flowering sky blue C. 'Perle D'Azur'. This is a vibrant colour mix, rampaging through other greenery as though searching for yet another terrace to scale.
The middle terrace is narrow, but wide enough to contain a circular box parterre of vegetables. A small lily pond sits to one side, fronting a decorative timber shelter with seat. The retaining wall to the top terrace is completely disguised by a wall of bamboo, several species of which were for sale on the plant stall laid out below. The pond is surrounded by massed hostas, astilbe, grasses and ferns. There is a wilderness feel about this area, a narrow path circling the pond to reach the shelter which is well covered by variegated ivy and clematis.
In total contrast, the other side of this terrace contains a small greenhouse. The cool greens of pond plants and hostas give way to the tropics. A mature palm tree obviously survives the winters, but Malcolm told me that the surrounding canna lilies are taken inside once the summer is over. The garden, particularly at lower level, can be a frost pocket. Another one for winter protection is the Chinese yellow banana, Musa lasiocarpa, its wide green leaves providing a good foil for an explosion of colour provided by the dahlias. There are small single flowers with shocking pink petals and bright yellow centres as well as huge shaggy heads of salmon and cream. Vibrant orange lilies tower above it all, their showy flowers contrasting with the small purple flowers of stiff-stemmed Verbena bonariensis.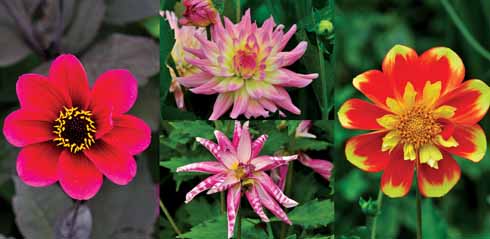 An explosion of colour is provided by the dahlias, clockwise from left: 'Roxy', 'Gypsy', 'Pooh' and 'Pink Giraffe'
A one-way system was in operation as I circled the parterre and went carefully down stone steps to the main part of the garden.  The large central lawn was partly covered by a wide selection of plants for sale and Jenny was on hand to advise and pack. A percentage of plant sales was to be included in the takings for the National Gardens Scheme and is a way of boosting the overall profit for the many charities that benefit from gardens open to the public. Nevertheless it is extra work and I imagined the couple must have been busily potting up for some considerable time. Nearby, a handily sited slate board is headed 'Jobs to do in the garden'. It was blank: impressive!
The planting scheme throughout this garden comprises collections, adding impact with sheer volume. A clump of orange day lilies rubs shoulders with primrose-yellow sisyrinchiums; tall spires of dark-stemmed ligularia back tradescantia in deep purple and paler blue. The soil here is just on the acid side of neutral, so there are camellias filling in the background with their glossy foliage. Smaller hardy geraniums edge the grass and, where plants threaten to overflow, small fence panels of rustic twigs are used to keep them back. It is such a simple idea and one that is simple to steal for use in one's own garden.
Hydrangeas and other small shrubs pack out the border, with heucheras 'Georgia Peach' and 'Southern Comfort' tucked in for a splash of colour at low level. There are clumps of astrantias, iris, geum and phlox, with more clematis on the fence. A green hanging basket stand positioned mid-border disappears into the foliage, leaving colourful fuchsias displayed at eye-level.
Continuing the bright theme of the tropical mid-terrace, the lower garden has a fireworks corner where sunshine yellow daisies and scarlet roses combine with dahlias and a large hibiscus. There are several fruit trees in this border, dark pittosporum, variegated holly and a magnolia, with spires of lilies and delphiniums in between. Yet more clematis – 'Hagley Hybrid', 'Vyvyan Pennell' and 'Josephine' – scramble in the background. Achillea grows tall through the lower branches of the pear tree and colourful Sweet Williams are massed beneath. Several grey/blue sea hollies are an interesting contrast with their spiny leaves and structured shapes.
This unusual garden takes an unexpected turn towards the end, where low box hedges lead through to a soft fruit area beneath mature trees. A small culverted stream runs through, even the far bank given thought and planted in wilder fashion where it rises to the fields beyond. Gooseberries, currants and raspberries; beetroot and onions; a lovely old urn of fuchsias: there are clever touches everywhere. The garden shed, disappearing rapidly under variegated ivy, has a collection of old watering cans and garden implements on its far side. You need to be at the bottom of the garden looking back to appreciate the display. Beneath an apple tree, one final plant collection of different sizes and colours: hostas 'Dorset Blue' and 'Cherry Berry'; 'Limey Lisa' and 'Cracker Crumbs'; 'Fire and Ice' and 'White Christmas'; and, not to be put in the shade, tiny 'Cat's Eyes'.
• The garden at 54 Lonnen Road is one of many that can be found in the National Gardens Scheme Yellow Book. All are well worth visiting.  Open gardens are not necessarily the same year after year, though, so do check that your journey will not be wasted.
Pick a climber
Adding another dimension to the garden by using climbers is a planting ploy that has been cleverly exploited by Jenny and Malcolm. Clematis are ideal because they can be grown in so many situations: on walls and fences, up obelisks and tripods, in containers or scrambling through shrubs and trees so that when one has finished flowering, the other begins. Generally they like their roots in the shade and their heads in the sun, so tuck them in among other plants. There is a wide variety of colour, shape and form. The large-flowered clematis are always spectacular, old favourites like pink and white C. 'Nelly Moser' or vibrant blue C. 'The President'. The viticella forms have much smaller flowers but masses of them, as do some clematis with tulip-shaped or bell-shaped flowers.
Once a position has been chosen, your clematis will benefit from a slow release fertiliser added to the soil when planting. Clematis also have a high potash requirement. To get the best out of them, use liquid tomato fertiliser watered in weekly throughout the growing season. It won't be long until you are adding more and more of these beautiful climbers to your planting scheme. Don't be afraid to use two or three through the same support, planning an extended flowering season as well as a good mix of colour. It is an eye-catching deep red. Clematis can also be used as ground cover, pegging the stems down with bent wires every so often to prevent them being tangled by the wind. C. viticella 'Abundance' and C. v. 'Etoile Violette' work well used in this way.
Imaginative use of height and colour can only add to the beauty of your garden and enhance your enjoyment of it.