Christchurch's MTBs: What happened to the wartime craft
Roger Rudman explains what happened to the Motor Torpedo Boats which were once plentiful on the rivers Stour and Avon at Christchurch
Published in May '12
"]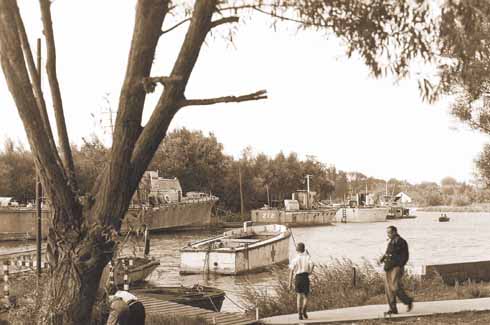 Royal Navy boats were quite a feature just after the war, lining the river banks and being used as houseboats. I have fond memories of them as, had they not been there, I would have run up the river banks in my sailing dinghy and got stuck on the mud; they were useful pin cushions for me in those early days.
There have been ex-Ministry of Defence boats around the rivers at Christchurch for many years; way back in the early 1930s an old, 50ft American motor launch was said to be used by the local Sea Scouts for camping on. Going back even further, in the 1920s, there was a barge known as Derhams Tea Boat and the Delsia, another popular Tea Boat run by the Stride family up to 1940. Some of the MOD boats were actually built in Christchurch, at Elkins Boat Yard during the war, mostly harbour patrol boats. As a consequence the boat yard had installed the first riverside petrol pump in the country.
These old boats had many uses after World War 2, because of the acute housing shortage in the town at that time, some were used for accommodation purposes (ie converted into houseboats) and others used as headquarters for local sailing clubs. One such craft, a 72-foot MTB called Sea Vixen was used by Highcliffe Sailing Club as their headquarters.
Motor Torpedo Boat (MTB) was the name given to fast torpedo boats by the Royal Navy, and the Royal Canadian Navy. MTBs were designed for high speed, operating at night, low speed ambush (keeping noise levels low and not producing a wake) and manoeuvrability on the water; this was to enable them to get close enough to launch their torpedoes at enemy vessels. With next to no armour, the boats relied upon surprise and their agility at high speed to avoid being hit by gunfire from bigger ships.
Vosper Co of Portsmouth, established in 1871 to repair and refit naval ships at their base in Camber dockyard, were the main builders of these craft from 1930 when they began building high-speed naval craft. In 1936 they went public – Vosper Ltd – and moved to Porchester where they built Sir Malcolm Campbell's water-speed-record-breaking Bluebird k4, which reached 141.74mph in 1939.
One of the few survivors today and the only one seaworthy is MTB 102. She was designed by Commander Peter Du Cane CBE (then Managing Director of Vosper Ltd), in 1936. She was completed and launched in 1937. When she was purchased by the Admiralty and brought into service she was called MTB 102. She was on hand for the Dunkirk evacuation, and in 1944 she carried Winston Churchill and General Eisenhower on their review of the ships assembled on the south coast for the D-Day landings, thus seeing the desperate evacuation of troops from Europe and their determined return.
At the end of the war, like most other small naval craft, she was sold off and converted into a private motor cruiser. She was later refurbished by Kelso Films and used for their 1976 film The Eagle Has Landed starring Michael Caine. After filming she was returned as a fully operational sea going vessel. Years later, the MTB 102 Trust was set up to obtain major sponsorship and finance to keep this unique vessel operating for as long as possible.
John Cutler, who still lives in Bournemouth, together with his brother Maurice, were responsible for towing several of the old naval boats from the river Stour. John, who has spent all his life in the boat industry, starting as a fourteen year old in 1941 working for Bolson's Boat Yard (then Skylark Boat Yard). But he found that cycling to Poole from Moordown and trying to get to Lansdowne College in the evening to study was not on. So he left his job and joined Vickers Armstrong – which was known as the Whitehead Torpedo Co. of Weymouth – as an apprentice toolmaker. The building was to the rear of the Palace Court Hotel (now the Premier Inn). He remembers going to watch Spitfires in combat in his lunch breaks from the cliffs. There was no going on the beach in those days as they were all sealed off with barbed wire and girders to prevent tanks from landing, and as most locals will remember, both piers were blown up by the army to prevent enemy landings.
In 1961 the river authorities decided that the discharge of sewage into the river from old boats was unacceptable, and the owners were given orders to move; John Cutler and his brother were asked by some of the boat owners to tow them away. Two of the boats, which were named Black Tarpon and Calypso (on which John met his wife Delia), were towed to Cobbs Quay in Poole Harbour, which was the shortest of all the journeys. The 52-foot sailing boat Pinnace, ended up on the end of a creek at South Hayling. The boats were towed stern first in restricted waters, as apparently it was easier to control them when coming into a harbour, otherwise they were towed at sea on a very long line – bow first.
Large numbers of these boats were destroyed. The owners would lay sheets of steel on the sandbanks and when the tide came in the boats were floated over the steel on which the boats came to rest as the tide receded. Once the boats were on the steel sheets, the owners could then burn them and retrieve the brass and bronze to sell off.
Moored in front of Calypso was an MTB called Skyliner which was too rotten to move, so John and Maurice pulled it apart bit by bit with a monkey wrench chained to a tree on the bank. Then they burnt it and salvaged the metals. John remembers a freshwater eel being trapped in the muddy hull so they caught it and fried it on board their boat, the Taurus de la Mer – a 45-foot converted ex-Admiralty Picket Boat moored further up the river.
In 1958 Delia, her sister and parents bought the MTB called Calypso at (what was then called) Riverlands Estate, Wick Lane, Southbourne. This was the Bournemouth side of the river Stour. They lived on board so that the two sisters could go to local schools. It was lovely in fine summer weather, as was being able to mess about in the boats including a twelve-foot National sailing dinghy, but the winter weather was cold, damp, rough when windy and very unpleasant. With condensation and a deck that always seemed to leak, however much their Dad tried to repair it, it was no fun. The electric power came from a generator, which John sometimes helped Delia's Dad keep going, and there was a coal stove to cook and heat the cabins. Drinking water was a tap on the riverbank which froze solid in winter. They later bought a chalet further down river with water frontage on which to moor Calypso; they called it 'Runnymede'. With the help of the tide Calypso was towed/drifted down river to its new mooring with the aid of a small, motorised dinghy.
John's longest journey was to Toughs' boatyard at Teddington Lock, which took quite a few days because the weather took a turn for the worst. One scary episode with this boat was because, although she was being towed, she had a single engine running. It was somewhere near Beachy Head at night that John went to check on the engine and he saw the manifold was glowing red hot. So he eased off the revs to lessen the load and this improved things. The boat also came adrift at some point but the MTB named '208' was finally delivered in one piece to its new owner. The final boat, Blue Corral was taken to Chichester harbour in 1962, but en-route came close to colliding with the Royal Yacht Britannia; Blue Corral eventually missed her by about ten feet, and was finally delivered – unharmed – to her new owner. Some of these boats have been seen at Langston Harbour, Littlehampton and around the Solent by Cobden Bridge (Southampton) and Bembridge (Isle of Wight).
Most of the boats which once peppered the South coast's waterways are rotten or destroyed, many of those that survived were taken to a new life by John and Maurice Cutler, but there was a post-war period when, after their valiant service, the MTBs enjoyed a rather splendid retirement.
Richard Basey spearheads the MTB102 Trust in Wroxham. He can be contacted by email on mtb102trust@btconnect.com; the trust's website is www.mtb102.com