Making scents of Dorset
Peter Doots takes an olfactory journey round the county and through the seasons in rhyme
Published in April '12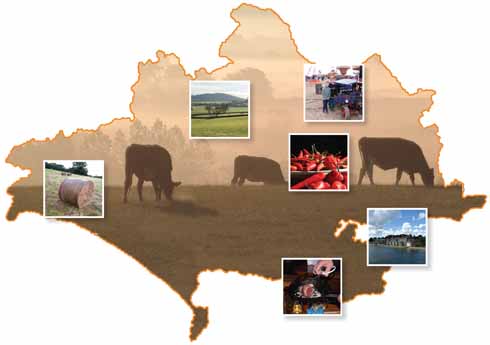 Misty morning, trees half seen,
Rooks depart on lazy wing;
Duncliffe welcomes early spring
Blanketed with fresh-grown green
Garlic smells drift in the air–
Sharper than Italian food–
Growing stronger as the wood
Warms in sunlight, scents to share.
Weeks away yet from the sweet
Hyacinth and bluebell tones.
Brownsea Island's nascent cones.
Squirrels pine for seeds to eat
On the heath in salty air
Bracken, birch and bloomless gorse
Alder carr and watercourse.
No more rhododendron there,
Nor by the A31–
Where the smell is more intense–
Heady whiffs of raw incense:
Papaver Somniferum
Medical, you understand,
Grown for treating chronic pain,
Scenting Charborough in the rain;
Opium on MP's land
Cross the county, summer's here:
Fish and chips at West Bay quay,
Piscine bounty from the sea,
Salt and vinegar and beer
Kelp and seaweed, steam trains too,
Candy floss in Swanage sun,
Parents slop the sun cream on.
Wafts of Studland barbecues
Blend with damp but happy dog;
Naturists and horses mix,
Oysters, ice cream, lip-salve sticks,
Passing ferry, diesel fug.
Hotter, hotter, hotter still
Kingston Lacy is the place
Naga eater's tear-lined face
At the Chilli festival
Skip to Tarrant Hinton now
Traction engine, Ferris wheel
Fresh-sawn wood and heated steel
Sun-baked hill and fire-box glow.
Harvest time and just-cut hay
Not the May-cut silage sweet
Just an aromatic treat.
Autumn's rains: damp earth and clay
Hedgerow pickings – fruit and sloes –
Purple fingers, apple pies
Cider pressing. Wintry skies
Fewer scents and runny nose.
Nasal journey near complete
Wareham's pubs and its Court Leet
Beer and bread and frying meat
Standards checked… and guts replete.