A life in three acts
North Dorset's Charlie Waite is an internationally renowned landscape photographer. Katie Carpenter went to meet him.
Published in February '12
Charlie Waite's life has twice changed on the threshold of a house. The second time was when he visited a mill near Gillingham in 1984, and the father of the then owner (composer Peter Maxwell Davies) said simply: 'You'll have this place.'
He was right, and Charlie and his wife Jess have irrevocably settled into the North Dorset countryside with a host of dogs and between twenty and a hundred and fifty ducks.
Charlie wasn't, by his own admission, the most academic of pupils, but when it came to handicrafts  – or indeed anything where there was something to show for the work put in – he was much more interested. Charlie's father was Air Commodore Reginald (Rex) Waite – the man who came up with the idea for the 1948 Berlin air-lift, and the man who first taught his son photography.
Charlie left school at sixteen with little in the way of qualifications, but with dreams of becoming an actor. He passed an audition and was conditionally accepted at RADA, but was told he was too young to start and so was unable to take up the place. He went instead into rep in Salisbury and later went to Nairobi's Donovan Maule Theatre – then Africa's only repertory theatre – doing twelve plays a year.
After his return to the UK, he started taking pictures in 1975 of fellow actors on a 35mm SLR which his father had lent him and, when his wife Jess landed a regular role in the Onedin Line, Charlie started taking pictures in earnest. He had done some work as a photographic assistant in a studio and the couple were looking to buy a house in London when he had his other 'threshold' moment.
As they were finishing a viewing on a house in Southfields in London, the owner asked Charlie 'What do you do?' After a moment's reflection, and realising that he hadn't altogether been sure what he 'did', Charlie answered: 'I'm a landscape photographer.'
The vendor said, 'That's very interesting. I'm the head of illustration at Weidenfeld and Nicholson and we're doing a book with Adam Nicolson (Vita Sackville-West's grandson and now a historian best-known for his work on Sissinghurst) called the National Trust Book of Long Walks. Bring your portfolio in.'
Charlie went to the South Downs with a Hasselblad to shoot a selection of images to secure the contract and remembers that 'the weather was extraordinary. I showed him three pictures and the publisher asked "Is that all you've got?"'
Charlie recalls that he just 'wanted to get it right'; the three pictures proved to be enough to land him the deal. Charlie was 27 and officially a landscape photographer. When the book was finished in 1981, the publisher asked: 'What would you like to do next?'
'What about long walks in France?' came the reply from Adam and Charlie. Long Walks in France was the next book. It was only later on in his career that Charlie found out this wasn't the way book publishing normally works. However, he was firmly established as a landscape photographer and has since circled the world many times, producing dozens of beautifully illustrated books including volumes on the English, French, Italian and Spanish landscapes with, among others, A N Wilson and John Julius Norwich.
Despite his globe-trotting professional life, he always returns home to North Dorset with a light heart. It is a landscape that he has, perhaps surprisingly, only infrequently photographed. He tries to explain the paradox of living in such a beautiful area and yet not photographing it: 'It's hard to put into words. I feel like the landscape here is home, I don't feel the impulse to capture it in a photo as I do when I'm elsewhere; I feel I own the landscape already, or perhaps it is the other way around. I think you really need to love where you live and Jess and I are very happy here.'
As gifted and indeed revered as Charlie Waite is as a photographer, it is perhaps as a tutor and an encourager of others that he should be first and foremost be regarded. His books have inspired thousands of photographers to look at a landscape differently and to try to capture its essence in Charlie's spare, unhurried and uncluttered way. He was probably the first photographer to fully share how he took his pictures and to help others to find their own style, setting up the photography tour-and-tutoring company Light and Land. He is also the founder of the 'Take a View: landscape photographer of the year' competition, which encourages photographers to pit their work against thousands of others and offers the opportunity of an exhibition at the National Theatre, publication in a book of the winners and the chance to capture a share of the £20,000 prize fund.
One senses that Charlie, despite his many achievements – and the universal feeling among those who have met him that he is a near-supernaturally nice man – is still not convinced as to his contribution to the world. Perhaps this is what keeps him going, but there is no doubt that he has inherited his father's ability to see things in a different way to others. Living up to the achievements of a man who saved thousands of Berliners' lives can be no easy feat, but one cannot help but feel that Rex Waite would have been very proud of what his son has managed to achieve.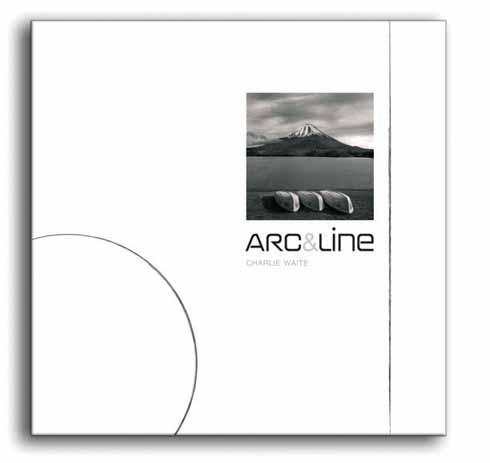 • Charlie Waite's new book – Arc&Line – is available at £25 or as a signed limited edition with an A3 print of the cover image in a presentation box for £225 from www.charliewaite.com