Leaves from a Dorset diary
Published in August '11
As you leave Glanvilles Wootton, heading south for Buckland Newton, a massive oak leans over the road, in blessing and farewell to the traveller I like to think.  It is, no doubt, a descendent of one of the great trees of the Forest of Blackmore, to which our village in part owes
its name.
A few paces on, across the road, on the boundary of our land, standing over a stile, an ancient way-mark on the route for outlying parishioners across Chantry Mead to church, is my favourite ash, my seasonal weather-forecaster.  Unusually late in leaf this year, it told us all about the weather we are enjoying, or suffering, as you read this.
Both those trees owe their longevity, and their shape, to the fact that, as youngsters, they were pollarded.  That is to say that they were 'girt', their trunks cut clean through, usually at about ten feet from the ground, a height that rendered the subsequent outgrowth of succulent young branches safe from the attentions of browsing deer and cattle.  The woodman would re-visit at intervals to harvest the crop of valuable fire and fencing timber.
This practice all but died out in the late eighteenth century, the trees subsequently growing out to develop the familiar 'cabbage' shape that they have today.  That they survive so well – think of those massive oaks in Windsor Great Park – is thanks to their low centre of gravity, which saves them from being maimed or felled by high winds, and the fact that they generally hollow out, a cylinder being so light and strong, not to mention being unattractive to the timber merchant!
I find that not everybody knows about pollarding, and the part it has played in shaping the character of our countryside…  just about all our really old hardwood trees are pollards.  I was certainly completely ignorant on the subject until, some thirty years ago, Oliver Rackham's The History of the Countryside came into my hands; it's a wonderful book that I cannot too strongly recommend.  It has been such a help to me in trying to read below the surface of the bit of Dorset where I have grown up and which I have come so to love.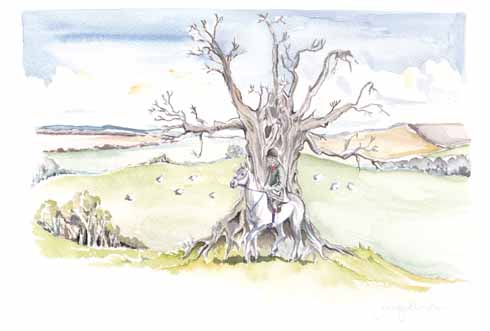 I dare say that the name just mentioned will have made some of the older amongst you think of Sleepy Hollow, a book we had as children, illustrated by Arthur Rackham (1867-1939).  No connection I believe, but what a strong echo when one thinks of characterful trees!
Passing 'The Three Elms' public house in North Wootton the other day put me in mind of what a feature hedgerow elms used to be in the Dorset of my boyhood, before that awful Dutch disease bereaved us of them.  On Dungeon Hill this morning, I was reminded of how the view across the Blackmore Vale has changed since I first knew it.  Then, it was almost like looking across a forest, not to say a battlefield, every small field ringed with tall mushroom clouds of foliage.
Today the view from Dungeon is differently splendid.  West you can see to Exmoor possibly, the Brendons for sure, south the skyline is the Dorset Heights with their storied ridgeway, east Bulbarrow marking the edge of Salisbury Plain and, to the north, reminders of two kings: one of history, one of legend.
A neighbour recently boasted to me of how she could see Arthur's Seat from her garden – that would indeed be a view to be proud of, all the way to Edinburgh – we had a good laugh about it.  She meant Alfred's Tower of course, almost always in view from Dungeon.  But, on a clear day, you can also make out Arthurian reminders in the shape of Glastonbury Tor, and Cadbury Castle.
The ride home took Delphie and me through Park, the field above our Manor House, and past two favourite old trees.  One, an incredibly tortured ash of great age, its short hollow trunk, its bolling (long 'o') to use the woodman's term, split from crown to turf, its whole mien suggesting agony.  The other an even older oak, hollow again, but with a toothless mouth that seems to howl at me in predatory rage, its up-raised branches talons ready to pounce.
Sleepy Hollow indeed!  How we children loved that book, in which Arthur Rackham's trees somehow suggested nightmare but sent us smiling to our beds.