1400 years of history?
Christina Juppe charts the history of Beauvoir Court, a Saxon barn in Cerne that was once transformed into an equine veterinary surgery
Published in May '11
Few buildings in Dorset or even Great Britain are estimated to date from the 8th century. However on the northern edge of Cerne Abbas village, adjacent to the site of what was once a substantial Benedictine Abbey, lies a barn of considerable antiquity. The barn pre-dates the Abbey by at least a century and possibly by as much as 250 years. The building of Cerne Abbey itself was started in King Edgar's reign between 959 and 975 AD. It was completed in 987 and, according to monastic writers, the abbey was founded by Ailmar or Aelward, Earl of Cornwall and Devon. When Canute (Cnut), leader of the Danes, plundered Cerne Abbey prior to becoming King, this Saxon barn could have served to protect the local people. Later when Cnut became King of England in 1016 and converted to Christianity he became a great benefactor of the abbey.
The Saxon barn in question was originally called North Barn. Nowadays it goes by the name of Beauvoir Court, re-named since the field behind is called Beauvoir field. It is constructed of very large stone blocks – roughly-faced, but nonetheless displaying considerable masonry skills, as the gaps between the stones are very small. The stones on average measure 36-40 inches by 24 inches and are made of local greensand stone, which is associated with chalk deposits. The foundation stones are offset and project some three to four inches beyond those above. The masonry is in sharp contrast to the Abbey's stonework, which used smaller, finely-dressed hamstone blocks.
In the Anglo-Saxon Chronicle there is a church described that has stone masonry work which bears a striking resemblance to that of North Barn. That church is St. Lawrence's, in Bradford-on-Avon near Bath. The similarity of the foundations and of the size and shape of the blocks can be seen in the comparison photographs shown here. St. Lawrence's church dates from 709 AD and its stone blocks measure approximately 48 by 24 inches.
When Cerne Abbey was built, an archway was linked onto the Saxon North Barn. However, after the dissolution of the monastery on 15 March 1539, the Abbey was pulled down piecemeal, up to and including this arch, leaving the more ancient barn completely intact. A few ham stones remain attached to North Barn and give an indication of the difference, both in masonry techniques and the geological origin of the stones. It also confirms that whoever demolished the abbey structure in 1539 spared North Barn.
When veterinary surgeon Anthony Sargent came across this barn in 1985, he had been searching for a site to build his equine and mixed animal practice for some time. Until then his practice was housed in a Portacabin at Francombe Farm in Cerne Abbas. He had always envisaged a larger, more permanent site, which included a purpose-built equine unit. After an eventful and often exasperating five years, during which he filed fourteen failed planning applications, three sites were offered to him by the then Department of the Environment. One of them was North Barn, by kind permission of Lord Digby, together with a smaller barn and two acres of paddocks. Anthony Sargent considered this to be the ideal site for his surgery albeit an incredibly challenging one, but challenges were very much part of his profession.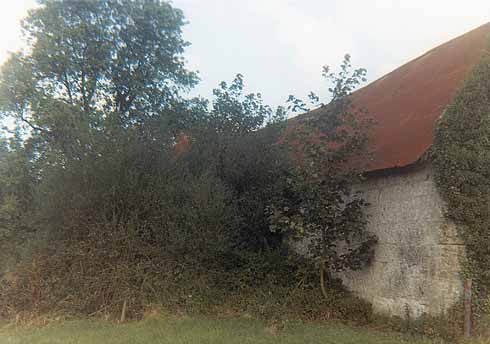 As a keen student of history, he could not pass up the prospect of resurrecting an ancient site for future generations, while transforming it into a state-of-the-art veterinary surgery. He did not have to wait long for the first hurdle to appear: many people in the village felt that this would be the thin end of the wedge and that a massive development of houses would follow. The area around it is also an Area of Outstanding Natural Beauty (AONB) and a Scheduled Monument Site and the thought of any building work at all seemed to upset some people. Others wrote to the planning authorities of concerns about flies, dirt, smell, pus and rivers of blood flowing out of the gates. A petition was organised by the village opposing the clinic and a counter-petition, supporting the project and with more signatures, produced by Anthony Sargent.
Once everything appeared to be proceeding smoothly, a further hurdle was produced by English Heritage; the barn was both an Ancient Monument and a Grade II Listed Building and so unfortunately appeared to fall between the two designations in terms of available grants. Finally, Anthony Sargent made a personal visit to Savile Row, English Heritage's headquarters, and met the then Head of Ancient Monuments, Mrs Sharman. This visit was highly productive: a £15,000 roof grant was approved and future problems were rapidly sorted out with a single phone call.
Acheson Construction began the building works in 1987 and a once-overgrown barn slowly metamorphosed into a veterinary surgery. The work had to be carried out to the exacting standards and specifications of both Anthony Sargent and English Heritage. The clinic was built to equine veterinary hospital standards, but no accommodation was allowed in the building, owing to restrictions imposed by English Heritage.
Once the battered, corrugated-iron roof of the barn had been removed, thatch and beautiful oak trusses were exposed underneath. These could not bear the weight of the new roof and so a structural engineer was employed to design a new weight-bearing structure, while preserving all the original trusses and purlins. A concrete ring-beam was cast in-situ around the top of the barn wall, and onto this was built a steel-framed roof encompassing the old wooden roof.
The final agreed roofing material for the outside was plain clay tiles. The inside walls of the barn could not be tampered with in order to ensure that any future examinations were not compromised. Narrow breeze blocks were therefore used and all fittings and plastering done onto these, creating a modern building within a barn. On the outside stonework, a test area was re-pointed using a lime mortar mix, and once approved by English Heritage, the rest of the barn was re-pointed.
Two years later, in February 1989, construction was finally complete and North Barn was re-named Beauvoir Court Veterinary Surgery. It had a large entrance to allow horses to walk in, stocks for their examination, a large animal operating theatre complete with a hydraulic, padded operating table, tailor-made trolley and a padded recovery box for horses coming round from anaesthetic. At the other end of the building was the client entrance, a waiting room, a small animal consulting room and a separate scrub-up room. Thanks to the fact that the barn's floor was earth and chalk, Mr Sargent was able to install under-floor heating; his was one of the first practices in Britain to do so. Last, but by no means least, the land surrounding the surgery was brought back into shape, in time even allowing for the making of good quality hay.
Beauvoir Court Veterinary Surgery operated a round-the-clock emergency service and saved countless animals' lives until it closed in May 1998. These days, thanks to the vision and determination of one individual, Beauvoir Court can still be admired from the outside, although it has been a private residence for some years.
It seems quite possible that the Saxons used the same imported Italian masons for the building of North Barn as were used on St. Lawrence's Church. North Barn was not only built well before Cerne Abbey but has clearly and importantly always had a mainly secular use; this may explain why it was spared from the destruction meted out to the abbey. Its construction and survival seem to indicate the significance of Cerne Abbas village from earliest of times; Cerne was already firmly on the map before the Benedictine monastery appeared.
Beauvoir Court remains an intriguing building; its origins are shrouded in mystery, its original use is unknown, although there is evidence of lancet (arrow slit) windows, most likely for defensive purposes. In addition, its considerable size cannot be ignored. It may have eventually been used as a tithe barn for the monastery, but this was certainly not its initial purpose. On the outside of the barn there is evidence of extreme fire damage to the stones and part of this section has been completely rebuilt. The fire damage is in line with one of the lancet windows, the lintel of which remains, but nothing else. Could this have been an attempt by Canute to smoke out frightened villagers? Like the origins of the Cerne Abbas Giant nearby, we will probably never know.