Downes and outs
Richard Sims examines the mixed fortunes of the families inextricably linked with Bridport's Downe Hall
Published in February '11
In 1770, William Downe, a Presbyterian merchant, married Mary Hounsell, the daughter of one of Bridport's textile merchants. In 1786 he purchased the land, stretching north from Rax Lane to Coneygar Hill, on which he built Downe Hall – a substantial property consisting of ten bedrooms. There were extensive gardens, complete with a coach house, stables and a dairy; while the hill behind was landscaped, providing a view right down to the sea at West Bay.
In 1792, William Downe and his brother, Samuel, a surgeon and partner in the Bridport Bank, sought to improve the access to the Hall by leasing two properties from the Burgesses of Bridport. Here they built Downe Street, with its terrace of Georgian houses. William Downe was a wharfinger and, following the death of his brother, a partner in the Bridport Bank. He owned two wharfs at East Smithfield, London – the Dung Wharf and Downe's Wharf, which had warehousing and a house for the clerk. It was leased to Downe and Co. at an annual rent of £900 and a one-third share of the profits and, in 1809, it became the exclusive wharf for the Edinburgh and Leith Shipping Co. and was also the landing place of choice for Bridport ships.
When William Downe died in 1810, seemingly a successful merchant and banker, he left Downe Hall to his daughter Sarah Read, whose husband took William's place at the Bridport Bank. Mountfield and Rax House, which Downe also owned, were left to daughter Elizabeth Atkins while his third daughter's husband, Andrew Gillon, was left Downe's Wharf and his share in the business.
In 1811 the executor, Joseph Gundry, on discovering that Downe's assets would not cover both his debts and legacies, gained a ruling in the Court of Chancery that William Downe was a bankrupt. His daughters now had to take their place with the other creditors, unless the deficit could be raised. In 1814 Read resigned from the Bridport Bank and, at the same time, the Edinburgh and Leith Shipping Company withdrew from their contract, claiming that they were owed £842. The ensuing litigation lasted many years. In 1818 Read formed a new partnership, which continued until 1823 when he withdrew, shortly before his coal merchant business was declared bankrupt. His bankruptcy seems to have triggered the Ruling of the Court of Chancery for, in July of that year, Downe Hall was sold at auction, along with Mountfield and Rax House.
The new owner of Downe Hall was Henry Templer. Born in 1785 he had embarked on a career with the East India Company's maritime service. In 1806, whilst serving as the third officer on the Lady Burges, he was shipwrecked off the Cape Verde Islands. He took his first command, the Baring, in 1811 which commission was noted for one of the passengers being so alarmed by Templer's manner that she locked herself in her cabin until they landed in India. Further voyages followed, allowing Henry Templer to amass significant wealth, which he then invested, becoming managing owner of a number of ships. Clearly the investment paid handsomely as he was soon expanding his fleet with the Bombay in 1822, closely followed by the William Money, the Moira and the Minerva. In 1833, the East India Company's new charter took away its trading rights and opened India and the Far East to competition. Templer made one more purchase, the Scaleby Castle in 1834, selling it at a significant profit two months later.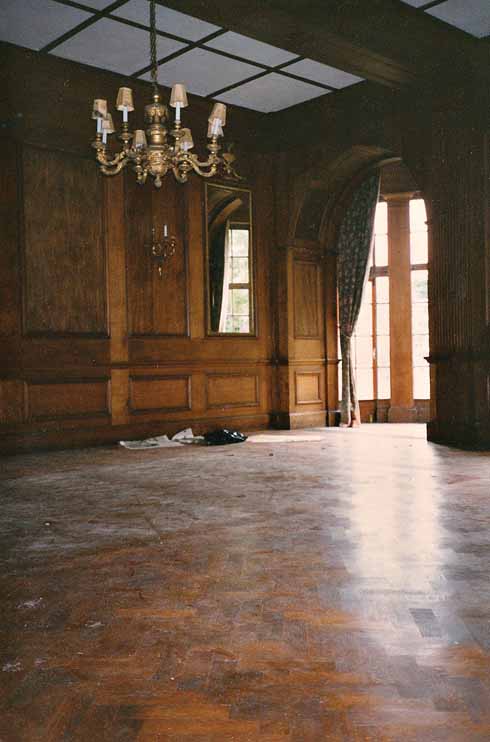 His next investment, however, was not to be so profitable. In 1835 he bought shares, to the value of £21,000, in one of the London to Brighton Railway schemes. It was normal practice for only one scheme to go to Parliament but in this case all were put forward – and all failed. This fiasco was repeated in the following years and Henry must have lost a considerable sum. In 1837 Downe Hall was put up for sale; however he remained in occupation until his death a year later.
Henry Templer had three daughters with Sarah Thomas between 1823 and 1837, but all three were baptised by their mother alone. Henry and Sarah were eventually married in February 1838 just three months before his death. Although christened Thomas, all three daughters took their father's surname in later years and, in 1881 Sarah and her daughters ran a school in Brighton. Ownership of Downe Hall passed to Henry's younger brother, James, a solicitor who had moved to Bridport around 1811. He had business interests in both the Pymore Mill Company and the brewers, Gundry, Downe and Co., as well as having a significant property portfolio.
Unusually, although he retained ownership until the 1850s, James Templer did not live at Downe Hall, instead he lived at the Grove, which he built in 1830. It is more likely that his daughter, Hebe, was given the use of the Hall after her marriage to John Venn Prior in 1838. Prior was a London barrister and, by 1841, their main residence was in Greenwich, relegating Downe Hall once more to a country retreat. Sadly John Venn Prior died in a riding accident in 1855, around which time James Templer transferred ownership to his daughter. Hebe Prior decided to move from Greenwich to Harrow, where the public school provided free education for the sons of widows, provided they were day pupils. In 1859, Hebe Prior started a school at her house, Roxeth Mead, educating not only her children, but those of the masters of Harrow School.
To help fund this, Downe Hall was leased out, initially to Henry Strangways Hounsell. Following Hounsell's move to take up a medical position in Torquay, Downe Hall was leased to John Montagu. After a few years he bought Downe Hall and, whilst he also had a London home, he based himself in Bridport, becoming an Alderman on the Council and Deputy Lieutenant for Dorset.
In 1893, after Montagu's death, Downe Hall became the home of Alfred William Hounsell Dammers, who was the principal partner of the firm of William Hounsell and Co. His wife was Hebe Templer, the granddaughter of James Templer, and previous owner of Downe Hall. Dammers engaged a leading Arts and Crafts Architect, Edward S Prior, to carry out improvements to the Downe Hall. Prior was the son of Hebe Prior and the cousin of Hebe Dammers. He moved the main entrance from the south to the north of the building, adding east and west wings and a terraced garden. The form of Downe Hall, up to the development in the 1990s is largely the result of Prior's work. The house remained in the family for a short time with Dammers dying in 1900 and his widow selling the Hall a few years later.
Downe Hall then passed through the hands of a number of owners, but its days were numbered as the cost of maintenance increased. In 1952 it was converted into three flats, but eventually became vacant until 1996, when plans were announced to convert it into five luxury flats. The money for this conversion was to be generated from the building of eight houses in the grounds.
The 2011 Downe Hall remains Bridport's hidden gem, despite being only a few yards from the Town Hall. The meadow and woodland of Coneygar Hill, which were formerly part of the Downe Hall Estate, with gardens around the building at Mountfield are collectively known as Bridport Millennium Green, which is owned and administered by Bridport Millennium Green Trust, supported by a friends group. Now anyone can take a stroll along the promenade flanking Coneygar Hill, or climb to the top to see the view down to West Bay, which stimulated William Downe to build his Hall over two centuries ago.
The sentiment – if not the McGonegallesque quality – of Thomas Schoel's 1812 poem, Bridport & Downe Hall, seems still wholly appropriate today
'From fair Downe Hall's delightful height survey
The beauties that diff'rent scenes display;
Sweet mansion, how delightful is thy seat
O! what a lovely what a fine retreat.'
[credits]
1,5 Bob Green
2,3,4 Richard & Marion Sims