Charting Poole Harbour
The Book of Poole Harbour, recently published in association with the Poole Harbour Heritage Project, is a collection of 34 informative essays which together create a vivid picture of the Harbour's history, geography and economic importance. The contribution reproduced here is by Andrew David.
Published in December '10
The first maps to include Poole Harbour were concerned more with the surrounding land than the Harbour itself. Ships were of relatively small draught, and great reliance was placed on local knowledge. It was not until well into the 18th century that the Admiralty commissioned detailed surveys of ports such as Poole.
On 24 May 1771, Lieutenant Murdoch Mackenzie was appointed Admiralty Surveyor in succession to his uncle, Professor Murdoch Mackenzie, with orders to survey the whole of the coast of the British Isles, starting at the entrance to the Bristol Channel and continuing roughly anti-clockwise around Britain.
Serving initially as a supernumerary on the Peterel, a 71-foot sloop, with his cousin, Graham Spence, as his assistant, he was given command on 11 June 1780. His pay was one guinea a day when actually employed on his survey, and half a guinea a day when refitting.
Having been refitted and re-provisioned, the Peterel left Portsmouth on 10 May 1785. Among the provisions on board were 21 bags of bread (ie. ship's biscuits), 46 gallons of brandy, two barrels of beef, two barrels of pork and 170 lbs of cheese. Mackenzie reached Poole Harbour on 12 August 1785 and anchored off Brownsea Island, next to the Customs House, which he used as a base for the next few months.
Surveying equipment included a theodolite, sextants, a Gunter's chain, poles for survey marks, and tents. Each day began at 5 am and continued until 4 pm, seven days a week. Mackenzie's first task was to measure the tidal range, for which a tide pole was erected in mud next to the sloop 'to observe the rise and fall of the tide', so that the height of the tide could be subtracted from the soundings to reduce them to low water.
Mackenzie began his survey by sounding the bar. He then measured a base along the sands of Studland Bay from Studland to South Haven Point, which he then extended by triangulation to cover the whole of the Harbour. Next, the two surveyors would have erected a series of marks around the Harbour, fixing their positions from the various triangulation stations.
As the survey, which was on a scale of sx inches to a nautical mile, progressed, Mackenzie or Spence would have walked along the high water mark to fix its position and the positions of various objects on land in considerable detail, including the positions of various batteries. One of these batteries, a small redoubt of three guns for the defence of the entrance to the Harbour, was near the Ferry House on South Haven Point. Mackenzie also noted on his survey that, at its narrowest, the peninsula leading to Sandbanks was only 240 feet wide between the high water marks. As a result of his painstaking work, Mackenzie's survey shows much more detail than the corresponding sheets of the one-inch Ordnance Survey map, published almost thirty years later.
Simultaneously, either Mackenzie or Spence would have been away in one of the sloop's boats to sound out the Harbour, the depths being obtained by lead line and their positions fixed by horizontal sextant angles rather than compass bearings. The evenings were spent 'inking in', either subtracting the height of the tide from the soundings and plotting the amended depths on a specially prepared sounding board, or plotting the coastline.
Even with the approach of winter the survey continued, except when bad weather made working impossible. January 1786 was very cold. On one occasion drift ice fouled the small bower anchor cable, causing it to part. Even when conditions were too bad to leave the sloop, the surveyors were kept busy plotting the results of their observations. In January, Spence was confined to bed on board, but Mackenzie was still out in the Harbour, taking soundings from an open boat. On 17 February Spence was sufficiently recovered to work on the draughts, but there is no indication that he was able to resume fieldwork. On 3 April Mackenzie moved the Peterel to a shipbuilder's wharf, perhaps an even more convenient place for obtaining provisions and fresh water. She remained there until 6 April, when Mackenzie moved the Peterel once more to his old anchorage off Brownsea Island. The survey was now complete and on 15 April 1786, Mackenzie took his departure and made his way back to Portsmouth.
Mackenzie's next task was to draw a fair copy of his survey on linen-backed paper, for forwarding to the Admiralty, which clearly took some time. It is a massive document measuring 145 x 150 centimetres, beautifully drawn in pen and ink with colour washes; it is held in the United Kingdom Hydrographic Office in Taunton. It was accompanied by at least one view, which sadly does not appear to have survived, and a comprehensive memoir, which was brought up to date in about 1808 by Graham Spence. In the unpublished memoir, Mackenzie noted that vessels drawing 22 feet could cross the outer Poole bar and anchor as convenient in the outer Harbour, but no vessel drawing more than 17 feet could enter the inner Harbour, where the whole of the Newfoundland trade was carried out.
Once received by the Admiralty, Mackenzie's survey of the Harbour was added to a large collection of surveys already held there, where it remained unpublished for the next twenty years. It was not until 1 September 1810 that it was finally published by the Admiralty and then only as part of a small-scale chart titled 'Survey of the South Coast of England, from Blackwood Point on the Isle of Wight to St Albans Head, by Lieut. Murdoch Mackenzie, 1785', on a scale of one inch to 1½ nautical miles. On it are printed directions for ships approaching Poole Harbour:
'At Poole Bar Buoy the House on Constitution Hill, is on with the East End of Elipute [Lilliput] Summer House. The same Mark will lead clear of Old Harry Ledge. It is also the mark for the best Anchorage in Studland Bay', with a warning that 'Large Ships should not anchor further in, or more to the West in Studland Bay than to have Durlstone Point just open of Old Harry. The same Mark also leads clear of Poole Bar.'
When they were first published, Admiralty charts were only issued to ships of the Royal Navy and it was not until 1821 that they were offered for sale, thus enabling the general public to make use of Mackenzie's survey. In 1836 the Admiralty published a large-scale chart of Poole Harbour on a scale of 2¼ inches to a nautical mile, based on Mackenzie's survey and brought up to date by soundings on the bar taken in 1829 by Lieutenant Thomas Spark, who was serving at the time in the Water Guard (in other words, he was a Custom House Officer). Mackenzie's charts were withdrawn from sale between 1852 and 1864.
Due to failing eyesight Mackenzie was forced to retire in 1788. He died on 27 January 1829, at the age of 85, in Minehead. He was buried in St Mary Magdalene Church, Exford, next to his second wife, where there is a memorial tablet to them both. There is also a stained glass window erected to his memory in St Mary's Church, Chiddingfold.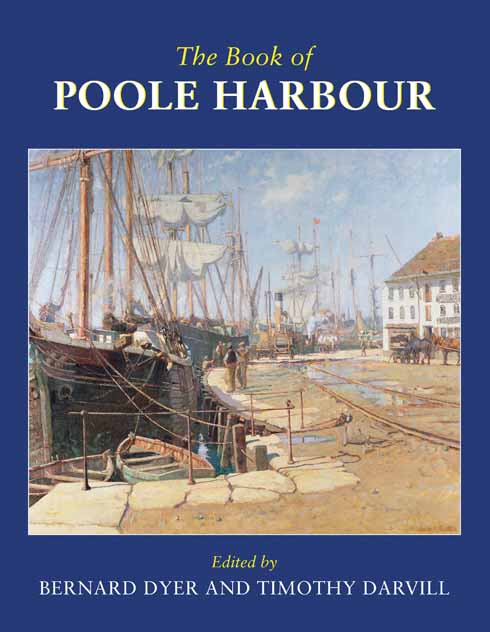 [The Book of Poole Harbour is published by Dovecote Press at £25. ISBN 978 1 904 34982 2.]
[credits]
3 Reproduced with permission from Dorset Maps by David Beaton: Dovecote Press
5 Reproduced with permission from Dorset Maps by David Beaton: Dovecote Press