Dorset Lives — Deserving Trust
Simon Cripps is just completing two years as Chief Executive of the Dorset Wildlife Trust. John Newth has been to talk to him.
Published in April '10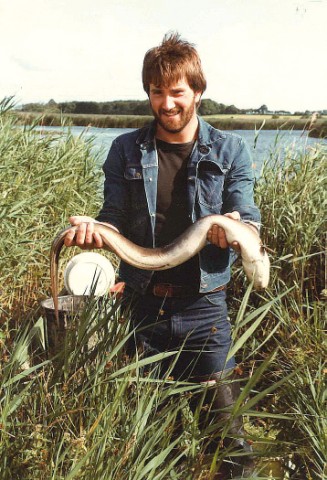 Simon Cripps points to a chart of Poole Harbour hanging on his office wall. 'Wherever I've worked in the world, that's come with me,' he says. It is a reminder of his childhood, growing up within fifty yards of the shore in Canford Cliffs, sailing on the Harbour and developing an interest in its landscape and wildlife.
After a biology degree at Portsmouth Polytechnic (now University), Simon's first job was working with eel fishermen all over the country, developing ways of stopping otters becoming ensnared in eel traps. 'It was a fabulous job,' he recalls. 'I was employed by the Nature Conservancy Council but it was my proud boast that I never went into their offices in Peterborough; if they wanted to speak to me, they had to send out an administrator in his suit and tie to brave the mud and the midges to find me.'
Otters continued to occupy Simon in his next job, investigating the decline of the species in North Norfolk. 'We never did find the reason, so I wrote a learned report, advising against re-introduction. They ignored my advice and re-introduced otters, which have done fabulously well! But it was another great job, pottering about on the marshes and talking to landowners.'
Newly married, Simon took the brave decision to take two years out to do a thesis on fish farm engineering at the Heriot-Watt University in Edinburgh. 'I produced the most boring thesis ever, but became the world expert on the optimum depth of water for farmed turbot.' Armed with this qualification, he secured a lectureship at Luleå University in northern Sweden, on the edge of the Arctic Circle, specialising in fish farming and sewage treatment. He loved the culture, learnt the language and within a couple of years was teaching in Swedish. But three years of the cold, and of winters when daylight was never more than a slight greying of the dark southern sky, were enough.
So they moved to Stavanger in southern Norway – 'positively tropical by comparison'. By now he and his wife were dedicated Scandophiles and they stayed there for eight years. Simon learnt the language (which is different from Swedish) and found that although most of the Norwegians with whom he dealt spoke English, the fact that he had shown an interest in their culture and made the effort to know their language opened doors and smoothed paths like nothing else. His two elder children picked it up naturally and became bi-lingual in English and Norwegian.
Simon was working in Stavanger for a research institute which specialised in fish farms and waste treatment. Later he became involved with the oil industry, including the 'rig to reef' project, by which redundant oil rigs would be submerged to become reefs that would provide habitats for a range of marine wildlife. It was during this time that he developed commercial expertise alongside his scientific knowledge: 'In my experience, many companies are trying to do the right thing, and I am quite comfortable working with the commercial sector.'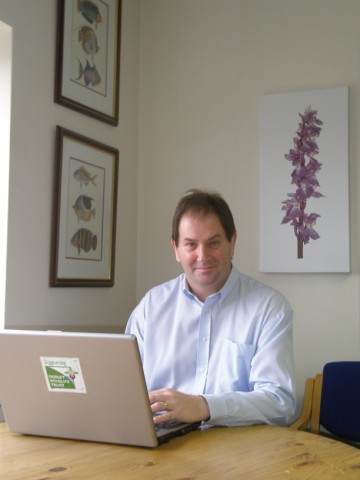 The next move was to Geneva, to work for the World Wildlife Fund (WWF) in building up their international marine programme. 'It was a very exciting time and we got a lot done,' Simon remembers, 'but it involved a lot of travelling and some months I was away for sixty per cent of the time. I would sometimes go to an exotic, glamorous place and see only the hotel and conference centre, but there were highlights like addressing an international convention at the United Nations in New York. I began to realise that it is influence that drives me; being able to influence what happened at any level was exciting.' His children, three of them by now, had to learn another language and became fluent in French, and the whole family loved the lifestyle.
Surely to come from that glamorous job and cosmopolitan atmosphere to a home in Poundbury and a job deep in the Dorset countryside was quite a culture shock and even something of a come-down? 'I just don't understand it when people say that,' protests Simon. 'For one thing I fancied the idea of actually running an organisation and for another, I don't believe that the value of a job is in proportion to its geographical scale. I am quite happy to have exchanged global influence for seeing something done on the ground and making it happen. We are actually achieving things in Dorset which are at the cutting edge, especially in the areas of marine and urban wildlife and of working with landowners.'
In carrying such work forward, what sort of Dorset Wildlife Trust will we see under Simon Cripps's leadership? 'My predecessor, Peter Scupholme, did me the great disservice of leaving behind an organisation that was functioning extremely well, so I couldn't sweep in and save it,' says Simon mock-ruefully. 'Seriously, it gave me a platform to do what Peter would have done and to build the Trust to the next level, and it also gave me the breathing-space to do what I should be doing, which is to think at the strategic level and not become bogged down in detail.
'One development is that we are already becoming more local, trying to be of more relevance to communities. We have divided our structure by areas rather than by functions, and each area has a dedicated team, led by a manager, which is aware of the particular needs of that area.
'The Trust already owns 47 reserves and is looking at acquiring another three, but anything it does acquire must fit into a pattern that creates a more resilient landscape overall. I think we will see a move away from the Trust owning more land and towards the Trust talking to people who own it – better to work with eighty per cent than to own five per cent. It's a question of influence again, of a role in which we encourage others to do things so that we don't have to do everything ourselves, a role in which we orchestrate, facilitate and educate.'
The Trust ultimately relies on its people: not just its 65 employees and its 1200 active volunteers but its membership. Although this has not gone up during the recession, it stands at a very creditable 25,000. 'The life-blood of the Trust is our membership,' says Simon. 'It's not just for the money but for the influence; I was writing to a Dorset MP the other day and was able to mention that we have at least 2000 members among the voters in his constituency. As for our amazing volunteers, they have an important role in building the links with communities that we are keen to develop.'
Simon's return to Dorset was something of a homecoming for him, but he has clearly enjoyed learning about parts of the county with which, as a Poole boy, he was not so familiar. 'I am still amazed at Dorset's incredible variety,' he says. It is also clear that he relishes the challenge of influencing the preservation of that variety.