A taste of Dorset — A pint of piddle, please…
Michel Hooper-Immins samples an alarmingly-named beer and is pleasantly surprised
Published in June '09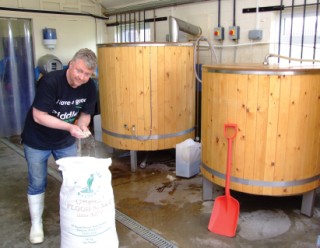 Rob Martin sorting through the malt for the next brew
Until now, had you asked for a pint of Dorset Piddle at a pub, you would have been shown the door in double quick time! However, two very enthusiastic entrepreneurs who bought a 16th-century coaching inn at Christchurch have since started a brewery near Piddlehinton. Their Dorset Piddle real ales are selling well, gaining a big reputation in the county, where 90% of their output is consumed.
Born at Barnet in Hertfordshire, Rob Martin moved to Dorset in 1989 as area manager for Kodak. Paul Goldsack is from Watford and worked in Bournemouth selling hi-fi and television before taking on charity fundraising. Friends for twenty years and seeking a new direction, they started looking round for a small hotel or a pub. Ye Olde George Inn at Christchurch was for sale and the pair quickly saw the potential of the 600-year-old inn, which was 'pretty run down'. The pub has a resident ghost, a grey lady who throws vinegar about. Taking over in May 1999, they took out the keg beer and installed real ales, often from the Ringwood Brewery. Food had been limited to sandwiches; they started serving meals and opening all day. Visiting dogs have a menu, too, and one regular occasionally brings in a parrot! This is not your usual town pub.
Then in August 2007, Ringwood Brewery was taken over and some initial uncertainty ensued over whether the local brews would continue – although in fact they have. At Ye Olde George Inn one evening, Paul and Rob had a wild idea: why not brew their own beer? A chat with the bank was reassuringly positive. 'It's every bank manager's dream to have a brewery on his books,' they were quickly told. With no room to brew at the pub, they needed suitable premises and found them near Piddlehinton, where the former army camp now houses many thriving industrial units. 'We could see trees and fields all round – such a marvellous place to work,' says Rob. 'We took our collie cross, Sophie, for a walk through the woods and knew it would be an ideal environment.'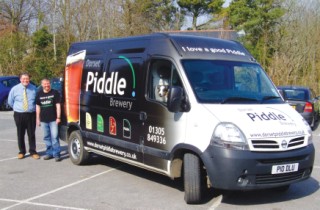 The Dorset Piddle delivery van is a great attraction – is Sophie driving?
Rob and Paul have just taken over the unit next door to house the expanding bottling plant, so expect to see much more Dorset Piddle on shop shelves. Tourists love taking a bit of Dorset back home with them. Dorset Piddle is now sold at around a hundred Dorset pubs and in thirty shops.
The original idea was just to brew enough to supply their own pub and Rob, who admits to 'a passion for anything alcoholic', started experimenting with recipes. In November 2007, Yogi Ale was launched – the initials of the Christchurch pub – and was a runaway success with locals and visitors alike. Then, with a number of new recipes boiling away, the pair launched Dorset Piddle on the free trade in February 2008. 'It was a very bold decision,' remembers Paul. 'We knew there was a market out there, so with my selling skills and Rob's brewing expertise, I was confident we would do well.' Piddle Ale, a genuine local name, still causes great amusement among locals and visitors. Visitors delight in being photographed with the idiosyncratic pump clips and by the brewery van.
Dorset Piddle currently makes five different beers, including the original Yogi. The amber Piddle Ale gives a citrus twist with well-balanced bitterness. Cocky Hop is a stronger and more hoppy beer, while low-gravity Jimmy Riddle is a brown ale with a hint of chocolate. Having tasted them all (more than once, I should admit), my own favourite is Silent Slasher, made with 25% wheat for Hallowe'en last year and an instant success. Because of the distinctive wheat flavour, many lager and cider drinkers have found Silent Slasher very palatable. Santa's Potty was brewed for Christmas. 'The names are quirky and fun,' laughs Paul. Rob is planning more seasonal beers, including Midstream Mild – the first time a mild has been brewed in Dorset for many years. Malt comes through Warminster, much of it actually grown in Dorset. The hops are English, mostly from Kent.
Real ale is undergoing a resurgence, partly because of the high quality of local beers, earning Dorset Piddle a ready market in many Dorset free houses. One of the first to stock the range was the Sunray at Osmington. Owner Nigel Turnbull has fulsome praise for the new enterprise. 'I liked their beer the first time I tasted it and so do my customers. Right on the button for deliveries, their service is outstanding.' Three million BBC viewers watched the early evening news from the Sunray last November, when Nigel Turnbull launched the Campaign for Real Ale's West Dorset LocALE initiative with Rob and Paul's Dorset Piddle beers. CAMRA is highlighting locally brewed beer – a topical move, as local food and drink attracts ever higher interest from consumers. Coincidentally, Ye Old George Inn has been named East Dorset Pub of the Year by CAMRA members.
Late last year, Purbeck Ice Cream asked for samples of their beers, as the noted Kingston firm wanted to produce a beer-flavoured sorbet. Purbeck were so impressed by the clean taste and the malt and hop flavour that they chose Dorset Piddle for their new flavour, now on the market.
Living at Charlton Marshall, Rob Martin and Paul Goldsack are two of the newest and most enthusiastic entrepreneurs in Dorset. Talking to them, I quickly discover that the brewery is much more than a means of making a living, it's a real passion. Collie cross Sophie accompanies them on deliveries and enjoys being part of the team. They have visions of a chain of Piddle pubs. 'The market is moving quite fast,' says Paul, 'and being licensees ourselves, we know what publicans want.' Far from their native Hertfordshire, Paul and Rob really enjoy Dorset: 'the best place in the world, we will never move from here.'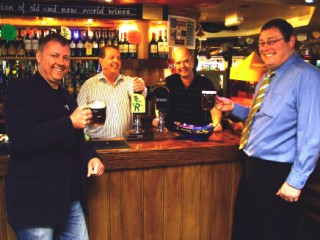 Completing the latest delivery at the Sunray: Rob Martin, Nigel Turnbull, Jamie Turnbull and Paul Goldsack