Massacre at Slapton Sands — the great Portland cover-up
Rodney Legg tells how wartime reminiscing enabled him to re-write the story of one of the most famous disasters of the Second World War and claim it for Dorset
Published in May '09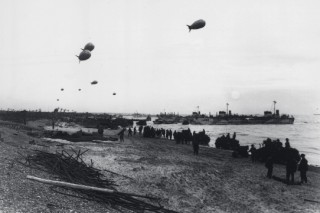 LCTs taking part in Exercise Tiger on Slapton Sands
My initiation into the intrigues of the great Portland cover-up took place in the drawing room of Holbrook House Hotel, near Wincanton, in 1985 when I was working on the proofs of the first of what became a series of books on Dorset at war. A softly spoken 45-year-old from some arm of military intelligence, staying there while on a visit to the Royal Naval Air Station at Yeovilton, asked me what I knew about Exercise Tiger. I told him that it had been the rehearsal for the D-Day landings at Slapton Sands, Devon, on the far side of Lyme Bay, on 28 April 1944, in which an audacious attack by German motor-torpedo boats sank two United States tank landing ships and killed more than 600 American soldiers and sailors.
'Correct,' he said, 'except that the location is wrong. The attack on the Americans took place slap bang in the middle of your coast, off Portland Bill, but that fact had to be kept secret. So they moved it westwards and even gave the enemy credit for a brave assault right under the guns of Allied cruisers. The memorial has been put there rather than in Dorset.'
So I began to change my account accordingly. A decade later, a copy of the book found its way to Barry in South Wales, with the result that I received a telephone call from an ex-Gunner. Lance-Corporal Tecwyn Morgan, then 31 years old and serving with a coast defence battery, was billeted in a tent between Ferrybridge and Castletown dockyard.

A German E-boat: a Schnellboot (motor torpedo boat) of the Kriegsmarine
'We saw an LST [Landing Ship, Tank] unloading bodies but were sworn to secrecy, not to mention it to anyone, and it has played on my mind for decades. The ships of Delta Force [the American invasion force] were inside Portland Harbour, and they didn't want them to see the carnage, so the LST was towed into Balaclava Bay and the bodies were taken off there, around the corner from the harbour. They were driven round the top of the island and stored in Castletown dockyard. They were never buried – they were packed in the tunnels, which were collapsed by explosions in 1994 before the dockyard closed. What they are writing about Slapton Sands isn't true as we could virtually see the attack happen from the coast battery.'
Enter my next informant. Leading Telegraphist Nigel Cresswell, alive and well and living in Wimborne, was the 20-year-old Senior Wireless Operator in Motor Torpedo Boat 701 of the Royal Navy's six-strong 63rd MTB Flotilla. For the previous three nights they had been on patrol in enemy-occupied waters off the Channel Islands and France. On the morning of Thursday 27 April 1944 they returned to base in Portland Harbour. He was visited by a Wren Radio Mechanic whom he named as June Caswell: 'Her surname is almost the same as mine. She had a long face and I asked what was wrong. June replied that her American boyfriend had told her that he was going on an exercise with landing craft in Lyme Bay. She said she had been told this in a Weymouth pub.'
The loose talk seemed unlikely in retrospect, given the official line that the vessels at Slapton Sands had sailed from Brixham or Plymouth, but my published report broke ranks with the accepted accounts in raising the possibility that they had rounded Portland Bill from the Solent. Mr Cresswell commented: 'If the GI was based in Devon, no way could he have got there from Weymouth [under wartime conditions]. However, if he was sailing from the Solent, as you suggest, then he could easily have got the train or his own Jeep to a port on the Solent.'
Later in the afternoon of 27 April, the 63rd MTB Flotilla was put on stand-by in Portland Harbour: 'I was called to the Skipper's cabin and informed that the Senior Officer of the 63rd had offered the flotilla to escort some LSTs who were to be on an exercise in Lyme Bay. The dockyard buzz was that the sole escort was to be a veteran V&W destroyer from the Royal Navy.'
This was almost correct. In fact the destroyer was from the old S-class, being the 905-ton HMS Scimitar – armed with three 4-inch guns – dating from the Emergency War Programme of 1918. She was assigned to shadow the LSTs, which were designated as Convoy T-4. So too was HMS Azalea, a Flower-class corvette of 925 tons, with one 4-inch gun and smaller-calibre anti-aircraft and machine guns.
Then things began to unravel. Scimitar collided that morning with an LCI [Landing Craft, Infantry] and was detained in Plymouth Naval Base for repairs to her bow. Despite this, and no replacement being available, no one told the 63rd Flotilla to take her place.
The result was a tempting and vulnerable target through which German E-boats ran amok. One of the attacking vessels, Schnellboot S-130 of the Kriegsmarine, survived the war and was in February 2009 being restored in Dartmouth for its present owner, Kevin Wheatcroft of Donington Grand Prix Museum. The Allied ships were less fortunate, with these being the unpublished bullet-points from the official list of losses:
441 dead from the United States Army
197 dead from the United States Navy
and 'a handful' (unspecified) of Royal Artillery dead, on board the vessels to man Bofors anti-aircraft guns
an unspecified number of injured men
the loss of LST 507, sunk by torpedoes
the loss of LST 531, sunk by torpedoes
severe torpedo damage to LST 289 (which limped westwards to safety at Dartmouth)
gunfire damage to LST 511 (which escaped eastwards into Weymouth Bay)
Tecwyn Morgan told me that the one-sided battle had been watched by Royal Artillerymen at Blacknor Fort, high on Portland's western cliffs. The men had the E-boats in their sights, within range, but were ordered not to fire by an American officer, because of the number of Allied personnel fighting for their lives in the water.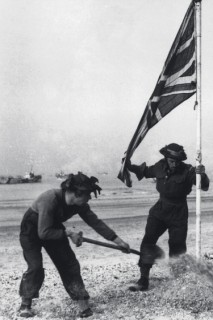 A rehearsal for the photograph that was never taken – victory on the landing beach
Nigel Cresswell was awoken at about 3 am on 28 April when alarm bells rang across Portland Harbour. The crews of two MTBs of the 63rd Flotilla were ordered to put to sea: 'MTB 701's engines were warmed up, and myself and Telegraphist Ken Leigh switched on both our W/T [Wireless Telegraphy] sets. There was a fair amount of W/T traffic on the longer-distance receiving set but it was all in a code that Coastal Forces boats were not issued with. The high-frequency W/T set, an American TCS set, provided no traffic at all even though we tried all the crystals provided for pre-set tuning.'
By 04.30, MTB 701 was stood down, but only for a couple of hours, as the boat's log reveals. They 'slipped from jetty at 06.45, passed the harbour gate at 07.00, proceeded at 21 knots on various courses into Lyme Bay.'
What followed was never to be forgotten. MTB 701's wartime Navigator wrote to Nigel Cresswell in retirement, stating that they had nosed her way through floating bodies and brought four or five on board for identification. Mr Cresswell then set down his own vivid memories of that fateful Friday: 'On a bright, sunny late spring morning I saw us approach what looked like an outdoor swimming pool but there were hundreds of bodies in the water and they were all dead. I was not quite 21 and had seen the odd dead body, but nothing to what we saw before us. It had a profound effect on us young men and I will never forget it, ever. I remember examining two or three bodies that had been brought on board. Their Army denim uniforms had buttons crimped so that the buttons could not be removed. I remember that two of the dog-tags had "Rome City, New York". Their life-jackets were different from ours, with two circular rings sewn together with a small cylinder of gas at one end. When depressed the life-jacket would inflate. We were ordered by another MTB to return the bodies to the water.'
Another member of the crew, Able Seaman Torpedoman Wood, confirmed that they had been told to puncture the life-jackets. Here and there they saw a British Army khaki battledress with the square red badge of the Royal Artillery.
That evening all six boats of the 63rd Flotilla were back 'on the other side' as they resumed cross-Channel patrols. Back in Portland on the morning of 29 April, Nigel Cresswell wandered through the dockyard in the hope of seeing his current girlfriend, Wren Torpedo Mechanic Doreen Smedley: 'Looking into the Torpedo Workshop from a distance of a few yards I saw lots of shrouded bodies. I was quickly ushered away.'
What concerned the Allied High Command was that twenty United States officers with the security classification of 'BIGOT' were missing and had to be accounted for. They not only knew when and where the invasion of Europe was to take place but the build-up details for both its American sectors (codenames Utah and Omaha) plus elements of the subsequent battle-plan.
General Dwight D Eisenhower, the Supreme Commander Allied Expeditionary Force, had given strict instructions that no Bigot-classified personnel should go on any journey or operation before D-Day which carried a risk of being captured by the Germans. This explains why Slapton Sands has been substituted for Portland in the records, then and now, because an inshore misadventure off Devon under the guard of thirty large warships hardly came into that category. On the other hand it was foolhardy for them to be far out in the English Channel with only one lightweight escort vessel.
As it happened, no one had been fished out of the water and taken back to France for interrogation, with the dog-tags of the twenty 'in the know' having been collected by military intelligence. The D-Day secret was secure.
As the definitive evidence for a cover-up I can now give the precise locations of both Tank Landing Ships with references courtesy the Admiralty Chart:
LST 507: Latitude 50˚ 26´ 08˝ N, Longitude 2˚ 44´ 01˝ W.
LST 531: Latitude 50˚ 26´ 08˝ N, Longitude 2˚ 43´ 39˝ W.
That puts them under between ten and eighteen fathoms of water, ten miles west-south-west of Portland Bill and twelve miles south of Burton Bradstock – which is 45 miles from Slapton Sands. Dorset's case is proven.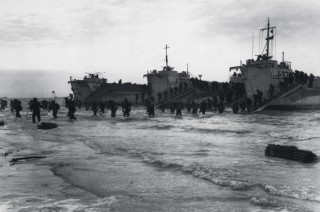 LCIs coming ashore at Slapton Sands in April 1944