Dorset in spring and early summer
Colin Varndell celebrates the time of year when 'the rhythms of nature accelerate to fever pitch'
Published in May '09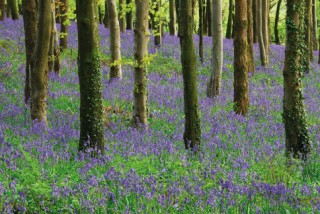 Bluebells on display in a west Dorset copse in early May
After an unusually long cold winter of short days and bitterly freezing nights, the natural world is erupting in a frenzy of activity across the Dorset countryside. Birds shout their intentions from every hedge and shrubbery, young mammals romp and play, reptiles emerge from hibernation and a myriad of insects miraculously appear on the wing. It is spring, arguably the very best time of year to enjoy the natural history of Dorset in all its varied forms. As the length of daylight increases more noticeably, there seems to be much more time for us to enjoy the nature of Dorset. It doesn't matter where you are – in the town centre, the suburbs or on the wildest of our wonderful heathlands – spring and early summer in all their natural splendour makes their presence felt everywhere. The effect that new growth has on the landscape brings some of the most dramatic changes of the year. The early agricultural crops of rape and linseed come into bloom to add vivid splashes of colour to the countryside. Wild flowers pepper the woods and roadside banks in a kaleidoscope of rich colour, while deciduous trees, which have stood bare and dormant for months, burst into leaf. The vibrant greens which these broad-leaved trees produce adds yet another dimension of colour to the landscape. But these tints last only for a few days, as within a couple of weeks, their fresh spring colours will have faded to the dark, sombre greens of summer.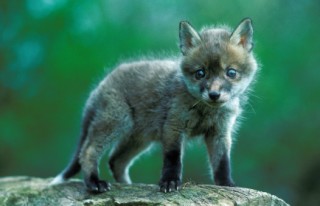 Fox cubs will show themselves above ground
during May
In the natural world every minute detail is responding to the warmth of the season. Mosses and lichens sprout fresh growth and produce their spore cones like tiny pea-pods. An array of ferns display their fascinating unfurling process. The very common hartstongue fern of Dorset's lanes and copses, for example, resembles the string section of an orchestra as its fronds unravel. As bracken opens out, its unfurling fronds appear to be precisely symmetrical.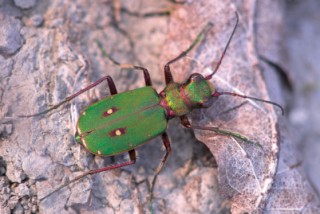 The green tiger beetle is a fierce predator of insects during spring. It can be seen in good numbers on the heaths of east Dorset.
The copious succession of spring wild flowers begins with wood anemone and sweet violet, followed by celandine, primrose and daffodil. Fields are flooded with yellow drifts of dandelions, willow trees display their golden pussy willow catkins in hedges and copses and gorse flowers ignite our heaths and commons. Later comes the tide of ramsons and bluebells. In Dorset, bluebells are usually at their best during the first week of May.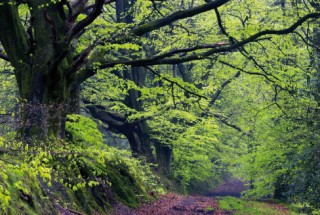 The bright green colours of spring's fresh foliage last for only a few days before fading to the dark greens of summer. Beech leaves are especially lush when they first break, as can be seen here on Lewesdon Hill.
Along roadside banks and verges, cascading sprays of red campion, greater stitchwort, bugle and yellow archangel flaunt their colourful blooms, all vying for the attention of bees and other pollinating insects. This wonderful display of spring flora is no happy accident as these are all woodland species which evolved when Dorset (and most of the rest of lowland Britain) was covered in natural forest. These plants needed to flower and set seed quickly in spring before the canopy of the trees was fully open to throw the forest floor into dense shade.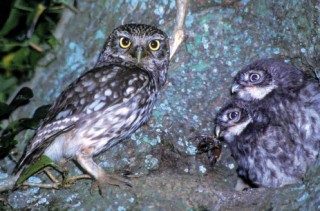 The little owl is not common in Dorset, but it can be seen in the west of the county, especially in the Marshwood Vale, and also on Portland. This adult little owl has just presented a chick with a cockchafer beetle.
The spring blossoms add yet another dimension to hedgerows and orchards. Native blossoms begin with blackthorn in early spring and later hawthorn, elder and wild roses bloom. Apple orchards come into blossom now, often contrasting with the colours of wild flowers which thrive beneath the trees.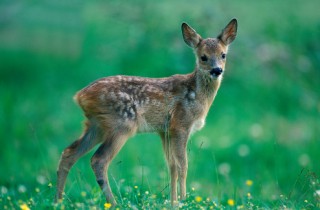 Roe deer give birth to their fawns during May
Spring sees the emergence of the early butterflies. The first to appear are the holly blue and brimstone. The latter, which overwinters in adult form, comes dancing along the hedgerows in a blur of sulphur yellow on the first warm days of the season. The holly blue spends winter as a chrysalis, hatching as early as late March. The orangetip is a spring species which will be seen across the county on warm days in April and May. This handsome butterfly is attracted to the flowers of lady's smock on which it lays its eggs.
The sand lizard is a vulnerable species as it relies almost totally on heathland. In Dorset, on account of large areas of surviving lowland heath, the sand lizard is comparatively common.
Birds arrive from the south to breed because our extended hours of daylight give them more time to devote to incubation and rearing young. Chiff-chaffs will have started this influx of summer visitors in late March and the latest to arrive are usually the swifts and flycatchers. In between will come the cuckoo, swallows, wheatears, warblers and housemartins. The hobby migrates with the martins and feeds on them on the way. This small, dark falcon has its main stronghold in Dorset and Hampshire and can be seen hunting dragonflies on the heaths in mid-summer. On the coast, sandwich terns arrive and later the little tern returns to Ferrybridge to breed. This is one of only a handful of sites in Britain where this small tern breeds. It is specially protected by fencing and wardened around the clock as the little tern has many enemies – including notably the hedgehog, which would feast on the birds' eggs if allowed.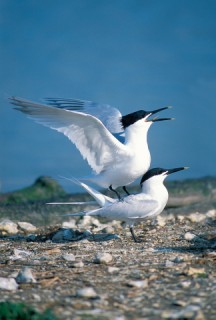 Sandwich terns arrive in Dorset in early spring. They breed on man-made islands in the lagoon on Brownsea Island, where this picture was taken.
Dorset boasts more species of reptile than any other county apart from Hampshire, and this is the best time of year for watching them. These fascinating creatures, which have spent the winter in hibernation, are now warming up in readiness for the breeding season. Lizards and snakes will have favourite basking places where they can soak up the warmth of the sun at each end of the day.
No other time of year (and few other counties) provides such a diverse range of wildlife activity as in Dorset in spring and early summer. It is now that the rhythms of nature accelerate to fever pitch, and reproduction becomes the overriding necessity for all plants, animals and insects. Spring does not last long though; soon will be gone the rich tapestry of colours, sights and sounds so make the most of it, get out there and enjoy Dorset at its best.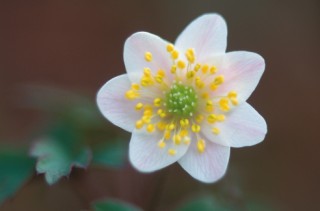 The delightful wood anemone can be seen in the Dorset lanes and copses in spring and early summer