Back to the future
Weymouth's historic Nothe Fort has been transformed from awful to award-winning thanks to the dedication of an army of volunteers. Jill Dunning investigates.
Published in May '09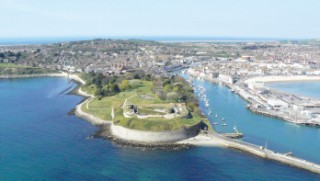 An aerial view of Nothe Fort looking west, with Lyme Bay in the distance
Nothe Fort was built for battles, which is just as well. In the past thirty years this sturdy Victorian structure, which sits atop a peninsula near the Condor Ferry terminal in Weymouth, has been involved in a fight for survival. But thanks largely to the determination and graft of dedicated volunteers, a handful of paid staff, and an investment over the years of more than £5 million, the fort has been transformed from a derelict wreck into the award-winning Museum of Coastal Defence and its future looks secure.
After winning a £2.5 million Heritage Lottery Fund grant and a consequent prize for the architects who carried out some much-needed work, the museum is now arming itself for its next challenge: to attract more visitors. There are brown signs aplenty in and around Weymouth pointing to Nothe Fort, but there still remain large numbers of locals, not to mention visitors to the town, who are unaware of what it has to offer. Even if militaria isn't your thing, the D-shaped landmark features some interesting exhibits focussing on social history, it has impressive architecture, and offers stunning views from the ramparts. In addition, the fort has become a venue for historical re-enactments and live performances, as well as an educational centre where schoolchildren can experience aspects of life in wartime Britain. A Victorian Weekend is planned for August and there are plans to participate in a Victorian Military Tattoo in September.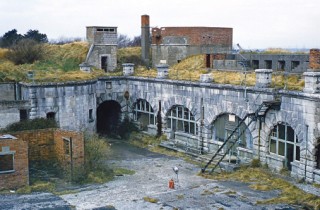 Nothe Fort as it was in the 1960s after its abandonment by the Ministry of Defence
It is believed that guns and a defensive structure had been on the site since the 16th century, but the origins of today's fort date back to the mid 19th century when, fearing a French invasion, Prime Minster Viscount Palmerston commissioned a series of defensive structures along the south coast. A civilian contractor started work on Nothe Fort in 1860, but when it ran out of money the job was taken over by 26 Company of the Royal Engineers, who completed the project twelve years later.
The No 2 Battery Royal Artillery was the first company of soldiers to man the garrison. Trained to handle huge ordnance, they were responsible for hauling and installing two 64-pounders, four 9-inch and six 10-inch guns. Some were replaced in the 1890s by enormous 12½-inch rifled muzzled loaders that could fire 800lb shells more than three miles. As technology developed, these were in turn replaced by breach-loaded guns placed on the ramparts rather than in the casemates – the large vaulted rooms from where cannon could be fired. These casemates were crucial to the fort's defences and had a laminated, layered construction to withstand impact. Their design was influenced by forts in Louisiana that had been bombarded by the Confederates in the US Civil War. The newer guns operated at a faster rate and over a longer range than their predecessors, but repositioning them to the ramparts proved problematic for the longer-term survival of the fort. A new level built to house the equipment was not properly damp-proofed and has meant the fort's current occupants have had an ongoing battle to keep out rainwater.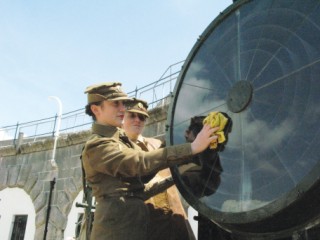 Members of The Garrison, a World War 2 re-enactment group polish their searchlight
'There was a good eighteen inches of water lying on the ground when we first came in,' recalls John Chantrey, one of the original volunteers who helped turn round the fort's fortunes. John had been brought in during the early efforts to save the fort, as he was an ex-Royal Engineer who remembered the fort when it was operational.
Despite its military intentions, Nothe Fort's defensive qualities were never tested in wartime. Even in the World War 2, when German bombers targeted Weymouth, it was only strafed by machine-gun fire. However, its sturdy construction made it an ideal location for an anti-aircraft ammunition depot, and so some of the casemates were converted for storage. When the Coast Defence programme was abolished in 1956, the fort was gradually abandoned. In 1961 it was bought by the Weymouth and Melcombe Regis Council but a viable scheme for the site never materialised.
This does not mean to say that the fort's defences remained untested. The building became a magnet for youngsters for whom breaching the walls was a challenge. A new film detailing this part of the fort's history is due to make its debut when the visitor season opens at Easter. Although the 1960s and 1970s were hardly the fort's glory years, they nevertheless chart its allure for some of Weymouth's younger residents. Now in wiser middle age, they are brave enough to confess to their misdemeanours and recount stories of how they forced or clambered their way in to set up camp – some even climbed up an exterior electrical cable. 'It was a running battle to keep them out,' says Phil Rogerson, another long-standing volunteer.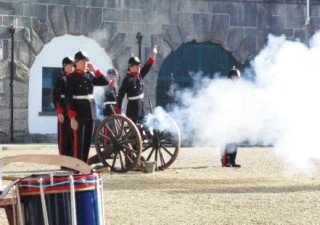 Late 19th-century artillery in action
In a way, the new film acknowledges that for some, part of growing up involves an amount of rebellion. 'It was a place to get away from parents and authority,' admits one woman. In a nice touch, a married couple, who as young, single trespassers had broken into the fort with different sets of friends, became thrown together during a police raid on the site. The man suggested pretending they were a courting couple to fool the officers, and now, all these years later, the two are still together.
The down side to this youthful thrill-seeking was that the Grade II-listed fort was being vandalised; wood was broken up to make fires, graffiti was plastered over walls and some of the metalwork was sold for scrap. Proposals for the site included turning it into a hovercraft terminal or revamping it as a luxury hotel. However, a group of local volunteers realised that the fort's future lay in its past and they decided to open it as a museum. Photographs from the time show what a challenge they faced and are a testimony to the hard work that has gone into transforming the landmark.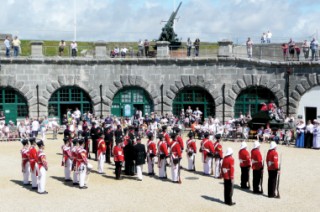 A Victorian re-enactment group on parade
Initially, the plan was to charge around 20p for admission. Parties of no more than 10 would be given a talk about the fort's history and then taken to the ramparts, taking care to avoid holes in the floor and watch out for missing railings. Modern-day health and safety officers would have had a field day. It was clear that if the museum was to progress, funds were needed to rectify the rust and water damage and make the fort safe.
As plans became more ambitious, Weymouth Civic Society (WCS) entered the fray in 1980 to give the volunteer group a structured support that would allow the fort to benefit from its charity status. It leases the building from the council for a peppercorn rent, and the fort continues to be run by a dedicated sub-committee of the Society. The Heritage Lottery Fund cash and monies raised or donated by the WCS, the council and local businesses have made a huge difference to how the museum operates, but the contribution of volunteers past and present cannot be underestimated.
Many of the detailed models used as exhibits have been a labour a love for volunteers such as Phil Rogerson and Alistair Murray, who have built many of the intricate displays. Phil also played a key role in developing the Evacuee Experience for schools. He explains that it is now part of the approved curriculum and around 3000 children have taken part.
One of the fort's youngest volunteers, Paul Merry, who became involved with the forts via re-enactments in his early teens, is the fort's armourer. He now holds a firearms licence and has recently paid for the renovation and re-boring of a 3½-inch barrel gun that was tested in February. John Chantrey, meanwhile, used many of his contacts to secure guns for the display. He is particularly proud of a 6-inch gun sourced from Newhaven Fort. Original guns that could not be found have been painstakingly and realistically recreated out of fibreglass, but you would never know from looking at them.
Even the spirit world has been lending a hand to draw in the visitors. As the new film attests, people have reported ghostly goings-on at the fort. Committee chairman Helen Rettie recounts how she was in one of the tunnels and was so convinced there was someone behind her that she held the door open, only to find she was alone. Others tell of whistling noises and strange presences. Although John and Phil admit to some unease when they have been at the fort alone, they are more sceptical about ghosts – although all the volunteers are keen to play the paranormal card if it helps bring in the punters.
Ultimately, it will be visitor numbers that will guarantee the fort's future. 'We are self-sufficient,' says Helen. 'Our income is generated by the admission fee and we need £150,000 a year just to cover costs.' With so much already achieved, the fight for awareness and visitor numbers will be the battle that wins the war.
[For more information see www.nothefort.co.uk]