Inspired To Learn
The Prince of Wales School in Dorchester has become known nationwide for its trailblazing integration of physically disabled students into a mainstream school. Tony Burton-Page went to see how it worked.
Published in April '09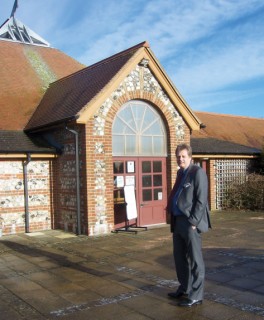 Peter Farrington at the main entrance
of the Prince of Wales School
Hidden away in a corner of the Prince of Wales School's website is this amazing statement: 'Feedback from parents on receipt of their child's annual report indicates that the children more or less universally enjoy this school' (my italics). There are probably many Dorset Life readers who, like me, come from a generation which would never have dreamed of saying that they liked school, even in the remote contingency that it was true. School was something to be endured until it was holiday time again: to re-phrase Neil Sedaka, breaking up wasn't hard to do.
So what is it about the Prince of Wales School which is so enjoyable for its pupils? Peter Farrington, the Headteacher, says that it is the end result of the school's policy of integrating physically disabled pupils into every aspect of school life – a policy which, he believes, changes the ethos of a school in a powerful and positive way.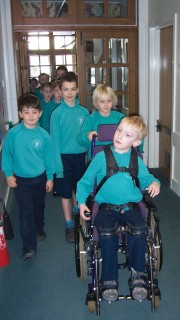 The presence of physically disabled children has a powerfully positive effect on the ethos of the school. Here a boy with cerebral palsy is taken to morning break by one of his classmates.
Peter is someone whose views on education are worth listening to: last year he was given one of the prestigious Teaching Awards, often called the Oscars of teaching. It was actually the National College of School Leadership Award for Headteacher of the Year in a Primary School in the South of England, but 'Oscar' is less of a mouthful and, as Peter points out, appropriate: 'The ceremony is bit like the Oscars – there's a televised final at the London Palladium. There's no harm in them, though; after all, people who work with children are doing an incredibly important job, so why not give them a pat on the back? But I see it as a pat on the back for the profession as a whole, not just for individuals.'
The story of this school goes back to the early 1990s. At that time there was a need for more first school places in Dorchester (for children aged from four to nine), so it was decided to build a completely new school on a site next door to a small special school on Maiden Castle Road, a mile away from the Iron Age hillfort. The special school was for pupils with physical disabilities, and it was so small that it was struggling to survive. Its Chairman of Governors, Pam Seaton, felt that the children were not getting their entitlement to a full curriculum, and closure seemed inevitable. But in a moment of vision the decision was taken to integrate all the pupils from the special school into the new school.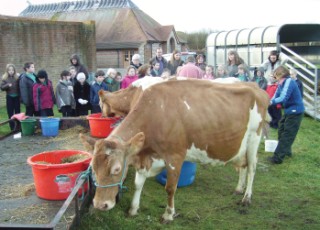 These two Guernsey cows visited the school as part of the 'Food and Farming Fortnight'. The farmers milked them in front of the children.
When Peter Farrington heard about the project, he jumped at the chance of opening a brand new school; few heads are given the opportunity to start with a blank canvas. Moreover, the school at which he was then working had recently given a place to a girl with cerebral palsy. She was the only disabled child in the school, but Peter found that 'it felt completely right, not only for her but for the community; it not only benefited her but subtly changed the ethos of the school in positive ways.' This was more than fifteen years ago; at that time it was considered most unusual. But the experience of this small-scale integration made Peter excited about the possibilities of applying it on a larger scale. He was delighted to discover that Pam Seaton thought on similar lines and as soon as the school opened they experimented with ways of integrating, listening all the time to the voices of those it most concerned: the pupils themselves.
Peter cites one particular voice which confirmed his belief that they were going in the right direction. One pupil from those early days, a boy with cerebral palsy, said that he felt safer – not in the small, protected environment of a class of five children but in the bustle of a big mainstream class with thirty others: he was now part of a group and could be a normal little boy. The ending to this story is even better, as this particular boy went on to Dorchester Middle School, the Thomas Hardye School (Dorchester's senior school) and Southampton University.
Excursions to such places as the Ancient Technology Centre at Cranborne are a regular part of the curriculum
Nowadays such a CV is not all that unusual for a disabled pupil at this school; others have followed in his footsteps. The opportunities for children like him have been hugely broadened and inclusion is part of the daily routine rather a topic for special consideration in staff meetings. Whenever there is a class outing, any disabled children who are part of that class are included, whether it is an excursion to the beach at Sandbanks or a hazel coppicing expedition to the woods or an outdoor residential trip.
'A visit to the beach? Hazel coppicing? It wasn't like that in my day!' My thoughts ran along those lines when Peter Farrington told me of these activities, and I suspect that many readers of my school-loathing generation would share them; I also suspect that we would have enjoyed our schooldays a lot more if we had had such opportunities. But is it 'education'? Peter Farrington gives it a definite 'yes'.
'Nobody can ignore the intense national pressure to raise standards in schools, and we believe the best way to achieve that is by inspiring and motivating the children – so we have a curriculum which genuinely engages them. Many schools are obsessed with educational achievement in a narrow area and lose sight of the fact that if children aren't creative or physically active and interested in what they're doing, you're flogging a dead horse. We want the children to want to come to school because there are interesting things happening.'
Hence the Iron Age huts which have been built during the last ten years or so. The children have been actively involved with them all through that time, for instance using traditional tools from the Ancient Technology Centre at Cranborne to help with thatching and coppicing. This has given them hands-on experience of what life was like all those years ago; the fact that Celtic roundhouses once really did exist on the school site (probably displaced refugees from the Roman conquest of Maiden Castle) makes the point even more forcibly.
The school's latest initiative has involved them with the Food For Life Partnership, an organisation determined to introduce children to real food. Peter Farrington was talking to a class of eight-year-olds and realised that many of them did not know that milk came from a cow – something one expects to hear from an inner-city estate but hardly from a rural county town. So the 'Food and Farming Fortnight' was set up for January this year: a bee-keeper came with his hives, an organic vegetable grower brought in an enormous range of her produce (including such unfamiliar sights as sprouts on their sticks and peas in their pods) and, best of all, a farmer brought in two Guernsey cows, which the children watched him milking. The event culminated in the whole school being cooked a meal made only from local and seasonal ingredients.
It comes as no surprise that a school which makes a point of integrating children with such disabilities as cerebral palsy, spina bifida and muscular dystrophy should be party to the UNICEF 'Rights Respecting Schools' movement. This aims to spread the word about the UN Declaration of the Rights of the Child. 'Hmph! Wishy-woshy 1960s woolly-mindedness…' is the usual reaction of my generation. But Peter Farrington's words are enough to soothe the grumpiest of grumpy old men.
'We make it clear to the children that rights and responsibilities are two sides of the same coin. Yes, children have a right to be listened to in class, but that also gives them the responsibility of listening to other people's opinions. Yes, they have a right to be safe, but that gives them the responsibility not to bully.'
Everywhere around the school you will see displays featuring seven caterpillars. These represent the 'Seven Cs of Citizenship', which encourage children to be confident, caring, courteous, considerate, conscientious, communicative and co-operative. This is an idea developed by DASP, the Dorchester Area Schools Partnership, of which Peter is the present Director, and the idea permeates all eighteen member schools. When pupils move from their first school to their middle school, they are greeted by their old friends the caterpillars, so that a consistent message is carried through.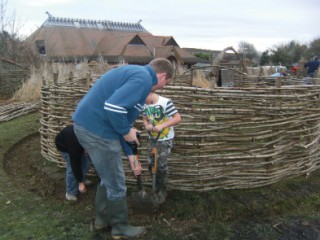 One of the Iron Age-style roundhouses which the children have helped to build. The idiosyncratic shape of the main school building was approved by the Prince of Wales himself.
Here is one of the great strengths of DASP – consistency of approach achieved by working together. The enlightened attitude of this organisation is demonstrated by the fact that its senior school, Thomas Hardye, actually apportions some of its budget to support early years projects in the local first schools. Since all these children will eventually come through to them, they reason that they are investing in the future. Even the dreaded OFSTED inspectors voted this school to be outstanding in every single department. As Peter Farrington says, 'It's a place where we're all inspired to learn.'