Defoe in Dorset
The famous writer's description of the county in the early 18th century
Published in April '09
Wimborne and the Minster in the 18th century. The artist has taken some liberties with the position of the Stour in relation to the town.

Between 1724 and 1726 Daniel Defoe, author of Robinson Crusoe and Moll Flanders, published his three-volume A Tour Through the Whole Island of Great Britain. As the title implied, it was an account of journeys Defoe had made to every corner of the country, although it is now generally believed that much of the material was sent in by others and collated by Defoe. However, it gives a unique picture of the country shortly before it was transformed socially and economically by the Industrial Revolution.

Dorset naturally came under Defoe's scrutiny. His factual accuracy left something to be desired – he has the Piddle flowing into both Christchurch and Poole Harbours, for example – but he had some trenchant and revealing remarks to make about the county. What follows is a slightly edited version of the first part of his journey through Dorset; the second part will be published in Dorset Life at a later date.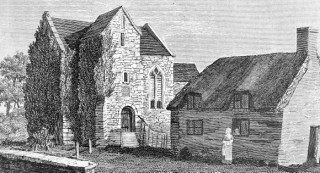 St Martin's, Wareham, was one of three churches that Defoe found in the 'neat town'

From Limington there are but few towns on the sea coast west, tho' there are several considerable rivers empty themselves into the sea, nor are there any harbours, or sea ports of any note, except Pool. As for Christ Church, tho' it stands at the mouth of the Avon, which comes down from Salisbury and brings with it all the waters of the south and east parts of Wiltshire, and receives also the Stour and Piddle, two Dorsetshire rivers, which bring with them all the waters of the north part of Dorsetshire, yet it is a very inconsiderable poor place, scarce worth seeing, and less worth mentioning in this account; only, that it sends two members to Parliament, which many poor towns in this part of England do.
From hence I stept up into the country north-west, to see the ancient town of Wimburn, or Wimburnminster. There I found nothing remarkable, but the church, which is indeed a very great one, ancient, and yet very well built, with a very firm strong square tower, considerably high; but was, without doubt, much finer, when on the top of it, stood a most exquisite spire, finer and taller, if fame lyes not, than that at Salisbury, and, by its situation, in a plainer, flatter country, visible, no question, much farther. But this most beautiful ornament was blown down by a sudden tempest of wind, as they tell us, in the year 1622.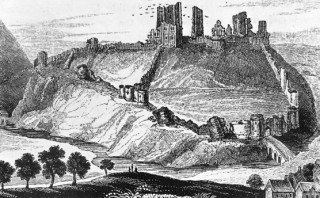 Defoe saw Corfe Castle less than a century after it was slighted by Oliver Cromwell's men, and rather more of it survived then than does today
Here are the monuments of the great Marchioness of Exeter, mother of Edward Courtney, Earl of Devonshire, and last of the family of Courtneys who enjoy'd that honour; as also of John de Beaufort Duke of Somerset, and his wife, grand-mother of King Henry VII by her daughter Margaret, Countess of Richmond. This last lady I mention, because she was foundress of a very fine free-school, which has since been enlarg'd, and had a new benefactress in Queen Elizabeth, who has enlarg'd the stipend and annex'd it to the foundation.
Having said this of the church, I have said all that is worth naming of the town; except that the inhabitants, who are many, and poor, are chiefly maintained by the manufacture of knitting stockings, which employs great part indeed of the county of Dorset, of which this is the first town eastward.
South of this town, over a sandy wild and barren country, we came to Pool, a considerable sea-port, and indeed the most considerable in all this part of England; for here I found some ships, some merchants, and some trade. Especially, here were a good number of ships fitted out every year to the Newfoundland fishing, in which the Pool men were said to have been particularly successful for many years past.
The town sits in the bottom of a great bay, or inlet of the sea, which entring at one narrow mouth opens to a very great breadth within the entrance, and comes up to the very shoar of this town; it runs also west up almost to the town of Wareham, a little below which, it receives the rivers Froom and Piddle, the two principal rivers of the county.
This place is famous for the best, and biggest oysters in all this part of England, which the people of Pool pretend to be famous for pickling, and they are barrell'd up here, and sent not only to London, but to the West Indies, and to Spain, and Italy, and other parts. 'Tis observed more pearl are found in the Pool oysters, and larger than in any other oysters about England.
As the entrance into this large bay is narrow, so it is made narrower by an island, call'd Branksey, which lying in the very mouth of the passage, divides it into two, and where there is an old castle, call'd Branksey Castle, built to defend the entrance, and this strength was very great advantage to the trade of this port, in the time of the late war with France.
Wareham is a neat town, and full of people, having a share of trade with Pool itself, it shows the ruins of a large town, and 'tis apparent has had eight churches, of which they have three remaining.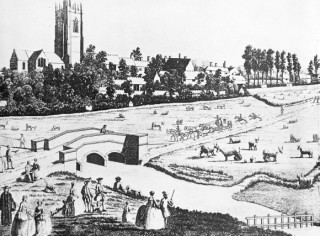 A view of Grey's Bridge and Fordington that shows how rural the surroundings of Dorchester were in Defoe's time.
South of Wareham, and between the bay I have mentioned and the sea, lyes a large tract of land, which being surrounded by the sea, except on one side is call'd an island, tho' it is really what should be call'd a peninsula. This tract of land is better inhabited than the sea coast of this west end of Dorsetshire generally is, and the manufacture of stockings is carry'd on there also; it is called the Isle of Purbeck, and has in the middle of it a large market-town, call'd Corf, and from the famous castle there, the whole town is now call'd Corf-Castle, it is a corporation, sending members to Parliaments.
This part of the country is eminent for vast quarreys of stone, which is cut out flat, and us'd in London in great quantities for paving court-yards, alleys, avenues to houses, kitchins, footways on the sides of the high-streets, and the like; and is very profitable to the place, as also in the number of shipping employed in bringing it to London. There are also several rocks of very good marble, only that the veins in the stone are not black and white, as the Italian, but grey, red, and other colours.
From hence we rode westward in view of the sea; the country is open, and in some respects pleasant, but not like the northern parts of the county, which are all fine carpet ground, soft as velvet, and the herbage, sweet as garden herbs, which makes their sheep be the best in England, if not in the world, and their wool fine to an extream.
So we turn'd up to Dorchester, the county town, tho' not the largest town in the county; Dorchester is indeed a pleasant agreeable town to live in, and where I thought the people seem'd less divided into factions and parties, than in other places; for though here are divisions and the people are not all of one mind, either as to religion, or politicks, yet they did not seem to separate with so much animosity as in other places. Here I saw the Church of England clergymen, and the Dissenting minister, or preacher drinking tea together, and conversing with civility and good neighbourhood, like catholick Christians, and men of a catholick, and extensive charity. The town is populous, tho' not large, the streets broad, but the buildings old, and low; however, there is good company and a good deal of it, and a man that coveted a retreat in this world might as agreeably spend his time, and as well in Dorchester, as in any town I know in England.
The downs round this town are exceeding pleasant, and come up on every side, even to the very streets end; and here it was that they told me, that there were 600 thousand sheep fed on the downs, within six miles of the town; that is, six miles every way, which is twelve miles in diameter, and thirty six miles in circumference. This I say, I was told, I do not affirm it to be true; but when I viewed the country round, I confess I could not but incline to believe it.
There are abundance of good families, and of very antient lines in the neighbourhood of this town of Dorchester, as the Napiers, the Courtneys, Strangeways, Seymours, Banks, Tregonells, Sedenhams, and many others, some of which have very great estates in the county, and in particular Colonel Strangeways, Napier, and Courtney. The first of these is master of the famous swannery, or nursery of swans, the like of which I believe is not in Europe; I wonder any man should pretend to travel over this country, and pass by it too, and then write his account, and take no notice of it.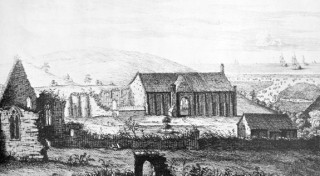 Defoe was much taken by the swannery at Abbotsbury, which can be seen in this engraving beyond the ruined abbey and the tithe barn