'A Long and Intimate Relationship'
Paul C Ensom celebrates Frederick Whitehead, a naturalist painter with a fine eye for the landscapes of Dorset in all its moods
Published in April '09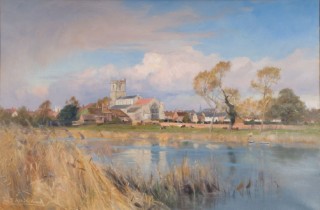 This view of Lady St Mary parish church, Wareham, was painted from the south side of the River Frome. The tower of the redundant Holy Trinity, not quite as it is today, is seen to the left. The light and the clouds hint at heavy showers. Oil on canvas.
That Frederick Whitehead's paintings of Dorset landscapes are so astutely observed should be no surprise. The scenes and ever-changing moods captured are the direct result of his self-imposed and seasonal lifestyle: for a substantial part of the year he and his wife, Beatrice, lived a rural idyll as Romanies, travelling with their animal companions and intimately bound-up with the landscape he portrayed so vividly in his paintings. Their home was a horse-drawn Romany caravan named 'The Rambler'. They set up camp pretty much where they pleased, and evidence suggests that they were a well-known couple – very much part of the Dorset scene – and welcomed in the pattern of changing seasons.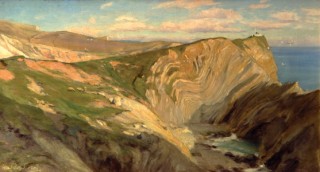 With the notable exception of Poole Harbour, paintings of coastal scenery by Frederick Whitehead appear to be something of a rarity. This 1890s view of Stair Hole portrays the magnificent exposure of the 'Lulworth Crumple', and provides distant glimpses of the Chalk cliff beyond Mupe Bay, and the Portland Stone buttress of Gad Cliff just caught in the westering sun. The look-out, no longer standing, was perched on the cliff top on the west side of Lulworth Cove.
Oil on card on board.
Frederick William Newton Whitehead was born in Leamington Spa in Warkwickshire in 1853, the third of four children born to William and Hannah Whitehead. His father had established a business as a carver and gilder, picture dealer, restorer and artist's colourman. One cannot help idly speculating that the name Newton might have been at least partly inspired by the established firm of suppliers of artist's materials, Winsor & Newton, with whom one might reasonably suppose his father had dealings! Frederick received a local education and training at the art school of a local artist, John Burgess (c.1814-1874), along with in-house tutoring from the Irish artist, Richard Rothwell (1800-1868), who is known to have lodged with his parents.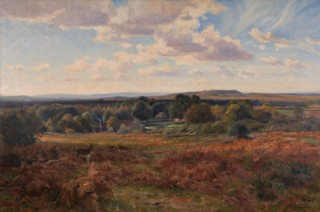 Despite being the smallest hillfort in south-east Dorset, Woolsbarrow Fort on Bloxworth Heath, north-north-east of Wareham, makes a prominent landmark. The age of the earthworks is unknown. Clouds point to weather on the change. Oil on canvas.
In 1880, ten years after holding his first exhibition of paintings, Frederick left for France and in Paris studied for three years at the Académie Julian. This period is captured in a number of paintings, amongst which was one of the bridge at Grez-sur-Loing. This local landmark had long been the subject of paintings by artists of the Barbizon school and was one of the locations where he and his artist sister, Elizabeth (1855-1934), who had also gone to France, mixed with kindred spirits for periods during the summer when the Académie closed. While the roots of Whitehead's naturalistic style may go back further than his time in France, there is every reason to suppose that the Barbizon school did much to encourage its development. In addition he is said to have greatly appreciated the work of John Constable; Whitehead's evocative skies may well owe something to the influence of that great painter of heraldic cloudscapes over the landscapes of England.
After his return to England in around 1883, Whitehead was sooner or later to find himself in the Dorset made famous by Thomas Hardy. The year 1893 was highly significant in his relationship with the county. That was the year in which he met the great novelist who had done so much to portray in words the Wessex, and specifically Dorset, which Whitehead would so sensitively depict in paint. Hardy, recognising his artistic talent, urged him to make the county a 'painting-ground', advice which forty-year-old Frederick took to heart. Perhaps affairs of the heart were partly responsible for Whitehead being in Dorset, specifically Beatrice Case of Dorchester. The daughter of a local tradesman, she was a pianist and performer of songs, and described as a local celebrity. She and Frederick married in London in April 1893. The year 1893 also saw his recent painting of Woolbridge Manor, with its connections to the d'Urberville family, exhibited at the Royal Academy. This venue, along with other galleries in London and the provinces, were to exhibit the pictures of this increasingly sought-after artist.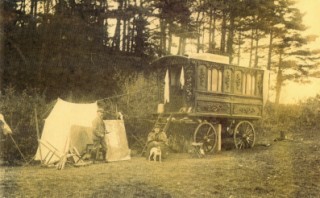 A photograph of Frederick and Beatrice Whitehead, one of their dogs, and 'Rambler', their horse-drawn home for part of the year.
Clive Holland, who in 1904 was the author of a remarkably detailed account of Frederick Whitehead based on an interview, quotes him as follows: 'If one wishes to paint nature, one must study her not only under the conditions for which one on any particular occasion seeks, but always and under every fickle change.' Although Whitehead was not a resident of Dorset in the strict sense of the word, 'The Rambler' permitted him an annual sojourn in what might be called his adopted county, enjoying that intimacy with the rich landscapes and skyscapes he craved. This close relationship with nature leaps from his paintings and any lover of Dorset's landscapes who closely observes the transient and seasonal variations of sky and light will immediately recognise the outstanding skill with which he captures his subject. His paintings were sometimes on a truly grand scale, with canvases measuring 71¼ x 47¼ inches (181 x 120 cm), but he was equally at home when working on the small scale with oil on wooden panels measuring a mere 11 x 4? inches (28 x 12.4 cm).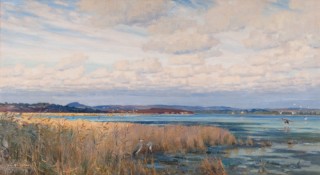 A view looking north from the south side of Poole harbour, possibly painted from Middlebere or Fitzworth, with Arne and Shipstal Point in the middle distance. In the distance on the left, the tree-capped prominence of Beacon Hill stands out. The distant high ground running from left to right is the now much diminished arc of heathland to the north and north-east of Poole.
Oil on canvas.
His method of working is well documented. He painted in almost all weather conditions, a point made eloquently by his pictures. Despite acknowledging the value of the camera as a means of recording details which might need revisiting, he is known to have all but finished his watercolours, oil paintings and even etchings en plein air. To achieve this when confronting the vagaries of the very weather he sought to experience and incorporate into his art required an equally creative approach. He travelled with a portable studio, 'the Baby Elephant', a tent-like contraption which he would carry to where he wished to paint or etch, somewhere within striking distance of his temporary encampment. Within its confines, to some extent he was able to protect himself and even his largest canvases from bone-chilling easterly winds, frost and deluge alike.
Whitehead's relationship with Dorset was a long and intimate one; the latest dated painting I am aware of is one painted in 1924 when he was in his early seventies. A complete and dated catalogue of all his Dorset works would provide a fascinating insight into the Whiteheads' gentle perambulations around the county. Did he favour certain areas at certain times of the year? Was there an annual circumnavigation? The paintings may hold the answers to these and other questions concerning his apparently prodigious output.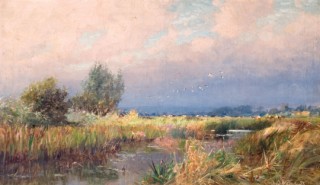 Water was always a popular subject. Here in his painting of the River Frome, he magnificently captures that end-of-the-day haze, with the low cast sunlight catching the reeds and meadows, cows, birds and clouds alike. Oil on canvas.
In 1987, a well-attended exhibition of almost fifty of Whitehead's paintings of the Dorset landscape, along with examples of his work painted in France and London, was held at the Dorset County Museum. The geographical spread of the exhibited paintings certainly demonstrated an apparent attachment to the Valley of the Frome and contiguous heathlands which fan out towards and embrace the shores of Poole Harbour. The exhibition's south-western limit was provided by a view of West Weares on Portland (1894) and a later depiction of a Portland quarry (1924), fourteen years before Whitehead's death in 1938. These seem to provide evidence of at least two visits to Dorset's most southerly point. Distant views of Poole from Poole Harbour's southern hinterland, slightly distorted – 'I rarely paint a picture just as I find it', he said – and of the River Frome at Poundbury marked the north-eastern and western extremes. Yet Holland's account makes clear that these were not the limits of Frederick and Beatrice's wanderings within Dorset, and that they were particularly attached to the River Stour near Sturminster Newton in the north of the county. A painting of Hardy's 'vale of the little dairies' (Blackmore Vale) from Bulbarrow is recorded as being commissioned by Hardy himself, and word of other pictures painted in the north of the county came to our ears as a result of the 1987 exhibition.
While water did not feature in all Whitehead's paintings, undoubtedly the interaction of light with land and water was something which he was a master at portraying. Perhaps there is an inevitable and very special fusion of these essentials of the landscape in his paintings of the heath around Poole Harbour: the huge skies receding to the north, the mercurial light on watery shards of streams or on the sheltered mass of Poole Harbour flecked by islands and, in all this, always that immediacy of the weather of the moment.
Whitehead provides a glimpse of the changing landscapes and patterns of life – perhaps consciously, perhaps subconsciously, he was attempting to provide a record of the Dorset he knew and loved. His awareness of change was well marked in his conversation with Clive Holland concerning the use of the camera, referring to a landscape being exposed to the 'process of attrition', and the 'growth of modern materialisation of the picturesque'. His rich legacy of Dorset landscapes remains relatively poorly known, but each provides a unique and perceptive view of the Dorset of Thomas Hardy, the great novelist and poet who had first helped focus Whitehead's gaze on the county and who pre-deceased him by just ten years.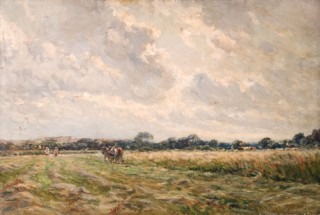 Whitehead frequently captures an element of 'human or animal interest' in his paintings, and so documents the annual cycle of rural life and seasonal activity. This scene was captured near Moreton. Oil on canvas.
[Sincere thanks are due to the Dorset County Museum, to Gwen Yarker and to Giles Sturdy for their help with the illustrations for this article.]