Rolling Out The Barrelhouse
Sturminster Newton's unique blues, jazz and rock club is still going strong after twenty years, despite the untimely death of the man who was its driving force. Roger Guttridge assesses a musical phenomenon.
Published in March '09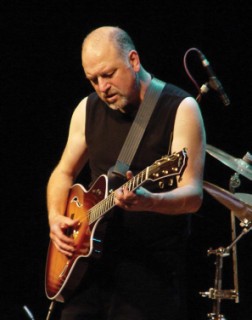 Paul Hart – guitarist, runner, craftsman, teacher and founder of the Barrelhouse Blues Club – whose untimely death last year has left a huge gap in Sturminster Newton's cultural life
On 30 April 2008, Paul Hart sent me an email concerning early plans for this very article. 'The first Barrelhouse gig was in 1989 – twenty years ago next year – so an article early in 2009 would be spot-on,' he wrote. 'Your memories would be essential, of course. Remember Big Joe Turner and his chitterlin's?'
Sadly, they were Paul's last words to me before his sudden death, aged 57, ten days later. But they served to remind me of one of the more offbeat stories to emerge from the first twenty years of the Barrelhouse Blues Club, a remarkable musical phenomenon of which Paul was co-founder and the driving force. The Turner tale dates from April 1996, when Paul asked if I could write something to publicise a forthcoming gig by Big Joe and his Memphis Blues Caravan. During a telephone interview, the former bass player to music legends BB King, Albert King and Albert Collins told me that he – like Jimi Hendrix and many other black musicians – had cut his musical teeth on America's blues circuit, known as the Chitterlin' Circuit because only black people ate chitterlings – the small intestines of a pig. 'I've tried getting them in the UK but have never come across any,' he said.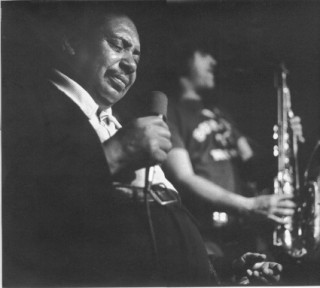 Big Joe Turner, who played for the Barrelhouse in 1996 and found his chitterlings in Kinson
My story appeared in the Bournemouth Daily Echo under the unlikely headline 'Big Joe is missing his chitterlin's'. 'The search is on,' the story began, 'for the chitterlings which would give legendary blues bass player Big Joe Turner a nostalgic taste of his native Tennessee.' Within hours a reader called directing me to a butcher at Kinson, who had two packs of chitterlings – the last of a freezer-full bought when he heard that the supply was to be discontinued. After an eleventh-hour dash to Kinson, a pack was duly delivered to the gig venue, where Ray Turner cooked them for his delighted brother. 'They were the first chitterlings I've had in Europe and I'm gonna have some more tomorrow,' said Joe.
That particular gig was in a converted skittle alley behind the Silent Whistle at Shillingstone. This was one of several short-term North Dorset homes for the Barrelhouse during one of its itinerant phases but it is to Paul Hart's home town of Sturminster Newton that it has been umbilically connected since the club's very first gig was held at the Royal British Legion Club in 1989.
Co-founder Stuart Booth recalls that the idea of starting a club was born at Nelson's Wine Bar in Blandford, where Paul's blues trio used to play every other week in the late 1980s. Stuart, who sometimes played as a guest on harmonica, came up with the name 'Barrelhouse' from a style of boogie-woogie piano music, while Paul – an artist and graphic design teacher as well as a blues guitarist – designed a logo which is still in use two decades later.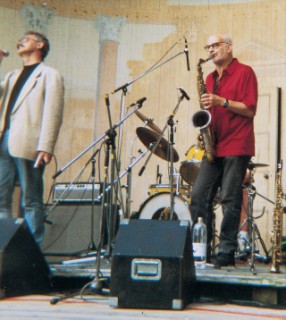 The great saxophonist Dick Heckstall-Smith was one of the first headline acts for the Barrelhouse in its early days
The headline act for the first club gig was the great saxophonist Dick Heckstall-Smith, best-known for his roles in the 1960s with the Graham Bond Organisation, John Mayall's Bluesbreakers and Coliseum. The attraction proved so popular that sixty customers were turned away. 'There was a proper stage, banked seating and the atmosphere was fantastic,' says Stuart. 'It was almost like a nightclub venue, as I imagine some of the best American blues clubs were. A month later we had the blues veteran Victor Brox as guest and another good evening.'
This type of event was not to everyone's taste, however, and after those first two gigs, the Barrelhouse Blues and Jazz Club, as it was originally known, was looking for a new home. For the next couple of years, it roamed around a range of venues in North Dorset, including the cellar bar at the Royal Chase in Shaftesbury and Tiffany's at the Crown and Anchor in Blandford. After a couple of years Paul found the club a permanent home in an old shed behind the Rivers Arms at Sturminster. This offered something of the spit-and-sawdust atmosphere that sits well with certain musical genres and had the advantage of two floors with a four-sided balcony. It was also suitably distant from any houses, reducing the risk of complaints about excessive noise. For several years in the early 1990s, the Rivers Arms barrelhouse was the focal point for a wide range of musical events, including workshops every Monday and regular blues and rock gigs on Fridays and Saturdays. As well as providing a platform for seasoned musicians now in middle age, the club also provided young bands with rare opportunities to play to a live audience. It was also used as a makeshift recording studio on one or two occasions. Heckstall-Smith and Brox continued to appear from time to time along with an extraordinary array of other artists, leading the press to liken the Barrelhouse's list of performers to a 'Who's Who?' of blues and rock. Many were backed or supported by the Barrelhouse Blues Band, which also performed in its own right at other venues and was often fronted by the American harmonica player and vocalist Johnny Mars, a close friend of Paul Hart and now a resident of Somerset. The club even attracted the attention of an ITV arts programme, whose crew spent a day filming and interviewing for a main feature.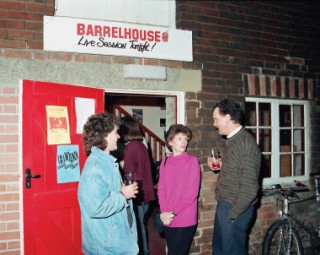 For several years in the 1990s the Rivers Arms in Sturminster Newton was the permanent home of the Barrelhouse Blues Club
The closure of Sturminster's cattle market spelt the end of the Rivers Arms and, in turn, of the Barrelhouse club's time of greatest stability. The club then entered another itinerant phase which took it first to Shillingstone's Silent Whistle until that pub also closed, then to a handful of other venues including the Sturminster Hall, a second spell at the Royal British Legion Club, the Bull Inn and, for jam sessions, the Bakers Arms at Child Okeford. A later spin-off of club and band was the 21-piece Barrelhouse Blues Orchestra, billed as 'probably the biggest blues band in the world' – although the claim was amicably disputed by Jools Holland's high-profile outfit. The orchestra played high-profile gigs at Bryanston Arts Centre and Poole Arts Centre, released an album in 2003 and played on the Paul Jones Blues Show on BBC Radio 2.
The opening of Sturminster's imaginatively-designed community centre, the Exchange, in 2007 provided another opportunity for the Barrelhouse club to acquire a permanent home and the stability that goes with it. Almost from the first day, Paul was playing with the Barrelhouse Band and Orchestra (and even a Barrelhouse choir) as well as resuming the traditional workshops and jam sessions and organising a range of gigs under the Barrelhouse banner. It was at one of these, on 26 April last year, that I last saw Paul, who invited me as a guest to watch the Kast Off Kinks. The gig was a sell-out and the audience ranged in age from teenagers to sixty-somethings. The community atmosphere was inspiring and the following day I emailed the editor of Dorset Life to suggest an article about this remarkable musical phenomenon in a rural backwater.
Little did I know that a few weeks later I would instead be preparing to deliver a tribute at a thanksgiving service for Paul's life. I concluded this by suggesting that he had left a huge musical, artistic and sporting legacy (he was also an accomplished runner and coach) and that the challenge for Sturminster was to 'pick up the baton and run with it'.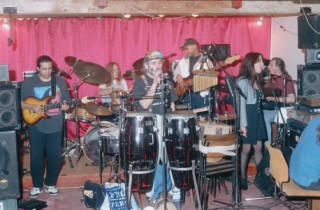 The 'spit-and-sawdust' atmosphere of the Rivers Arms is evident in this photograph – as are the cramped conditions on stage!
The Paul Hart Foundation has since been formed to maintain his musical legacy and is organising regular gigs at the Exchange. But the legacy is nowhere better expressed than in the informal jam sessions and music workshops which take place on the third Monday of each month. 'These evenings were instigated, inspired and largely run by Paul,' says John Short, one of the organisers. 'After his death on 10 May, we were all uncertain if the many things he did, including the jam sessions, could continue. Paul had already booked Victor Brox to appear at the workshop on 12 May. When I told Victor that Paul had died, he made it clear that he was determined to come and perform in memory of Paul. His enthusiasm encouraged us to ensure that what Paul had done should continue so the Paul Hart Foundation was established to ensure their continuation.'
[Details of workshops and gigs can be found on the website www.barrelhouse.org.uk]