In Another World
Chris Shaw and Colin Varndell visit the Glade at Ferndown
Published in March '09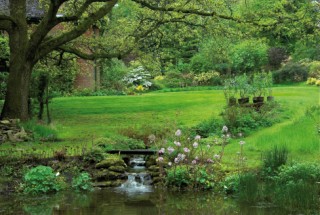 The stream-fed lake is prettily edged with bog plants
A garden that is full of interest in late April is a lovely start to the gardening season and can easily tempt me away from my own hard labours, especially when the wind still blows cold and the rain seems never-ending. Driving from one part of Dorset to another often means I can dodge the wet, and so it proved when I visited The Glade in Ferndown. Overhearing other visitors, it was apparent that Ferndown had been under thunder, lightning and torrential rain all morning, which thankfully for Mary and Roger Angus had stopped just in time. The owners of this nearly two-acre garden had been prepared for just a handful of visitors, but a steady stream of rain-coated optimists were intent on finding something worth looking at.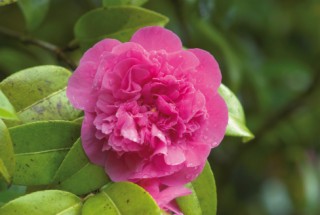 Prettily-frilled Camellia x williamsii 'Debbie'
And there is plenty to see in this beautifully tucked-away garden very close to the busy Tricketts Cross roundabout. We could have been in another world, surrounded by tall trees and the noise of traffic having faded away. The peace of the garden is emphasised by the fact that it attracts wildlife including badgers and deer, the latter being tolerated only outside the caged vegetable garden.
The Glade was built in the mid-1930s, so the garden dates from that time. There are still carpets of primroses, bluebells and wood anemones that have naturalised beneath the tree canopy that gives such a lot of shelter. Mary and Roger arrived in the early 1970s, but Mary told me that it is only during the last fifteen years or so that they have landscaped to change the garden layout to what is seen today.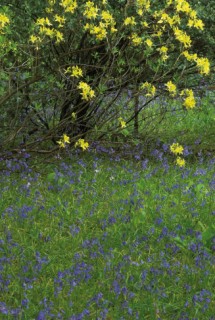 Azalea luteum's scented flowers, above a carpet of bluebells
The garden slopes gently down from south to north, with a stream and very boggy ground at the bottom of the slope. Advantage has been taken of this to create a tilted bowl of gentle terraces that lead down to the small lake. At the centre stands the house and its lawn, with a small area of cleverly planned borders and steps enhanced by shrubs in tubs and other easy-to-maintain planting. There is more than enough to keep any gardener happy here, without adding time-consuming annuals. Mary pointed out that with a poor soil they also keep herbaceous perennials to a minimum, as they like to garden organically where possible.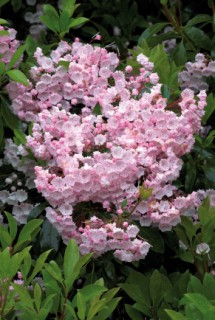 Evergreen Kalmia latifolia is ideal for a woodland garden
It was with the herbaceous border that my garden tour began, a curving bed backed by a brick wall almost disappearing beneath a Banksian rose. The border was well under way in late April, full of phlox, thalictrum, paeonies and hellebores. Tulips were just coming into flower: a deep, dark plum echoing the nearby heuchera and a soft peach which made a good juxtaposition with the orange heads of euphorbia. As always it was interesting to see how a garden just half an hour from my own was responding to different temperatures and conditions. Delphiniums, I thought? More than a metre high? Mary sent me back for another look: they were aconitum, or monk's hood, also known as poor man's delphinium. Although the foliage is similar, the flowers are very different, monk's hood having – as its name suggests – hooded flowers. It is a tougher plant much more suitable for a shaded woodland garden such as this. It doesn't attract slugs like the daintier delphiniums, either, although it is worth bearing in mind that the foliage can cause skin irritation and no part of the plant should be put in your mouth.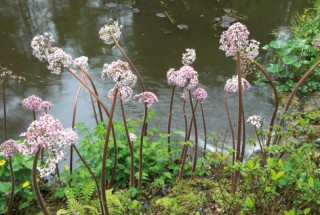 Tall stems make a striking display of Darmera peltata
This border is also backed by one of the two dozen or more camellias that were in full bloom, the beautiful C. x williamsii 'Mary Phoebe Taylor'. As I took the path along the upper terrace I also found blowsy, pink 'Joan Trehane' and paler pink 'Cheryl Lynn'. Some azaleas were just on the point of flowering, but yellow Azalea luteum was full out and pointing to spring sunshine. It looks magnificent above the bluebells and its scented flowers are a bonus. Several flowering crab-apple trees made a typically spring scene and silver birch formed an eye-catching group against a backdrop of green. The new growth of ferns was uncurling around the base of an old tree stump, where a terracotta pot was being held prettily in place by encroaching ivy.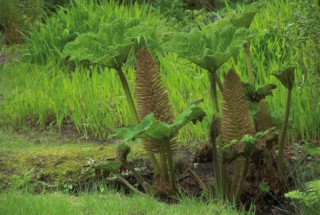 Gunnera manicata, 'just shaping up to do great things'
Further round the garden, the deep orange flowers of berberis grouped with spiraea and more azaleas make a vibrant splash of colour. I found one of my favourite camellias, 'Jury's Yellow', tucked away at the back. It's the perfect match for primroses. Spring is nothing without the flowering cherries and here are Prunus 'Pink Perfection' and P. 'Amanogawa'.
Pieris and rhododendrons have the space to grow to great size at The Glade and, grouped with such as skimmia and holly, they form an area that can be left very much to its own devices. Kalmia latifolia is an evergreen ideal for a woodland garden, too. I followed my nose to the Viburnum burkwoodii; a heavenly scent. Occasional bursts of lime green and yellow are provided by phormiums, euphorbia and variegated skimmia. There is also a magnificent tree fern which doesn't look as if it has ever heard of late Dorset frosts, although Mary said, surprisingly, that the garden suffers from both frost and wind; it seemed much too sheltered for that.
The small lake is fed by a stream cascading over moss-covered stones that look as though they have been in position for ever. Both lake and stream are edged with bog plants and there is a separate bog garden, too. Acers look supremely elegant on the lake shore and with Prunus 'Taihaku' in the wet meadow, a Japanese theme is evolving. The 'great white cherry' will more than balance the giant gunnera that was just shaping up to do great things. Tall clumps of Darmera peltata, one of the saxifrage family, are thriving in these conditions. Its stems hold the flower heads well above the ground in an eye-catching pink.
The nearby vegetable garden had an interesting herb bed including angelica, fennel, rosemary and sage. A small greenhouse was packed with standard fuchsias, oleanders and pelargoniums, all marking time for the last danger of frost to pass before they could be stood out in position.
I was still on the trail of camellias and found C. japonica 'Lavinia Maggi' on the corner of the garage, pale pink prettily splotched with deeper pink. Not far away, the tiny flowers of 'Kewpie Doll' held their own with frilly 'Debbie'.
Last but not least, I found a plant stall, a cup of tea and a slice of cake. Nearly one hundred visitors had decided that this was, after all, an excellent way to spend a somewhat grey afternoon. The Glade had just the garden to dispel the gloom and lift the spirits. As I left, Roger assured me that there would be something different to see at all openings until June, at which time he and his wife took time off to look at other people's gardens. Deservedly so, too.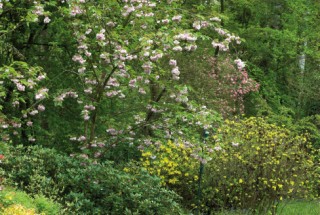 Spring is nothing without cherry blossom
[Check the NGS Yellow Book for 2009 openings and details of private visits for groups of fifteen or more.]