Dorset — a bird's eye view — The Eastern Purbeck Hills
Photograph by Grahame Austin of Kitchenham Photography; text by John Chaffey
Published in February '09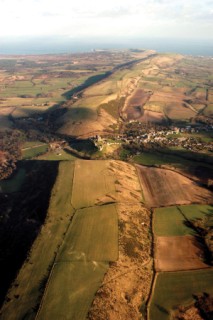 This aerial view shows the Purbeck Hills from just west of Corfe Castle to distant Ballard Point, where they reach the sea at their eastern extremity. The Purbeck Hills, formed of steeply dipping to vertical Chalk, form a line of hogback hills from Worbarrow Bay in the west to Ballard Point in the east. Three large fields lie atop the Purbeck Hills to the west of Corfe Castle: at the western end of the first one a small dry valley runs down through the steep slopes on the southern side – this was cut by meltwaters during the glacial period, enlarging a hollow formed by erosion around a large patch of snow. A smaller example occurs just to the east. The track at the southern foot of the hills, which eventually rises diagonally to the top in the foreground, separates the hills from the fields on the Upper Greensand bench to the south, where rich soils encourage the growth of cereals. At the far end of the easternmost field, across the Church Knowle road, the ancient fortification known as The Rings can be seen. Built by King Stephen in 1139, it was used as an artillery emplacement in the 17th century by the Parliamentary forces besieging Corfe Castle.
The gaps cut by the two small streams, the Corfe River and the Byle Brook can clearly be seen beyond the stretch of the Purbeck Hills in the foreground. Isolated between these two gaps is Corfe Castle itself. To the south of the Castle is the village of Corfe Castle, with its two main streets, East Street and West Street. The open space between them seen on the far right of the image is known as the Halves, once the site of an open field system. Beyond the Castle, the cutting that takes the Swanage railway through the western end of East Hill can be seen: the route of the railway itself is to the left.
Beyond, the Purbeck Hills extend away to the east, partly broken after a mile or so by the dry valley leading down to Rollington Farm. The long line of woods that clothe its northern slopes can be seen. The shadow cast by the hills effectively delineates the belt of arable land developed on fertile soils running from Norden near Corfe to beyond Studland. To the north of this belt is the patchwork of woodland and heath that extends eastwards to the distant Studland Bay. To the south of the hills is a continuation of the Greensand bench, another richly fertile belt, with its line of farms, the most westerly of which, Sandyhills Farm, can be clearly distinguished.