The (almost) Complete Guide
Jo Draper explains how her treasure-chest of Dorset is missing one jewel
Published in January '09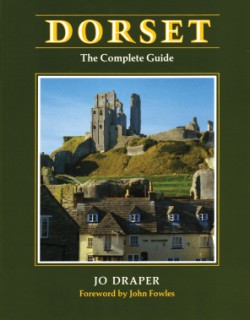 Dorset – The Complete Guide, reprinted for the twelfth time and in its third edition
It is twenty-one years since my biggest book, Dorset – The Complete Guide, was published. I don't feel any older or more sensible, or cleverer, but it is a good long time ago. When the first edition came out, there was a little flurry of letters giving me corrections and comments. Some were difficult to handle, like the one from a landowner who didn't like me describing his 'medieval' barn as 18th-century; the supposedly 'medieval' barn was dated and all characteristic Georgian. One garden I described as '3-star, would be 4-star (the top) if larger'; the owner wrote to say that I would think it large enough if I had to weed it. Some thought that their land-owning families didn't get enough text. Other people usefully pointed out buildings I had missed.
Occasionally I've met people who use the book in odd ways – reading it straight through rather than using it as a guide is the commonest (but I suppose as someone who has read all three editions of Hutchins, all the Royal Commission on Historic Monuments etc, I can't really comment). The most unusual was a couple who visited a town or village without The Complete Guide, and then read it when they got back to see what they had missed.
The two or three years I spent travelling the county and writing The Complete Guide were the most interesting of my working life. Of course I thought I knew the county before I set off, but of course I didn't really. I did resent the fact that I was the first guidebook writer to have to cope with an enlarged county; Christchurch and Bournemouth didn't feel like part of Dorset. Visiting all 300 parishes and trying to research everything the visitor could see was a privilege. I've always been lucky in that I enjoy the research and the writing equally, and see it as one job: the research has to be tailored to what you are going to write.
It did take time to sort out what exactly was needed in the text, what would be useful for people exploring the county. I was delighted when I found, in the introduction to George Ellis's History of Weymouth (1829 – a pioneer) that he hoped his book would be of use to 'the great influx of migratory characters annually resorting to towns seated on the sea coast' and also 'satisfy the inhabitants of various local particulars with which they were imperfectly acquainted, or had allowed to lapse from their memory'. Exactly, except that migratory characters also visit inland today.
I mostly did the work on my own, with my faithful Morris Traveller. I intended to have someone take a triumphant photograph of me and the car with John Fowles (who wrote the introduction and helped lots with West Dorset) and the book, but sadly, this just didn't get organised. I would research a small area, then visit with my notes and Pevsner. That neat little black volume was left in several Dorset churches, tucked onto a shelf by a pew and looking just like a hymn book. Back again to rescue it. One or two very systematic people were shocked by the geographical approach – they thought I should be doing it alphabetically, as it would be in the book, and I couldn't persuade them that nipping from Abbotsbury to Adber (near Trent) and back south again to Affpuddle was not going to work.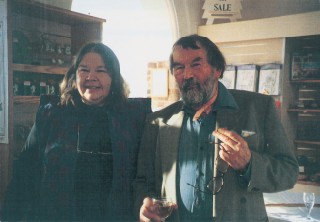 Jo Draper with John Fowles, who wrote the foreword to The Complete Guide, at the re-opening of Lyme Regis Museum in 1999
Occasionally friends accompanied me, and on one occasion a female friend and I arrived at a rural church just ten minutes before a new (female) group was starting a Bible study course. We were welcomed so kindly, and it took us a while to work out what was happening and extricate ourselves. We felt awful.
I was particularly interested in Manston because the occupants of the big house, up by the church, were the pioneers of cremation in the early 1880s. The only trouble was that I couldn't find the church on the Ordnance Survey map. I asked a group of local kids, who were astonished that there was anyone in the world who didn't know where their church was. With their help I found it, and realised that it was actually omitted by the Ordnance Survey. In their defence, it was right on the edge of the map. I have to confess I rather enjoyed letting them know, and they were mortified.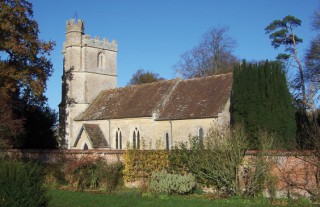 The church of St Nicholas at Manston, once omitted on the OS map but found by Jo Draper
I was surprised to find some parish or church guides still reacting very badly to uncomplimentary remarks by Sir Frederick Treves in his Highways and Byways in Dorset. This had been published 80 years before my visits and is indeed a very rude guidebook. I didn't want to score cheap points off obscure places, but (as ever) I didn't want to write a boring or inaccurate book. I tried to read everything published (of course I still haven't done that, several books later) and scuds of research didn't appear in the book. I was so chuffed and flattered by Richard Ollard's using The Complete Guide widely for his own Dorset (1995) and his admiring the book: 'The accurate and concise presentation of a great deal of information, much of it learned and out of the way, is achieved without the slightest touch of the patronising or the pedantic.' Wow – but pride comes before a fall.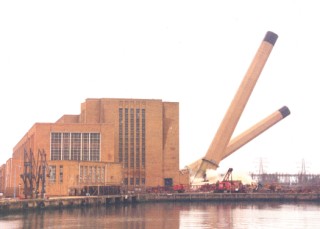 The moment on 5 February 1993 when the chimneys of Poole power station were demolished.
The disappearance of this landmark necessitated alterations to many entries in The Complete Guide.
Apart from trying to keep up with changes – Poole power station being demolished meant altering an unreasonable number of entries because it was such a landmark – I thought I had most things right, and by the second edition would certainly have denied that there could possibly be anything so significant as a church missing. I couldn't have missed a good church – I had checked the Royal Commission volumes, Pevsner, local histories etc etc.
Well, you can guess: this summer I had a nice letter tactfully admiring The Complete Guide, but pointing out that I describe East Chelborough as a parish without a church, whereas it does indeed have one. This missed church is on the Ordnance Survey maps and in Pevsner, the Royal Commission volumes and so on, but I had managed to miss it entirely.
My only (feeble) excuses are that it is very isolated, is obscured on the maps by woodland and occurs in the Royal Commission under another name altogether – Lewcombe. Unusually, it is right in the northern corner of its parish. Chris Downer, who alerted me, sent photographs on a CD (something not possible when the book was first published) and it was clear that I hadn't just missed a church; I'd missed a very interesting church.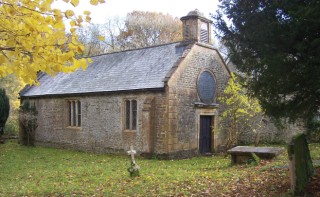 Hidden away in a remote corner of north-west Dorset is Lewcombe church, the missing jewel from The Complete Guide
I set off as soon as possible for Chelborough, right in the north-west of the county and bounding Somerset. You have to walk half a mile to get to the church, which is not in a village-y setting but a little way from the manor house. All is woody, with a little stream below the church: a super area for walking.
And the church was a charmer – basically 16th-century, small and beautifully set. It is just a simple, barn-like building with no tower but unusual in having a huge round window over the severely classical door, both 18th-century additions. Inside there is more: a huge east window dating from the 1760s or 1770s, with Georgian panelling swooping under it, Georgian communion rails and font. Oh dear, this should have had a photograph in The Complete Guide, never mind an entry. It will go into the next edition, with apologies, and perhaps I'll have got most things right at last.
It only gets worse: talking about this with friends, they gently (or even not-so-gently) pointed out that they had included Lewcombe in their books and two of them even printed a good photograph of the pretty building. And I thought I had read at least their books carefully.
[Jo Draper's Dorset – The Complete Guide is currently available in its twelfth reprinting and third edition – but not yet with Lewcombe.]