Lady of the Palms and Paddy Fields
Sherborne was the birthplace of Diana Ruth Wilson and her wonderful botanical paintings have returned there. Elisabeth Bletsoe tells her story.
Published in January '09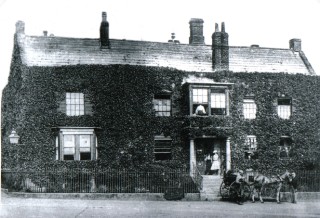 The Green, Diana Ruth Wilson's birthplace, as she would have known it when a child
Formerly the town's major coaching inn, The Angel at Greenhill in Sherborne was acquired in 1865 as a boarding house by Sherborne School. It was re-named 'The Green' and its stables turned into senior study rooms. Stripped of its Virginia creeper, the building exists today as private apartments, its 18th-century west front approached by a flight of steps leading to a Tuscan porch.
It was here that Thomas Ward Wilson, son of a Lincolnshire clergyman, was housemaster for 25 years and where his Canadian wife, Augusta Louisa, had three children: Thomas Irving Ward (1883), Diana Ruth (1886) and Patience Marguerite (1899). T I W Wilson became a popular teacher at Repton School in Derbyshire but was shot through the heart during the Beaumont-Hamel assault in 1916. Patience, after two years' voice training at the Royal College of Music, was to marry twice and have five children, occupying herself with infant welfare and the Townswomen's Guild. Diana Ruth, however, became a gifted botanical artist and her astonishing early work, including nearly 200 watercolours of Dorset wild flowers, currently forms one of the core exhibits at Sherborne Museum.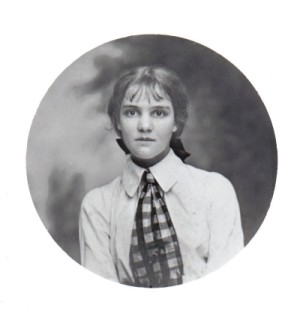 Diana Ruth Wilson as a schoolgirl
According to his obituary in The Shirburnian (1924), Diana's father was a charming, genial and warm-hearted man who was loved by generations of masters and boys alike. A fanatical cricketer, he was particularly noted for his fondness for the natural world and added his own collections to the school museum. He often took the boys out on field trips to Butterworth, the Holt Woods and Thornford Ridge and Diana herself joined these expeditions, undoubtedly becoming inspired by her father's enthusiasm. In a letter dated 1960 she mentions how she 'walked and rode a pony over all that lovely countryside', searching for moss cups at the Wishing Well in a field beyond Coombe Lane. She also rode out with the Blackmore Vale Hunt, scandalising the more conventional by sitting astride rather than side-saddle as was proper for women at the time.
Diana attended the Girls' School, or Sherborne Ladies' College as it then was, under the headship of Miss Beatrice Mulliner. Here she started to compile A Book of Spring, laid out with line drawings in the margins and pages marked up for colour illustrations. As well as her father, another influence on her interest in nature was a family friend, Littleton Powys, one of the famous literary brothers, who became the Headmaster of Sherborne Preparatory School. Diana often compared notes with him on 'flowers, birds and bugs'. Both Powys and the second-in-command at her school, Miss Moore, encouraged her to observe deeply and to paint 'the lovely things' she saw.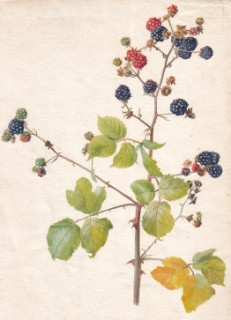 Blackberry bramble (Rubus fruticosus). Sherborne, October 1905.
Following Thomas Wilson's retirement from Sherborne School in 1908, the family moved to Uploders House, a few miles north-east of Bridport. The years spent here seem to have been extremely happy, almost idyllic: 'the picturesque house, old-fashioned garden with its stately copper beech, its rambler roses in which goldfinches nested and its long grassy slopes leading down to a little trout stream'. In June 1911 Patience married a barrister at Loders parish church, with Diana in attendance as a witness. At some point before her own marriage, Diana travelled to Dresden to learn the art of china painting, a skill she put to use by decorating door handles and finger-plates on commission. Another journey, to her cousin in Brazil, enabled her to produce a series of exotic painted butterflies aimed at furthering academic research.

Fetid (or stinking) iris (Iris foetidissima). Sherborne, 2 November 1907.
In 1914 Diana married the botanist and educator, Philip Furley Fyson, in Worcester Cathedral during his leave from Presidency College, Madras. Philip had been born in Japan to British missionary parents and educated in Scotland and Cambridge before moving to India in 1904. Out in Madras, Diana gave birth to four of her five children and, as well as providing botanical illustrations for her husband's texts, wrote two books, Waves in Art and Mahabalipuram, the latter a travel guide to the celebrated cave-temples south of the city. This small work is complemented by her drawings of local architecture. From 1920 to 1925 Philip served as Inspector for Schools in the Vishakapatnam and Ganjam districts but returned to Presidency College to become its Principal from 1925 to 1932. He instigated the building of a science wing, introduced the BSc. degree and became involved, with Diana, in the initial administration of the Madras Fine Arts and Agri-Horticultural Societies.
| | |
| --- | --- |
| | Dog rose (Rosa canina). Uploders, 13 July 1909. |
Philip's earlier botanical works were revised into The Flora of the Southern Indian Hill-Stations (1932), covering 877 species. Diana made illustrations for over half this book, providing 320 plates. Although the text is not without its limitations, since Philip had little time to devote to it while teaching, it was the first illustrated flora of the region and as such created enormous interest, stimulating many new botanical works. It was to remain a bench-mark for many years to come and the Fysons were noted for their pioneering work, contributing as they did to ideas on conservation and the study of bio-diversity in the field. Both were, and are still, renowned in Madras: he for raising the educational standards and status of the College, and she for her contribution to the art world. Diana was generous with her time, energy and talent, empowering other women artists whom she taught at a club she formed around her studio. She painted many scenes of India and became known as the Lady of the Palms and Paddy Fields.
When Philip retired in 1932, the family settled in England at Laugherne House in the Worcestershire village of Rushwick. Diana immediately started painting the local countryside and initiated the local Women's Institute, becoming its first President. World War 2 took its toll on the family, two of Diana's nephews being killed in 1942 and 1943. In 1944 her second son, Edward, was shot down over France, aged 28. The Fysons were again visited by personal disaster on Christmas Eve 1947 when Philip was knocked from his bicycle outside his house in the dark and fatally injured. Diana, tragically, rushed out to lend assistance before she eventually realised the victim's identity.
After this difficult time, Diana and her daughter, Ruth, went to live in Stocksfield, Northumberland, with Diana's youngest son, Geoffrey, who had gravitated north to further his engineering career. When he married, Diana and Ruth moved nearby to Hexham and together indulged their passion for nature, searching out rare plants among the bogs and moorlands. Ruth became a music lecturer at Charlotte Mason College while Diana founded an art gallery, opening with her own one-woman exhibition. She made many drawings for zinc-block reproduction for the benefit of Hexham Abbey and became fascinated by Northern church architecture, writing articles enhanced by illustrations she drew on site.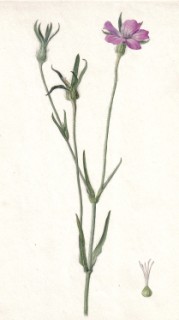 Corn cockle (Lychnis githago). Uploders, July 1912.
Diana still occasionally visited Sherborne, staying with old family friends. She renewed her acquaintance with her former teacher, Miss Moore, and in the 1960s enjoyed corresponding with Oliver Holt, a Sherborne schoolmaster, art historian and naturalist, which triggered fond reminiscences of early life in her home town. She died in Hexham Hospital on 16 December 1969, leaving most of her estate to Ruth, and requesting that she be cremated, with 'no particular sentiment' attached to her ashes.
Sadly, Ruth outlived her mother by only two years and died aged 52, killed in a road accident at Ambleside in 1971, before which time she offered Diana's early botanical paintings (1902-14) to Sherborne Museum. She wrote: 'It is a real pleasure to me to know that these have such a splendid permanent home.'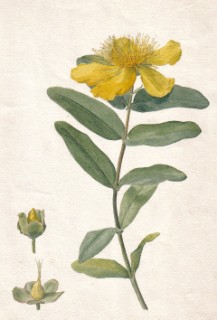 Large-flowered St John's wort, today more commonly known as Rose of Sharon (Hypericum calycinum). Uploders, July 1912.
The collection is arranged in botanical families after the manner of Bentham and Hooker, meticulously labelled and numbered in pencil. Ninety of the illustrations are from locations around Sherborne and there are forty-two from Uploders. Most of the flowers are typical of chalky soils although small groupings arise from family holidays in Newport, Pembrokeshire, and Thurlestone, Devon, where Diana took advantage of a different environment to paint plants adapted to a maritime atmosphere. Several species prevalent at the turn of the century have since gone into decline, such as the oxlip, wild daffodil and green-winged orchid, while the striated silene has become extinct in Dorset. Similarly, field flowers including the corncockle, field poppy, corn marigold and ox-eye daisy were almost eliminated although they are now making a cautious resurgence. The Wilson Collection is supported by further biographical detail, letters and photographs and the Museum is grateful to the Fyson family for their permission to reproduce her paintings so that Diana's work can be more widely appreciated.
[Sherborne Museum is open from Easter to the end of October, Tuesday to Saturday from 10.30-4.30.]