A Soldier of Dorset
Jeremy Archer recounts the eventful life of Private Cornelius Kerley
Published in January '09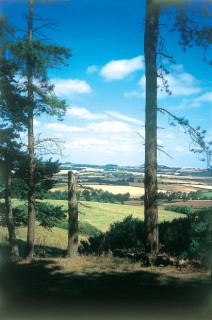 Looking north from Pentridge Knoll over the countryside of Cornelius Kerley's childhood
The village of Pentridge lies in an isolated spot on Cranborne Chase in the north-east corner of Dorset. The village can only be reached by a narrow, winding cul-de-sac which runs south-east off the old Roman road between Blandford and Salisbury. On 10 September 1761, John Kerley, an agricultural labourer, married Mary Lucas in the parish church of St Rumbold, Pentridge. On 25 September 1776, Cornelius, their fifth son and the seventh of the nine children born to Mary and John between 1761 and 1784, was baptised in the same church. Little would his parents have suspected what an adventurous life their son was going to have – and how far round the world he would travel – in the service of his country. Cornelius Kerley's story is the story of the great events that took place while he was serving with two different regiments over a period of almost twenty years.
He enlisted in the 54th (West Norfolk) Regiment of Foot on 18 December 1797, having been recruited at Rathkeale, a small market town near Limerick. As he was already 23 years old, Cornelius was probably serving with the Irish Militia, which suggests that his wanderlust had taken hold some years earlier. It was pure chance, given the county of his birth, that he had joined what would become, in 1881, the 2nd Battalion, The Dorsetshire Regiment.
On 1 July 1798, Napoleon landed in Egypt with 34,000 men, defeating Murad Bey's army at the Battle of the Pyramids outside Cairo three weeks later. On 24 October 1800, both battalions of the 54th Foot sailed from Gibraltar to join the expedition to expel the French from Egypt. Private Cornelius Kerley was a member of the 2nd Battalion, 54th Regiment of Foot. On 8 March 1801, the British landed at Aboukir Bay, close to Alexandria. The ensuing five-month campaign, although ultimately successful, was a hard one. In addition to the battle casualties, 'dreadful fevers and dysentery had been terribly rife, while ophthalmia had left several hundreds completely blind besides affecting the sight of others.' Cornelius Kerley's reward for undergoing this gruelling experience was just 15s 6d per month – before deductions.
The 54th Foot returned to Gibraltar, where they helped to suppress a mutiny, prompted by the harsh disciplinary measures of the new Governor and Commander-in-Chief, the Duke of Kent, on Christmas Eve 1802. In gratitude, the Duke of Kent, later the father of Queen Victoria, presented the 54th Foot with a fine silver punchbowl on which is recorded his 'high sense' of the Regiment's 'steady discipline and good conduct'.
In November 1805, just days after the battle of Trafalgar, the 54th Foot set sail on what should have been a routine journey back to England. However, on 14 December 1805, a transport carrying three officers and 132 men of the 54th Foot – including Cornelius Kerley – was intercepted off Brest by a French squadron. The soldiers were imprisoned in squalid conditions below decks in the 40-gun frigate, Volontaire, which then made for Table Bay, the agreed rendezvous. Unfortunately for the French, the British had re-captured the Cape of Good Hope less than two months before the Volontaire sailed into Table Bay on 4 March 1806 and, finding his ship threatened by three 64-gun British warships, Captain Bretel promptly struck his colours.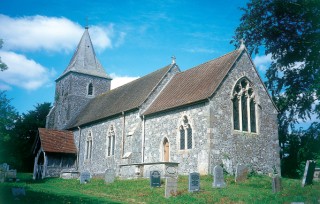 The church of St Rumbold, Pentridge
The surviving prisoners from the 54th Foot were released, only to be launched on yet another adventure. On 2 July 1806, a small British force had captured Buenos Aires but immediately asked for reinforcements. Those members of the 54th Foot still fit for duty – two officers and 110 men, Cornelius Kerley among them – landed in South America on 4 October, by which time Buenos Aires had been surrendered to the Spanish. In the early hours of 3 February 1807, the detachment of the 54th Foot had the dubious honour of acting as the 'forlorn hope' during the assault on the city of Montevideo. As the first through the breach in the city walls – three abreast – few were expected to survive. In fact, 87 men of the 54th Foot were afterwards drafted to other units and on 18 May 1807, Private Cornelius Kerley joined the 1st Battalion, 87th Regiment of Foot (later the Royal Irish Fusiliers).
At daylight on 5 July 1807, a British force of some 8000 men advanced into the city of Buenos Aires. The assault soon deteriorated into an unco-ordinated shambles and the British withdrew. During that terrible day the 87th Foot lost no fewer than seven officers and eighty men killed and ten officers and 320 men wounded – and were reduced to just 225 effectives. On 2 August 1807, the survivors embarked at Montevideo to return to the Cape of Good Hope.
After three years at the Cape, the 1/87th Foot set sail for Mauritius on 23 October 1810, part of an expeditionary force tasked with seizing control of the island from the French. The disaffected French militia surrendered without a fight and the 1/87th Foot remained on garrison duties on Mauritius for almost five years.
Private Cornelius Kerley's military career was now drawing to a close. According to the records, he sailed from 'Isle France' in March 1816 and by 24 March was 'on command at Calcutta'. However, just a week later, Cornelius Kerley was 'in consequence of ophthalmia of long standing, contracted in Egypt on service, considered unfit for further Service Abroad, and is proposed to be Discharged.' Lieutenant-Colonel Francis Miller, his Commanding Officer, wrote: 'I hereby certify that the cause which has rendered it necessary to Discharge the within mentioned Private Corns Curley stated on the opposite side has not arisen from vice or misconduct and that he is not to my knowledge incapacitated by the sentence of a General Court Martial from receiving his Pension.'
On 9 February 1817, it was officially confirmed by the Physician to the Forces that Cornelius Kerley was 'unfit for further service' and the complicated discharge process was finally completed on 11 November 1817. He was duly discharged to pension after a total of twenty years' service. In an astonishing odyssey, Private Kerley had served in Ireland, at both ends of the Mediterranean, in South Africa and South America, on Mauritius and in India.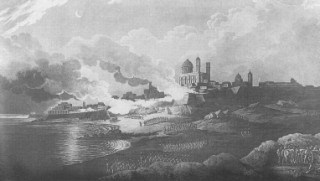 The storming of Montevideo on 3 February 1807
Now he was free to return home to Dorset – to domesticity and a well-deserved pension. On 16 August 1818 at St Rumbold's, Pentridge, Cornelius Kerley married Mary Bright of the neighbouring hamlet of Woodyates. On 12 September 1819 their only daughter, Sarah, was baptised in the same church: at Pentridge on 23 September 1838 she married Hezekiah Sellwood.
Alas, once free from the strictures of military discipline, Cornelius Kerley's impressive conduct sheet did not remain blank for long. The records of Dorchester Assizes reveal that, on 20 June 1820, 'having in his possession one fallow deer within the liberty of Cranborne Chase', Cornelius Kerley was sentenced to 'imprisonment 6 months unless a penalty of £20 besides 15s be sooner paid'. There was worse to come. According to a Bastardy Order dated 18 April 1826, Cornelius Kerley was 'committed to Devizes Bridewell for 3 months for not paying maintenance' for a 'female child born in Bowerchalke on 7 October last' to Elizabeth Bright. This raises a number of interesting questions. Was Elizabeth a cousin of his wife? Just how bad was his ophthalmia?
When the tithe map for Pentridge was drawn up in 1840, Cornelius Kerley and his wife were living in a house with a 'garden and orchard' of three rods and eight poles in area in the centre of the village. The house – now called Yew Tree Cottage – still exists, just by the turning to St Rumbold's Church. The very grand door-case is supposed to have been removed from a house in Harley Street in London.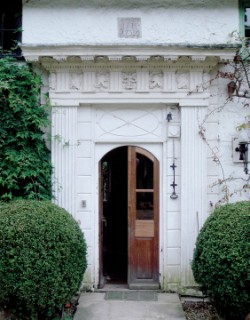 There is a 1739 datestone on the cottage in Pentridge to which Cornelius Kerley retired, but the very grand doorway was added much later
On 1 June 1847, Horse Guards issued a General Order, published in the London Gazette, inviting applications for the Military General Service Medal 1793-1814. The bar for Egypt was authorised two years later. Since it was almost fifty years after the events that it commemorated, it is perhaps unsurprising that there were just 47 successful applications – six officers and 41 men – from those who had served in that memorable campaign with the 54th Foot. Private Cornelius Kerley was one of them, having been able to demonstrate through the carefully preserved Muster Lists that he been there throughout.
| | |
| --- | --- |
| | The Military General Service Medal, with 'Egypt' bar, that was actually awarded to ex-Private Cornelius Kerley |
On 1 July 1854, Mary Kerley died of pneumonia at Pentridge while Cornelius Kerley died at Cranborne on 31 January 1855, having suffered from dropsy – or a swelling of the tissues due to the accumulation of excess water – for four months. There is no gravestone in the churchyard to Cornelius Kerley and, at this distance in time, it is very likely that his medal is the only physical relic of a varied and unusual life.