William Barnes and me
Hilary Townsend shares a Blackmore Vale background with the great poet
Published in December '08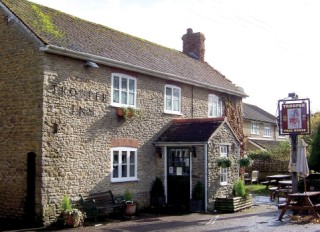 The Trooper Inn at Stourton Caundle changed its name after it was used as a recruiting office
at the time when Barnes was a boy
If Thomas Hardy is the poet of South Dorset, then William Barnes from the Blackmore Vale is the poet of North Dorset. Asked to speak recently at the Summer Lunch of the William Barnes Society, and born and brought up in the Blackmore Vale, I needed to think about my own links with his life.
As soon as I learnt to swim as a child, I went swimming in the 'cloty' Stour at Cutt Mill, 'clotes' being the yellow-flowered water lilies near the river banks. My early attempts at swimming must have closely resembled Barnes's own, 'wi' arms a-spreaden and cheeks a-blowen', as he put it. Swimming at Weymouth was out of the question in much of my childhood because of petrol rationing and the threat of invasion. In 1940 the German army, massed across the Channel, was waiting to strike and in Stalbridge High Street the sky would sometimes go black with German planes overhead, streaming to the aircraft factories at Bristol.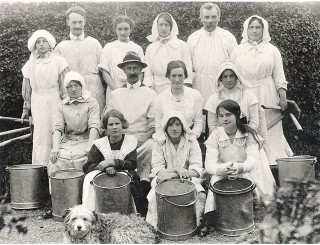 Although taken in 1910, this photograph shows milking clothes and utensils that would have been very familiar to Barnes
In Barnes's youth there were similar anxieties, for the French Army under Napoleon was massing on the cliffs above Boulogne, ready to invade this country. The Trooper Inn at Stourton Caundle used to be known by another name until early in the war against Napoleon. A table was erected outside the inn to enable young men to enlist and the name 'The Trooper' stuck.
The landscape of my childhood was still very like the one William Barnes knew. Trees for him were company and in 'Rustic Childhood' he told how he had always loved them. Big trees, notably elms, made their own light and shade and did much to define the landscape for us both. Big trees were left to grow tall wherever cows needed shade. The Stour was slow and sullen and the same profusion of bulrushes, reeds and water lilies lined its banks. Hay was not cut with scythes as it was in Barnes's time – we had a mowing machine and a hay rake – but cows were still hand-milked. I recall an old cowman sitting on his three-legged milking stool, turning back the brim of his hat, leaning his head companionably against the cow's flank and singing 'Abide with me'. Over and over he sang it, for, he said, 'It do make her give her milk down a treat.'
At milking time a call would ring out across acres of ground, a sound that brought cows almost out of sight to their feet and lumbering in to be milked. I have never heard this cow call anywhere else and one never hears it in the Blackmore Vale now, but it was something like: 'How up, howa, howa, howa'.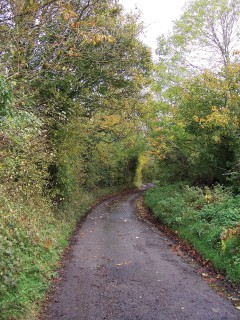 The way through the woods: the halter path from Stalbridge to Sturminster Newton
This wonderful landscape which we were both lucky enough to know gave William Barnes his unique ability, to my mind, to capture time, almost to freeze it. In the poem 'Minden' House', we hear how the young girl Fanny Dean is left to mind the house on a very hot day. She sits sewing by the open casement. There is no sound except for the occasional bumble bee or the longcase clock striking three, until a knock at the door alters her life for ever.
In other poems activity, speed almost, is captured. My favourite of these is 'Ruth a-Riden' where Ruth, alight with good health, rides side saddle '…While her skirt's a-spreaden wide in vwolds upon the horse's zide'. Then she gallops along the road, only bringing her horse to a trot when she sees the tollgate ahead. Here she is such a picture of comeliness that the tollman is glad to oblige her.
Much has changed in the Blackmore Vale landscape since Ruth's (and Barnes's) time. Many small fields are small no longer. Their hedges, which Hardy described as 'a network of darkly green threads', have been grubbed out to make much larger, machine-friendly fields and I sometimes wonder what William Barnes would have thought of huge fields of bilious yellow rape in flower in the Vale.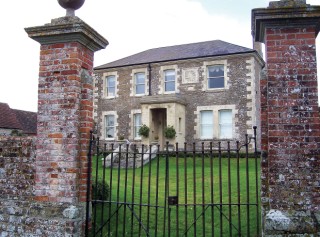 The Victorian replacement for Manor Farm, Bagber, where the author's father was born
What remains then of the landscape beloved of William Barnes? I went to see it, to look again at the halter path from Stalbridge to Sturminster Newton, although I have not been able to bear going to Cutt Mill since the fire that destroyed the old mill house. My father was born at Manor Farm, Bagber (now called the Manor House), and I have a photograph on the stairs at home of that old place. It was taken by Rev. Miles Barnes, William's son, in 1883 when he was taking his father to re-visit the scenes of his childhood. It shows a long, low, 16th-century house. Sadly, after a fire, the house had to be re-built and is now a Victorian house whose windows are edged with the yellow brick much used by the Westminster Estate at the time.
The halter path now is shaded by big trees, making the old path look dim and mysterious. The big difference, though, is that the elms are gone. There are a few dead ones at the Stalbridge end of the path, but that is all that remains of those noble trees. However, ash trees flourish almost as if they realise they have to take the place of Barnes's 'elems'. I was delighted to see some well-grown sycamores among the other trees and, as my visit was still in June, it was 'when sycamore leaves were a-spreaden green-ruddy in hedges' as they did in the opening lines of 'Woak Hill'.
Many years ago, as a stranger in London, the poetry of William Barnes helped to reconcile me to my surroundings. Later, working in industry, I recalled his horror at the practices and lifestyle that industrialisation had forced upon defenceless working people. Now I understood, and through it all there beat through my head:
'Let other vo'k meäke money vaster
In the aïr o' dark-roomed towns
For I don't fear a peevish meäster
Though noo man do heed my frowns,
I be free to goo abrode
Or teäke ageän my hwomeward road
To where, vor me, the apple tree
Do leän down low in Linden Lea.'
Yes, 'My Orcha'd in Linden Lea' has always sustained me.
[This article is based on the author's address to the Summer Lunch of the William Barnes Society in June 2008]