The Flowers of Dorset's Riversides
by Geoff Marsh
Published in November '08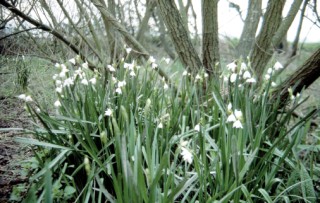 Summer snowflake photographed alongside the River Piddle at Turners Puddle
It is primroses, daffodils and snowdrops that signify the arrival of spring for most of us, but when I drive over the flood plain of the River Piddle at Wareham and see the spectacular display of marsh marigolds, I know for sure that winter is behind us and that warmer days are just around the corner. Their golden flowers are bold and their eagerness to flower is very apparent as they push their way clear of water that has spilled from the Piddle.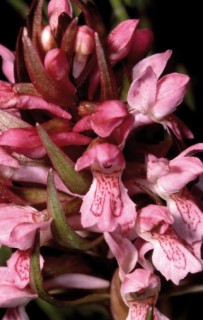 Early marsh orchid in a wet meadow at Turners Puddle, near the River Piddle
Soon the rivers clear after the winter floodwaters have subsided and along the river-sides there is an early flush of green; those protective floods, along with deposits of nutrients, have given the plants a head start. It is time then to seek other riparian plants.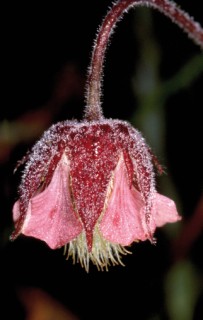 Water avens next to the River Allen
at Wimborne St Giles
Further upstream on the River Piddle at Turners Puddle, I look for a flower that most people have probably only seen growing as a garden plant: the summer snowflake, a bulky plant with rather delicate flowers that, like a snowdrop, dangles earthwards. Look for them also along the Stour and the Allen. In nearby wet fields, as temperatures start to rise, lady's smock seem to burst into bloom overnight. Their pale pink flowers can cover large areas and, in low light, make it look as if there is a heavy dew! If you are lucky, you may also come across the early marsh orchid, which can be found in these same wet meadows before the vegetation grows too long.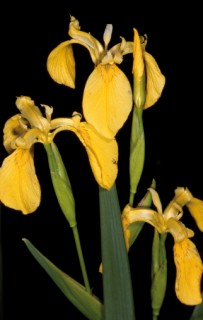 Yellow flag at West Morden, alongside the Sherford River
As summer arrives, our river-banks are covered in a whole array of plants who like their roots in damp soil. The constant supply of water, even when the weather is dry, allows the plants to grow at a constant rate and soon there can be a jungle of growth. There is great competition for space, causing plants to grow taller and taller. Water avens overcomes this problem by having a very long flower stem which allows the drooping flower to find its way to daylight. It is rather unusual in Dorset but I have come across it on the upper reaches of the River Allen.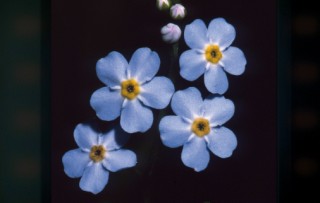 Water forget-me-not growing close to the water's edge of the River Stour at Gillingham
Walking beside our rivers, it is quite apparent that many of the plants can cross the barrier of dry land to grow actually in the rivers as well. One of my favourites is the yellow flag, a member of the iris family that is happy to straddle this cross-over zone. As I explored the upper reaches of the River Stour near Gillingham one day, another plant of this zone caught my eye. With its tiny blue flowers, the water forget-me-not can be easily overlooked, but on closer examination the blue of the petals is quite exquisite, making it well worth getting one's feet wet!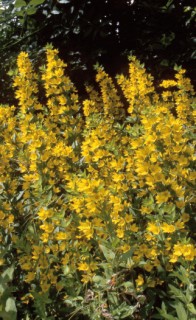 Yellow loosestrife at East Stoke, near to the River Frome
But it is the areas of thick vegetation or 'jungle' that are best explored. I often think that it would be here, if it was possible in this country, that you might find a new species to science! Just making your way through all the plant growth is a challenge in itself, but it is here that you can find some of our most striking river-side flowers.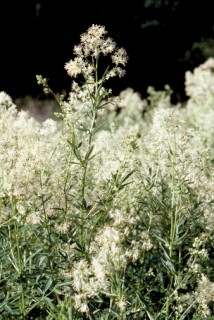 Common meadow-rue found next to the River Frome at East Stoke
Along the River Frome are some lovely displays of purple and yellow loosestrife growing with meadow sweet – a beautifully scented flower. Sometimes hidden with these plants is the common meadow-rue, its delicate flowers easily overlooked against the bold colours of the loosestrifes. Also growing in the same habitat, not so striking but loved by bumble bees, is the common comfrey.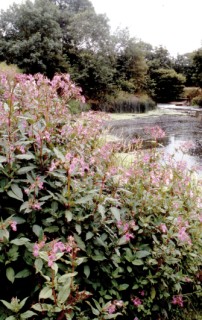 Indian balsam covering the banks of the River Stour at Sturminster Newton
Most of the rivers in Dorset run to the south-east, the Frome, Piddle and Stour being the largest of these. In West Dorset the rivers take a shorter journey to the sea. Along the River Brit I have come across some impressive plants that perhaps should not be there. Introduced many years ago and now at home alongside several of our rivers are Indian balsam and giant hogweed. Indian balsam, or policemen's helmets as it is sometimes known, is very colourful as it straddles the river-banks in swathes, ready to drop its seeds into the moving water to be taken downstream to form new populations some distance away. The giant hogweed is exactly that: huge. It can reach ten feet with ease as it towers over all other river-side plants – very striking and definitely not to be ignored!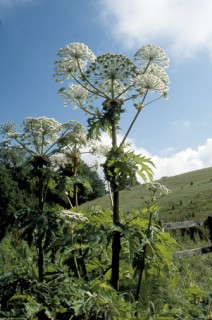 Giant hogweed overlooking the River Brit at Beaminster
Coming back down to earth, it is our native plants that most impress. In wet meadows on the upper reaches of one of the many streams that eventually join to form the River Brit, I came across a mass of many spikes of southern marsh orchids: just one of the sights to cheer the heart as one walks through the riot of plants that can be found along the rivers of Dorset.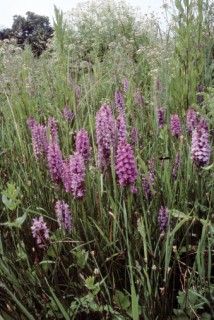 Southern marsh orchids in a wet field next to the River Brit at Netherbury