Eating out with Freddie
The Cricketers, Shroton, Nr Blandford DT11 8QD 01258 860421
Published in November '08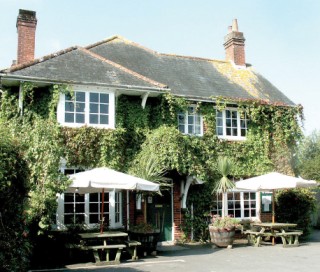 Many moons ago, the Cricketers was just about our favourite food pub in Dorset. Then the long-time landlord left and for various reasons we did not find ourselves in that part of the county so often. Now it has changed hands again and, after such a long time, we were especially curious to see if we would like it as much as we used to. Happily, we did.
The new landlords are Natasha and Andrew Edwards, who took over a little more than a year ago after spending seven years in South Africa and, before that, running a restaurant in Surrey. They have had the sense not to change the atmosphere of the place, but have refurbished it considerably and added some comfortable sofas. As a cricket nut, I was sad to see that the amount of cricketana on the walls has been reduced; Natasha is South African, but I was assured that it had nothing to do with the whitewash of South Africa in this summer's one-day series. At least what survives includes a portrait of 'the Master', Jack Hobbs, who gazed benevolently down on us as we ate.
The atmosphere of the Cricketers is and always has been a clever combination of a lively local with a 'destination pub' whose quality and range of cuisine is several cuts above standard pub grub. It is still primarily a pub, so don't expect deep carpets, tablecloths or linen napkins; do expect a cheerful buzz and a relaxed friendliness which we prefer to the hushed formality of a threequarters-empty would-be 'fine dining' restaurant.
The main menu of seven starters and nine main courses is something of a mixture. Here the less adventurous will find scampi and sausage and mash, but there are plenty of less conventional and more interesting alternatives. My starter, for example, was a field mushroom filled with chorizo and basil with melted goat's cheese on top. The strong taste of the cheese complemented the robust consistency of the mushroom, although between them they rather drowned out the chorizo – itself hardly a weakling among flavours. Mrs Freddie liked her chicken liver pâté with fig jam for its smooth consistency and for the hint of brandy. She pointed out that the accompanying salad included peppers, onions, tomatoes and cucumber, all very finely diced: one of several indications that the chef, Andy, really cares about presentation and is prepared to take a lot of trouble over it.
There is also the option of platters to share, based on tapas, cheese or fish, which are apparently very popular. And I was tempted by the 'Fajita Sizzlers' which are chicken, beef or vegetables with guacamole, salsa and a range of other accompaniments, in a tortilla wrap.
We had a bit of a drama over Mrs Freddie's main course. She had chosen lobster, but when the charming young man who waited on us invited her to choose her lobster while it was still alive, she had a noisy fit of the vapours. Despite all her eating-out experience, it was an invitation she had never received before and, illogically or not, she was horrified at the thought of being formally introduced to the living creature that would end up on her plate. She quickly switched to a monkfish risotto with parmesan shavings which was much less controversial: she identified a white wine and fish stock reduction as the key element in the success of the dish.
The monkfish was one of five fish and two meat dishes on the daily specials board, from which I chose a scallop and king prawn stir fry with a sweet chilli glaze. This was very enjoyable, with a host of strong and spicy flavours underlying the sweet chilli. The noodles were prepared to just the right consistency to contrast with the al dente French beans.
For her pudding Mrs Freddie asked for a modest helping of hot banana pancakes with ice cream and reported that the thinness of the crêpe and the sweetness of the sauce were the things she liked most about it. I had chosen a baked Alaska, which came on a chocolate sponge base instead of plain, an unusual combination which gave more variety of appearance and flavour.
The wine list is perhaps not the most thrilling, with no great surprises but some very acceptable choices, eight each of red and white. We chose a 2007 Chenin Blanc from Franschhoek in deference to Natasha's country of origin and in memory of sitting at La Petite Ferme restaurant with a wonderful view over Franschhoek and the temperature well into the eighties, and being told that it had just begun to snow back home.
Three courses at the Cricketers without drinks will probably cost you a tad over £20 a head. We won't be leaving it so long this time before going there again.