Sanctuary in Ferndown
Ferndown played host to many children evacuated from wartime Southampton. Brian Davis has collected some of their memories.
Published in October '08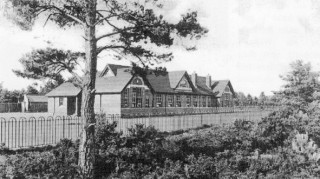 Ferndown Council School, where Hazel Atkinson was the proud bell-ringer
Even before war broke out in 1939, it was obvious that Southampton would be a target for German bombing. Plans for the evacuation of the city's children were made well before hostilities started and were put into action even before Neville Chamberlain's announcement on 3 September. Most of the evacuees were sent to Dorset, and many of those to Ferndown.
It is hard to imagine now the feelings of confusion, loss and fear that those children, some as young as six, must have felt as they milled around Southampton station; some were not to see their parents for another four or five years. Hazel Atkinson, who was billeted in West Parley, then Christchurch Road and eventually Dudsbury Hill, remembers, 'My sister, Mavis, began to cry. A very sympathetic policeman came along and gave her a penny to get a bar of chocolate from the machine. After that a lot of children started to cry, and the policeman quickly departed.
'In due course we were taken by train to West Moors and from there by bus to the clubhouse of Ferndown golf course. We were all given a large brown carrier bag with lots of things in it like soap etc, but all I really remember about mine was that it had a large bar of Cadbury's milk chocolate.'
The evacuees' hosts in Ferndown also had to adjust. John Bathurst and his sister, Mary, were billeted with a family called Cailes at Tricketts Cross. 'At the house we met Mrs Cailes's two daughters, Eileen aged eleven and six-year-old Jean. With the daughters were several of their friends, and I remember being examined by all of them as if I was something from another planet!'
The initial arrangements could be rather makeshift. Hazel Atkinson's landlady was convinced that the bathroom provided the safest shelter from air raids. Hazel recalls: 'My sister and I slept in the bath. She was propped up at one end and I was at the other. The landlady, her husband and son all slept on the floor. This went on for quite some time until one evening she forgot to check the taps before we went to bed and I woke up in the night and we were up to our waists in water. And this was stained red from the dye from our dressing-gowns, so it was quite a mess.'
Not all of those who took in evacuees were willing hosts and this was reflected in their treatment of the children. Jeanne Nicol, who was quite an old evacuee at thirteen, remembers that at her first billet in Dudsbury Avenue, she was not allowed to mix with the family but had her meals in the kitchen with the maid or housekeeper. At one place, Hazel Atkinson had to do all the housework.
Pat Lanzo and her brother and sister were also unlucky: 'The food was shocking. The woman bought pork pies at the weekend, and although she didn't have a fridge, we would still be getting them for our tea the following Friday, and they were all rotten. She would also make stew on a Saturday that went through to the next Saturday. She warmed it up every day and put in great lumps of bread. It tasted horrible. We used to put a lot of the food in pieces of paper and I would take it in the toilet and pull the chain.'
However, the great majority of Ferndown people treated their unexpected guests with compassion and friendship. Jeanne Nicol, for example, eventually found herself staying with Mr and Mrs Orchard at Parley: 'They were a lovely couple and had no children of their own and treated us as a family. In the winter I remember sitting by the fire knitting with Mrs Orchard and listening to Vera Lynn on the wireless. Mrs Orchard also nursed me through chickenpox.'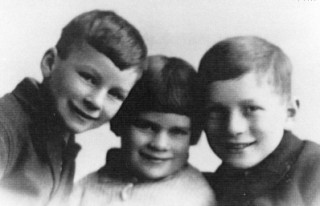 Families were often split up. Roy Palacio (left) and his sister Clare were evacuated to Ferndown, but their brother, Alan, was sent elsewhere. No wonder Roy and Clare wanted to run away at first.
Some of the evacuees were taught separately by teachers who had accompanied them from Southampton, but most were integrated into Ferndown's schools. 'We went to school in Ferndown, which meant a walk of about two-and-a-half miles – rather a shock to us townies,' remembers Hazel Atkinson. 'At first we had separate classes with the teachers who had come with us, but gradually the number of evacuees dwindled and we were assimilated into the local school. I remember that in the last year there we had Miss Muddiman as teacher and I loved it because she said I could ring the school bell at lunch time and at the end of each day. And so I would know when to ring it, she let me wear her watch.'
Most children make friends easily. Eddie Grubb, who lived in Ringwood Road, towards Longham, says, 'I made many friends in Ferndown. Most of them were local boys and girls who lived nearer to the Longham end of Ferndown between Hushers Farm and the Angel Inn. The first friend I made there I met on the common on the way home from school. "Shall we be friends?" I asked. "Yes, all right," he replied. He was called Charlie Hayter, and we have been friends ever since – something like 65 years.'
There was no room for idle hands in wartime and the children were no exception. Eddie Grubb used to help out on King's farm with the harvesting and also take Mr King's cows down to the field. 'And I helped my brother deliver milk round the village by horse and float. Another event we looked forward to was taking the dairy horses down to the blacksmith at Longham bridge. In the winter they had sacking tied round their feet if the road was icy to prevent them from slipping.'
John Bathurst had a more unusual job. 'I became a boy caddy at Ferndown Golf Club and well remember the caddy master, Mr Davies. He was very well-spoken, wore tweeds, had a slight stoop and lived in what looked like an old gipsy wheeled caravan at the end of what is now Tricketts Lane.'
As children will, the evacuees found plenty to fill their spare time. Eddie Grubb again: 'We had lots of fun in the scouts with camping and trips out and sing-songs round the camp fire. The scoutmaster, Mr Doug Gabe, once took us on a night hike to Badbury Rings where in some places the track was lit up by glow-worms. This was the first time I had seen them and I was thrilled.
'We enjoyed exploring on Ferndown common and spent many happy hours there. That was where I really began to take an interest in natural history. And if there is one man who did most to help this develop it was an old tramp who was seen from time to time around the village, pushing his belongings in an old pram. He always looked dirty and scruffy, and children were told to keep away from him. But one day he appeared while we were playing around the river at Hampreston – where I learnt to swim – and sat down watching us.
'As I passed him, he said hello and asked if we were enjoying ourselves. A couple of us started to talk to him. He didn't look as dirty as we had been led to believe and spoke with quite a posh accent. Two hours later, I had learnt more from him about nature and how to watch wildlife than I had ever read in a book.'
Being children, there was mischief as well. John Bathurst was no more immune than anyone else: 'Smoking was a manly thing to do – even at the age of ten – although the substance smoked was vile. It was crushed oak leaves rolled in toilet paper (the old-fashioned hard stuff). I don't think the idea caught on!'
At last the tide of war turned. June Peters (then June Silverthorn), originally from Woolston, was still in Ferndown because her whole family had moved to a house in Wimborne Road for the duration. 'On VE Day we went to school as usual, only to be told it was a holiday as the war was over. The same happened on VJ Day. The villagers and farmers put us on their wagons and we all went in procession through Ferndown and out to Hampreston, then turned round and came back. There was also a small fair in the school playground to celebrate. Happy days!'
Despite everything, most of the evacuees look back to those days in Ferndown with affection and gratitude. Roy and Clare Palacio left Southampton aged nine and six respectively and spent the miserably homesick early days of their exile plotting how they could escape back to Southampton. But they were lucky enough to end up with Len and Mary Stagg, whom they called Auntie and Uncle, at their home in Ameysford Road. Roy says: 'The more I think of those days, the more memories come back to me and the more I realise the debt we owed Auntie and Uncle. How many women of 58 would take on two lively children and all the work and responsibility this entailed, for how long no-one knew? God bless her, a saint indeed. I am so glad Clare and I did not run away.'
[This article has been extracted from Just A Long Weekend, being the stories of Southampton evacuees in Bournemouth, Ferndown and Piddletrenthide, as told to Brian Davis. The book is available for £10.95 plus 83p postage from Brian Davis, Wayletts, Brentwood Road, Dunton Wayletts, Brentwood, Essex CM13 3SH]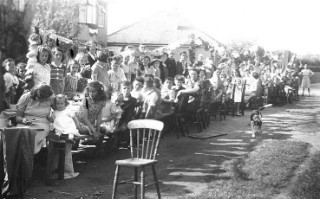 The Clayford Avenue VE party. June Silverthorn is second from the left in the back row.