Dorset in Autumn
Guy Edwardes enjoys the atmospheric images which this season always brings
Published in October '08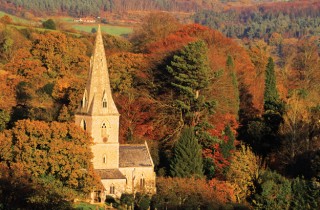 Monkton Wyld church sits amongst some of West Dorset's beautiful mixed broadleaved woodland right at the peak of the foliage colour in early November.
As the long hazy days of summer begin to ebb away, the Dorset countryside begins to take on the colourful hues of early autumn. It is at this time of the year that the landscape is at its most atmospheric, especially around dawn when soft golden sunlight illuminates the hills while the shady vales remain laced with mist and frost. Mornings are feeling noticeably cooler and the breeze creates a familiar rustle as fallen leaves skid across the ground.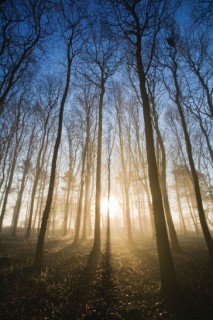 Fontmell Wood near Shaftesbury takes on a rather eerie atmosphere once the beech leaves have fallen.
Dewy mornings and humid wet days result in our woodlands exuding the familiar musty smell of fungus and decay. This is the perfect time to search for some of the many colourful and interesting toadstools and fungi which can be found in Dorset. You'll need to be quick as the fruiting bodies of many species don't last long. They often appear shortly after rain but are quickly eaten by hungry mice, slugs and snails. You'll also need a keen eye to spot some of the well-concealed but fascinating species which occur amongst the leaf litter on the woodland floor. It's only when you get down to their level that you can appreciate the vibrant colours, intricate shapes and textures which led to some intriguing names such as horn of plenty, earth star and shaggy pholiota.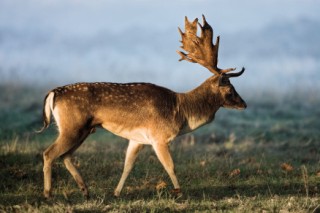 The fallow deer rut is at its peak in mid October. Bucks are in prime condition with very impressive antlers.
Deciduous trees shed their leaves in the autumn to conserve moisture and to reduce the risk of frost, snow and wind damage during the harsh winter months. The process begins as day length decreases and night-time temperatures begin to fall. The kaleidoscope of autumn colour is a result of the tree extracting nutrients from the leaf before it drops. Chlorophyll, which gives the leaf its green colour, is extracted first. As this occurs other pigments called carotenoids are revealed exposing various shades of yellow, orange and red within the leaf. The intensity of colour varies from year to year depending upon growing conditions and sunlight. A wet spring followed by a sunny summer will maximise the chances for a dazzling autumnal display.
Some of our woodland mammals will be fattening up and searching for a safe place to hibernate through the cold winter months. In a typical winter, healthy hedgehogs tend to hibernate from November to March.
Autumn is a busy time in the woodland with animals such as mice, vole and squirrels fattening up for winter and storing food for leaner times. One of the most conspicuous hoarders is the jay. This colourful member of the crow family will be feverishly collecting acorns and burying them in the soft ground as a winter larder. Others animals such as dormice and hedgehogs prepare to go into hibernation. You might notice that the canopy is filled with mixed flocks of small birds feasting noisily on beech mast, their numbers gradually swelled by migrants from further north, like the brambling.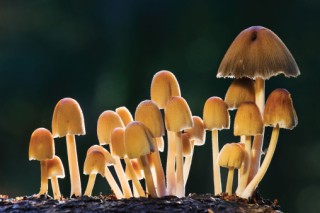 The autumn months see an explosion of colourful fungi like these Glistening Ink Caps. We see only the fruiting bodies above ground. The vast majority of the fungus remains hidden below ground or in rotting timber.
Most of the summer's swifts, swallows and martins have departed to warmer climes, but they are replaced with a bevy of winter visitors such as redwing and fieldfare, which appear in time to feast on the wild fruit which now adorns hedgerows throughout the county. Flocks of starlings begin roosting en masse for protection and warmth in the dense reedbeds all along the coast. At the water's edge the shorebird migration is almost at an end. Wading birds such as sanderling, grey plover and purple sandpiper have arrived for the winter. Just before sunset skeins of wild brent geese fly back to their overnight roosts on the Fleet lagoon and in Poole harbour.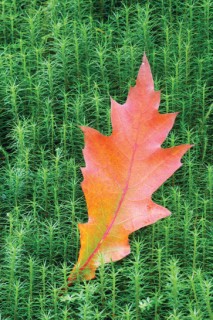 Colder darker nights indicate that autumn is on the way. This leads deciduous trees to initiate a process which withdraws nutrients from their leaves. Vibrant colours, which were masked by green chlorophyll during the spring and summer, are gradually revealed.
The autumn months often bring with them a substantial increase in rainfall. Swollen rivers regularly burst their banks to engulf wide flood plains. The resulting wet meadows attract large numbers of wildfowl which have arrived from the far north, many of which will stay for the winter.
Colder darker nights indicate that autumn
is on the way. This leads deciduous trees to initiate a process which
withdraws nutrients from their leaves. Vibrant colours, which were
masked by green chlorophyll during the spring and summer, are gradually
revealed.
Dorset has a good population of fallow deer and their annual rut peaks in mid-October. The bucks will have a full set of broad antlers and their gruff barking call will fill the woodlands in which they reside. One of the best locations to watch for this spectacle is the Dorset Wildlife Trust reserve at Powerstock Common. Fallow deer can also be found throughout the Cranborne Chase.
Another familiar autumnal spectacle is the sight of hedgerows and meadows laced with cobwebs. Early in the morning, dew helps to highlight each web in the low-angled sunlight. It becomes clear just how many spiders there are in the countryside – maybe a million to every acre of rough grassland!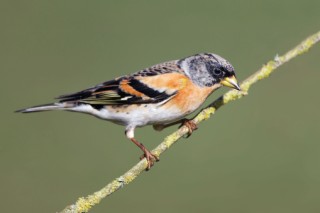 The autumn sees a changeover in Dorset's bird population. Summer visitors are gradually replaced by winter migrants like this colourful male brambling.
In Dorset we are lucky that we still have a reasonable amount of surviving broadleaved woodland. Some of the best examples to visit for autumn colour and wildlife include Powerstock Common near Bridport, Duncliffe Wood near Shaftesbury, Fifehead Wood near Shaftebury, Queen's Copse near Horton, Lewesdon Hill near Broadwindsor and Thorncombe Wood near Dorchester.
It is a shame that in recent years autumn seems to have become a less distinct season, with summer simply merging gradually into winter. Many of the traditional autumnal events are occurring earlier year by year, perhaps as a consequence of climate change. However, this remains my favourite season to get out and explore the Dorset countryside, especially its woodlands and vales.

Autumn truly is the season of mists in the Dorset countryside, as this late September view from Quarry Hill near Bridport illustrates.