A Portland Success Story
Southwell Park has gone from an empty set of Admiralty buildings to a major contributor to Portland's economy. John Newth looks at its history.
Published in October '08
When the Royal Navy sailed away from Portland in 1995, the most conspicuous evidence of their departure was the absence of warships in the harbour. Less obvious, but potentially just as devastating to Portland, was a huge range of buildings on a windswept cliff at Southwell in the south-west of the island. Formerly the Admiralty Underwater Weapons Establishment, employing over 2000 people, the buildings were empty and echoing, with at best an uncertain future. Yet today they are one of Portland's success stories, having been transformed by entrepreneurial skill and courage into the thriving Southwell Park.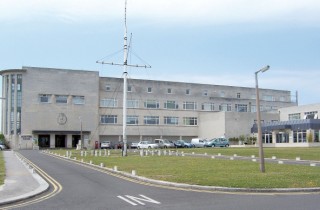 Distinctive is a kind description of the outside of the main building
The establishment was built between 1949 and 1952, with another wing added in the 1970s, and actually started life as the Admiralty Gunnery Establishment. The building nearest the sea still has evidence of a huge door, from which the largest naval guns could test-fire their shells across Lyme Bay.
Within a few years, all the research into underwater weapons had been moved to Portland, including work with the highest security classification at the height of the Cold War. Perhaps we shall never know how much damage was done by the notorious Portland spy ring, which was at work within AUWE in the late 1950s. Ethel Gee, a records clerk there, worked with Harry Houghton, an employee of the naval dockyard, to pass secrets to Colonel Conon Trifomovich Molody, whose cover was as a Canadian businessman called Gordon Lonsdale. All three were imprisoned and Molody was later swapped with the British spy, Greville Wynn. Intriguingly, the ring must have extended further than those who were caught, as certain information in Molody's possession would not have been accessible by Houghton or Gee.
After the Admiralty left, the buildings stood empty for three years; in fact, not a single bid was received for them during that time and the MoD was about to level them and seek permission for either building or mineral extraction. Now appeared Roy Haywood and Ray Bulpit, whose business was the acquisition and development of former military sites. This was on a massive scale, though: forty acres and 350,000 square feet of buildings, including two miles of corridors! The buildings were not very attractive to look at – 'distinctive' is the kinder word – and there were challenges like walls built to withstand explosions from inside, huge compression tanks with rails running through them for test-firing torpedoes, and underwater acoustic tanks. Although Portland as a whole received financial support from the government after the Navy left, there were no grants for specific projects like this and the operation was funded entirely by private investment.
Roy and Ray took the decision early on to adapt the buildings as necessary but to keep new build to a minimum. In 1996 they started to look for tenants. Among the very first was Andrew Coupe, a marketing and business development expert who has lived on Portland for 26 years and whose wife is a Portlander. The park became his client as well as his landlord, and three years ago he joined the board.
The former office complex, some of it rooms of only 150 square feet, had a natural appeal to small businesses. Today, Southwell Park is home to everything from a design studio, through a recruitment consultancy and jeweller, to a specialist supplier of billiards equipment. The management also took the decision early on to install storage units, used for numerous purposes from the temporary storage of furniture during a house move to keeping family mementoes too precious to throw away. They opened fifty initially, then another fifty, then another fifty until today there are some 350 in all. There is also a computerised document archiving and retrieval service, which even in these days of microfilm is popular with companies and other organisations such as NHS trusts which are obliged to keep old papers.
The office area is the first thing you see as you enter Southwell Park and you would hardly know that towards the cliff-side is a host of manufacturing and light engineering businesses, based in what were the laboratories and workshops of AUWE, where systems were actually built and tested. Roofers, theatrical prop makers and printers rub shoulders here. There is even a plant for the refurbishment of sewage treatment equipment! A number of the tenants have MoD contracts, for example building a new range of vehicles for use in current theatres of war. Equally appropriately, businesses with a maritime connection include manufacturers of up-market rigid inflatables for luxury yachts and of underwater detection equipment. The occasional sound of barking is evidence of a sixty-kennel unit which trains security dogs.
Southwell Park is a successful company in its own right but by about 2005, when all the most adaptable space had been let, there was still a large area standing empty. The company decided to develop it themselves, again following the principle of keeping new build to a minimum. They also decided to design and project-manage as much as possible in-house, using specialist architects only where necessary, and employing a small group of local craftsmen (some of whom are tenants in the park).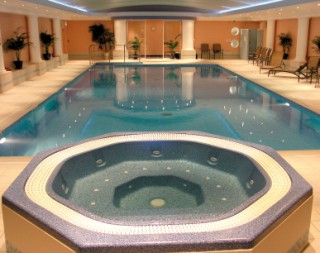 A top-of-the-range swimming pool is at the centre of Portland Spa
The first stage was the creation of Portland Spa. Today, the health club part of the spa includes an impressive gym, a smaller ladies only gym, a weights room, a studio for fitness classes and a top-of-the-range indoor swimming pool; most of these have stunning views of the sea. In the spa therapy suite there are more than seventy treatments available from five therapists, and then the chance to unwind in a luxurious relaxation room. To overcome any challenges of location, the decision was taken to go for the highest quality and this has been the guiding philosophy throughout.
The next development has been a conference centre to match any for a very long way around. To compete in the national market, the accommodation and facilities have to be top-quality and state-of-the-art, and this has been achieved. Like everything else in the new development, the conference centre is fully wheelchair-friendly. There is a 200-seat theatre and several function rooms which can be used with maximum flexibility. These rooms, especially the Sherborne banquet suite, also lend themselves to entertainments like gala cabaret dinners, which have proved very popular. The management has recently entered the weddings market, with some rooms licensed for civil ceremonies. As a conference centre, Southwell has many advantages, not least free parking for 750 cars and comparatively easy security if that should be needed.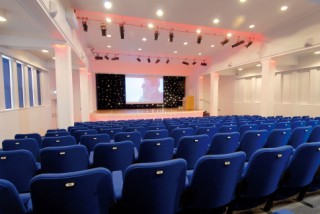 The theatre is equally suitable for conferences or entertainments
All of this required a catering facility, including a kitchen capable of feeding 400 people at a time, so the next stage was the recently opened Orchid Restaurant. Appropriately, this was converted from the old AUWE canteen. At lunchtime you can get anything from a snack (it is already renowned for its fishcakes) to a full meal and in the evening it becomes an elegant but reasonably priced and informal à la carte restaurant.
Still the development continues, with an 80-bedroom, 4-star hotel due for completion this year, having been converted from the 1970s wing. A glass-walled bar and coffee shop will look out over the sea, while from most of the bedrooms there will be a view over all three of Portland's lighthouses. The attractions to the tourist market are obvious, and the hotel is an essential adjunct to the conference centre. Plans are already in place to extend it to 200 bedrooms.
These projects will raise Southwell's profile even higher, but it is already a story of which Portland can be proud. More than a hundred businesses are based there, employing more than five hundred people, and it is estimated that the total turnover generated from all those businesses over the last twelve years is in excess of £200 million. That is a significant contribution to Portland's post-Navy revival from a set of buildings that were all but derelict just over ten years ago.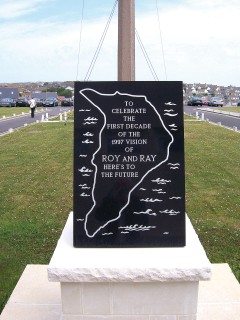 Roy Haywood and Ray Bulpit are the men behind the success story of Southwell Park