A Blandford Institution
Deer Park Riding Stables has been a part of Blandford life for forty years. Tony Burton-Page tells its story.
Published in October '08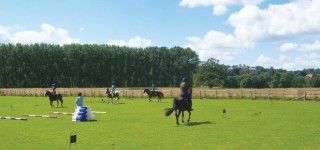 A training session at Deer Park Riding Stables, with Bryanston School lurking in the background
Only a few hundred yards from the bustling centre of Dorset's perfect Georgian town is a truly rural idyll: a set of farm buildings overlooking lush green fields with views of extensive woodlands over the southern half of the compass. This is Deer Park Riding Stables, and for once the cliché 'hidden gem' contains a grain of truth – literally thousands of people must have passed the entrance to Deer Park Road without any inkling that it leads to one of Dorset's most loved riding establishments. For forty years, the Deer Park Riding Stables have been teaching the skills of riding to children and adults from all around Dorset, but in particular from the Blandford area.
Its founder, Val Cowley, is a Blandford institution. She has known Deer Park Farm, as it was at the time of her birth, all her life. She was born into a farming family who ran not only Deer Park Farm but also the larger and grander Lower Bryanston Farm: the two properties had been given to the Crown Estate in lieu of death duties when Lord Portman died. Lower Bryanston Farm was where Val was brought up as a child, and it was the sort of lifestyle in which she would leave her shoes outside her bedroom at night, in the knowledge that they would have been cleaned for her by the next morning.
But it was a lifestyle which did not last. Val's grandfather gambled and drank, as she succinctly puts it; the long-term consequence was that, when he died, the family lost Lower Bryanston and had to move to Deer Park, the accommodation being no more than a tiny bungalow. That was in 1957; it says much for Val's determined spirit that she has been there ever since.
It is Val's determination that is responsible for Blandford's having a riding stables today. 'I always wanted a riding stables – I never ever wanted to do anything different.' Countless parents over the ages have heard the plea 'Mummy, I want a pony!', but few can have met with single-mindedness on this scale. While still a teenager, she worked as a milk recorder, which meant that she had to travel from farm to farm gathering evening and morning milk samples from each cow on each farm. This is a job which involves being in a pit three feet or so below the rear ends of about twenty cows, not to mention the 4 am wake-up calls: a job for a truly dedicated animal-lover. Val certainly qualifies as this, but it was only a means to an end, as was her work as a washer-up in the King's Arms down the road – that end being, unsurprisingly, to buy herself a pony.
Once Val had a pony of her own, there was no stopping her. Her parents asked the Crown Estate for permission to start a riding stables; they gave it but would not let her have any grazing land through the winter for the first few years – until they realised that Val was not going to let go of her dream and that the stables was here to stay. The next step was permission from the local council. Val simply wrote to them, they duly carried out an inspection and granted her the mandatory licence. 'Everything was so much less complicated in those days,' she says nostalgically, 'and anyway we all knew each other!'
All that was necessary was for the farm's cowhouses to be converted into accommodation for horses – none for ponies, as they would stay out of doors. Animal numbers gradually increased: with time, they were able to buy more ponies and, as word got round, they were even given some.
From the very beginning, there was interest; lots of people, particularly children, wanted to learn to ride, and Deer Park was in the ideal place – parents could go shopping in Blandford while their children had their lessons.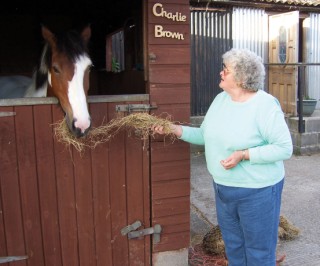 Val Cowley has loved animals all her life, particularly horses
If there is something which enthuses Val Cowley more than horses, it is the children who come to her stables. She sees them as its life-blood, and she adores them as much as her equine companions. 'A little girl rang me the other day in a state of great excitement,' she recounts, beaming. 'It was her seventh birthday and she wanted to tell me that she'd been given a riding hat and a voucher to ride Tina for three days. I had to pretend I knew nothing about it – but in fact I had made out the voucher! That's what this job is all about – the children who come here.'
Hundreds of children have learned to ride with Val and her team, which includes her daughters Jacqueline and Debbie and their families. Duncan James from the boyband Blue learned to ride with them, as did the actor Simon MacCorkindale. Many children from the local area get their first taste of riding from the school sessions: the Milldown School, Archbishop Wake and the Blandford School all send pupils for taster lessons throughout the year, and for many of them it is the start of a lifelong love affair. Some of the more devoted fans, styling themselves the 'DPRS Ang3ls', have even started a website called 'Deer Park Riding Stables Rule'. Their enthusiasm positively jumps out of the screen.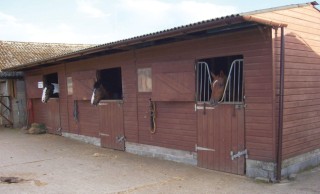 Three of the residents at home
A major step forward was the building of the indoor school in the early 1980s. Dismiss any thoughts of blackboards or desks; this school is a large, empty barn, albeit a barn with a specially designed surface which will not damage horses or riders should either fall. It is large enough to cope with eight ponies at a time, so in a term-time afternoon up to 24 pupils from the local schools can have lessons. The rates are very much reduced in these circumstances, which means that many children who would not otherwise ride are given an introduction to a world which is sometimes perceived to be elitist and unwelcoming.
It is not only children and animals who benefit from Val's compassion. During a visit to Tollard Royal in 1975 to watch Princess Anne give a display, Val saw the joy on the faces of the disabled riders who were taking part, and this inspired the formation of the Bryanston Group of the Riding for the Disabled Association. Thirty years on, the group meets every Thursday morning at Deer Park, and adults who are mentally or physically handicapped have their chance to ride in controlled and safe conditions. This could not happen without help from volunteers and sponsors; the Blandford Carnival once made the Bryanston Group their main charity for that year.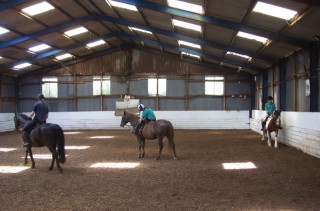 Three young riders in the indoor school
A typical day at the stables begins at 7 am with 'mucking out' the horses: changing the straw, replacing the water, cleaning out each partition. The ponies, who stay out overnight (unlike the horses, who would otherwise over-graze and be no use during the day), are brought in and fed. Val mixes the feeds for lunchtime, the evening and the next morning. All the animals are turned out into the fields, and lessons can start. They take place in the indoor school and can last from thirty minutes to a full hour, and a wide range of skills is taught, depending on the ability of the pupil, whether it is simply a matter of learning to stay on the horse or how to jump over fences. Most pupils use DPRS horses. After the lunchtime feed, the indoor school is hosed down, and afternoon lessons can start: this is the favoured time for the local schools to send their pupils.
In my ignorance, I asked why the lessons had to be given indoors; the answer, obvious to those who know about these things, is 'because we haven't got an outdoor school.' My look of perplexity elicited an explanation. If riders fall off outside, they will hurt themselves on the ground – even lush grass is unyielding compared with the special surface of the indoor school.
'With an outdoor school, we could run competitions and we could double the number of lessons we give – children inside, adults outside. All it needs is an artificial surface of sand and fibre, proper drainage so we can use it in the winter, and secure fencing. The only snag is that it would cost £36,000 – which we haven't got! So this year, our fortieth anniversary, we're hoping to raise the funds: if everyone who's ever ridden at the stables gave us £10, we'd be there…'
Val does not ask for much, though, least of all luxury. She now lives in a mobile home next to the bungalow in which she lived for so many years. 'I'm on my own and I can look after myself; I've got my daughter and son-in-law close by; I've got a lovely garden and all my animals and this lovely view – what more do I need?'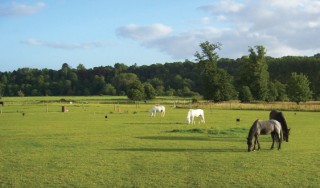 It is hard to believe that this idyllic rural scene is minutes away from the centre of Blandford