Down to the hollow
Chris Shaw and Colin Varndell visit a sheltered garden at Monkton Wyld
Published in September '08
Small lawns and beds follow the gentle
slope of the garden
The weather was not being kind to Wolverhollow. My first two proposed visits were abandoned in high winds and lashing rain, and the morning of the third did not look at all promising. At last the rain stopped, the skies cleared (albeit grudgingly), so I headed for the west of the county wondering if this window of opportunity would last. Dark clouds piled up over Lyme Bay and winds were definitely gusty as I turned off the A35 just north of Lyme Regis and joined one or two other cars threading their way carefully down the narrow lane to Monkton Wyld.
Wolverhollow is next to St Andrew's Church. There, tucked into a small valley, the garden proved to be remarkably sheltered. Shrubs and perennials that in my Dorchester garden were still deciding whether or not this was late May or a regression to cold, early April were in full flower, enjoying the warmth contained by a high shelter belt of trees. Dave Wiscombe told me that the trees were planted in 1970, when he first marked out this compact plot. A stream runs deep in the hollow and the land dips steeply away from the building, providing a challenge to any gardener. Dave and Mandy have spent the last 25 years planting and expanding, taking in a piece here and a level there, and have now achieved a garden which steps neatly down the slope in a series of narrow terraces all bursting with lovely, interesting plants.
The first indication of the sheltered nature of the garden was a large Chilean lantern tree, Crinodendron hookerianum, absolutely dripping with red, waxy bells. Many had already fallen, making a colourful carpet on the ground. There was a second tree lower down the garden, too, just to prove the point. This showy evergreen needs an acid soil, ideally in woodland where it can see full sun but with its roots cool and shaded. A woodland setting gives protection from hard frosts which can damage new growth and flower buds. Another show-off enjoying the shelter was Abutilon megapotamicum, the trailing abutilon, its strange red and yellow flowers very exotic in appearance compared to the deutzias, cistus, and philadelphus which added gentler colours, the latter blossom wafting delicious scents on the breeze.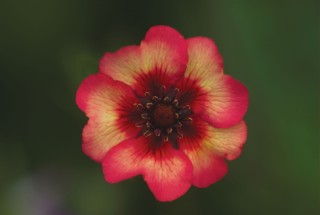 Potentilla nepalensis 'Miss Willmott'
The two upper levels of the garden are divided by a pretty draped rope into a stepped herbaceous border. Lilies, azaleas and clouds of misty mauve thalictrum alternate with clumps of later-flowering perennials. There are some vibrant colour combinations: blue delphiniums, scarlet salvias and yellow daisies. Verbena 'Claret' is the lovely deep colour its name suggests, and Potentilla nepalensis 'Miss Willmott' adds mounds of cherry pink flowers with darker pink centres. Bent and twisted twigs are used as supports for the perennials and blend in naturally, disappearing as the plants grow.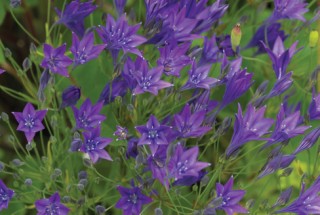 The trumpets of Triteleia
The useful cranesbill family is well represented. These versatile plants can be easily divided in spring and positioned almost anywhere. Geranium 'Orkney Pink' is as pretty as it sounds. More unusual is Tritelia, its corms pushing up stems of dainty blue trumpet flowers veined in a deeper blue.
Shrubs are the bones of the garden around which more transient planting fills in. Viburnum plicatum f. tomentosum is so decorative, with its frilly white balls of flowers. Deep red weigela is always eye-catching. A striking Cornus kousa has lime-green bracts around its tiny flowers, with foliage that will also give lovely autumn colour. There are clumps of tall, white Libertia grandiflora forming a linking thread between different areas; just what is needed with so much ground to maintain. This is a clump-forming perennial with narrow, leathery leaves and a mass of pretty flowers. It is a native of New Zealand and needs shelter to be fully hardy. The tower of St Andrew's church forms a lovely backdrop to all this and is a reminder of the village beyond.
A stream trickles quietly down the side of the garden through a small orchard, yellow iris and arum lilies flowering among hostas and euphorbias by a small water-lily pond. It then drops steeply through ferns, acers and hydrangeas until it reaches the lowest level where it turns and meanders the full length of the garden, a wonderfully relaxing sound in the dappled shade beneath the trees. The garden here is not ideal for anyone unsteady on their feet, particularly after rain, with steep steps of mossed timber and gravel with gnarled old rooted stumps.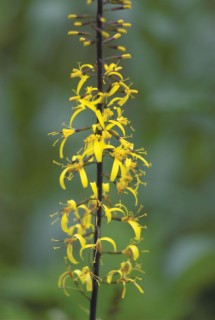 Ligularia przewalskii, a striking plant
for moist conditions
Paths wind between giant gunnera, eleagnus, huge clumps of bamboo and other lush foliage. Watch out for the remarkably lifelike scarecrows, too. The stream banks are every shade of green spiced up in their seasons by the colours of camellias, fuchsias, rhododendrons and the tall dark stems of Ligularia przewalskii which contrast so well with its yellow flowers. Having traversed the length of the stream, one emerges into sunshine again under more giant gunnera – some of the largest I have ever seen – and a couple of tree ferns (Dicksonia antarctica), with foxgloves completing a perfect woodland scene.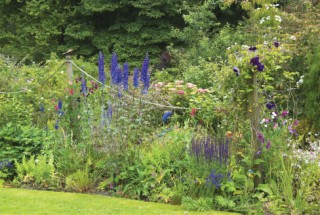 Draped rope adds to an interesting change in level
There is a gentle ripple of music throughout the garden and where the stream reaches the boundary a large cluster of bamboo chimes hangs above an amphitheatre of candelabra primulas. The view back from here through light and shade is particularly lovely, with a strange timber sculpture against the sun, backed by variegated foliage. Throughout the garden variegated has been balanced with plain, burgundy with green. Some plants are labelled, but essentially this is a garden to wander through and get lost among the variety.
A small meadow has just been planted around a timber chalet, where lots of plants with sword-shaped foliage are getting under way, set off by mown grass. A wild flower area is becoming established, with various buddleias which will attract butterflies once they start to flower. Clematis rampage over fences – the flowers purple, striped and yellow – but a favourite has to be 'Doctor Ruppel', a beautiful deep pink with even deeper pink stripe on flowers up to six inches across.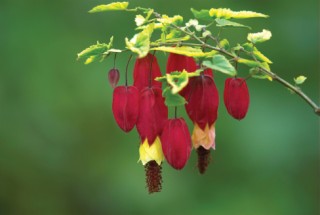 Abutilon megapotamicum (trailing abutilon)
Below the bungalow terrace are small lawns hemmed in by shrubs, where old stone walls hold back the soil of the beds. A wide border has been left between the edge of the grass and the walls, filled with slate mulch which keeps weeds down and makes it so much easier to mow and edge. Yellow and white daisies vie for space with the purpley-blue flowers and grey foliage of cerinthe, a bizarre plant that seeds itself freely and forms large, long-lasting clumps. I love it for its unexpected appearance each year, often in just the right place.
It was as I was leaving that I noticed the wine bottle corks used to mulch a potted palm. Such a good idea made me smile, but also gave me pause for thought. When do Dave and Mandy ever having time to stop for a well-earned drink? If they're not doing one season's gardening, they must be preparing for the next. If you would like to enjoy their efforts at Wolverhollow, check with the National Gardens Scheme Yellow Book for opening dates and times.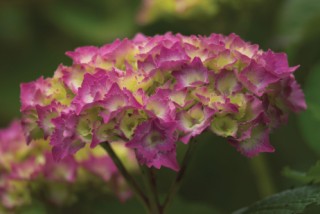 Hydrangea