A Dorset Love Story
Alan Chedzoy re-visits Thomas Hardy's Far From the Madding Crowd
Published in September '08
Thomas Hardy at about the age when Far from the Madding Crowd was written
The sun was shining at mid-day on New Year's Eve, 1873, when a young man bought a copy of the Cornhill magazine on the railway station at Plymouth Hoe. He was on his way back to Dorchester and had time to kill. When he opened the paper, he found to his considerable surprise, that the leading serial, splendidly illustrated by Helen Paterson, was by himself. He later learned that a novel by another author had been lost in the post and that the first chapters of his partially-written story had been substituted.
Not that he gained any personal prestige from this, because Far From the Madding Crowd appeared anonymously, a fact which later gave its author, Thomas Hardy, some cause for exasperation, because the critics made absurd speculations on the matter. One reviewer thought the story was by George Eliot; another believed that (because of its knowledge of working people) it had been written by a house painter. The success of the tale, however, soon changed all that. When published in book form, Far From the Madding Crowd went through seven editions in 1874 alone, and the name of Hardy figured prominently. His improved finances subsequently enabled him, at the age of 33, to abandon his career as an architect in order to become a full-time writer, and also to marry his Cornish sweetheart, Emma Lavinia Gifford.
His title was taken from Gray's Elegy written in a Country Churchyard: 'Far from the madding crowd's ignoble strife,/Their sober wishes never learned to stray…' The choice of title was commercially astute, for it was designed to appeal to the ever-growing number of Victorian readers who sought solace from urban drabness in dreaming about quaint rural manners and a life of rustic innocence. And, indeed, the story is one that might have come from an old country ballad, telling of a young woman courted by three suitors – a shepherd, a farmer, and a dashing soldier.
Bathsheba Everdene, the heroine, is a spirited young woman, who is something of an early feminist when she bargains with dealers at the Corn Exchange in Casterbridge. Yet she is basically a man's woman and she knows it. Her exchange with Gabriel Oak, the steady countryman who first proposes to her, reveals that she has already come to a partial understanding of herself. She tells him: 'It wouldn't do, Mr Oak. I want somebody to tame me.' She certainly does, and the reader suspects that she is soon very likely to get her wish. Oak is quickly out of matrimonial contention because he loses his farm and social standing as the result of a disaster with his sheep, and as a result is reduced to becoming her shepherd. Meanwhile, Bathsheba has irresponsibly and unintentionally provoked the interest of an older man, a neighbouring gentleman farmer, Mr Boldwood, by sending him a valentine anonymously, though her authorship is quickly discovered. Appalled, she finds that he has developed an all-consuming passion for her, and induced by guilt, she almost promises to marry him. Then, quite by accident, she meets Sergeant Troy, when her dress is caught on his bright spur in the menacing obscurity of a fir plantation at night. It is an omen.
One splendid scene rapidly follows another in this book; we see Gabriel Oak pondering his destiny among the bright stars on Norcombe Hill; the sheep running over the cliff edge; Troy waiting impatiently to be married to poor little Fanny Robin, who mistakes the church; Bathsheba in the meadows scribbling a desperate note to Gabriel to come and save the bloated flock; Bathsheba again, erect in the hollow amid the ferns while Troy's sword describes a glittering arc around her head; Oak and Bathsheba feverishly thatching on the rick, beneath a sky flickering with lightning; the opening of Fanny's coffin; the gurgoyle washing Troy's newly-planted flowers off Fanny's grave.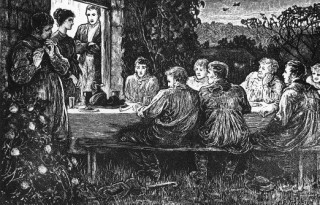 One of Helen Paterson's original illustrations for
Far From the Madding Crowd
The pictures Hardy paints are wonderfully vivid and full of suggestion: the red seal on Bathsheba's valentine becomes a blood-spot in Boldwood's eye; the Christmas robin at the window somehow sings of Fanny's distress; Troy and Bathsheba cast gigantic mangled shadows over the fir plantation; and Gabriel lovingly marks Bathsheba's initials on the buttocks of a lamb.
It is always necessary to remind oneself that Hardy's Wessex is a landscape of the mind, even though it is remarkably similar to that of south-west England. He himself was gently ironic about attempts to identify his locations too closely with actual places, although his friend, Hermann Lea, in after years attempted to do so. A number of buildings and places in the Puddletown area have been suggested as the inspiration for his story. Just off the B3142 stands Waterston Manor which has been identified as Bathsheba's 'Weatherbury Upper Farm', while the site of Oak' s cottage has been located on the same road. The central setting of the novel is 'Weatherbury' (Puddletown), which is some four or five miles from 'Casterbridge' (Dorchester), with its Corn Exchange, and the workhouse to which Fanny Robin directs her dying steps. Beyond the fertile farms stand the great chalk hills of the west, where Oak loses his flock on 'Norcombe' (Toller Down), just north of Bridport.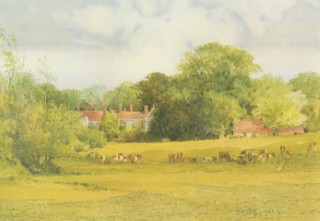 Waterston Manor, Hardy's inspiration for 'Weatherbury Upper Farm', inherited by Bathsheba Everdene
from her uncle
To the east of Kingsbere (Bere Regis) is the site of 'Greenhill Fair', where Sergeant Troy in disguise is depicted galloping around a tent, re-enacting Dick Turpin's Ride to York. Hardy described Greenhill as the 'Nijni Novgorod of Wessex', meaning that it was a great sheep fair comparable with its famous Russian counterpart. This was Woodbury Hill Fair, to which Hardy walked the thirteen miles from Stinsford on 21 September 1873, a few months before he started his book. Woodbury had been one of the great sheep and horse fairs since medieval times but it was now in decline.
As was agriculture in Dorset. After a period of prosperity in the mid-19th century, the new railroads and steamships now made possible the importation of such products as American grain and New Zealand lamb. Seasons of wet weather and bad harvests compounded the problem for local farmers and the result was a depression for the rest of the century. In the middle ages, Dorset had been the most famous county in England for its sheep, but in the loss of Oak's flock in the novel, Hardy uncannily foreshadows the threat both to the farming industry and traditional rural life. But when he was writing in 1873, it was still possible, perhaps for the last time in the century, to be optimistic for the rural community. True, disaster is glimpsed. It seems that Troy's profligacy will be the ruin of Bathsheba and that she will lose the farm. But the danger passes, and the traditional life of the farm re-asserts itself. Together with Oak, she replants the flowers on Fanny's grave, thatches the ricks, and saves the sheep.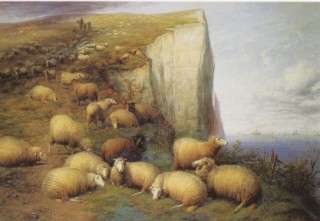 Gabriel Oak's disaster with his sheep was no rarity, as is shown by An Endangered Flock on the Kentish Cliffs, a painting by Thomas Sidney (1803-1902)
Amid much praise for the book, the chief subject of criticism concerned Hardy's depiction of the farm workers. It was said that they were too intelligent to be believed. RH Hutton in the Spectator complained: 'The whole class of hoers, sowers, ploughmen, reapers &c., are – if Mr Hardy's pictures are to be trusted – the most incredibly amusing and humorous persons you ever came across.' It is certainly true that, for all their slowness of understanding, these work-people exhibit a shrewd appreciation of life which often surpasses that of their social superiors. But in this book Hardy is suggesting that it is from the slow, incremental experience of these people that strength is drawn to comprehend and confront the new challenges.
At the maltster's alehouse the old man questions Gabriel Oak about a place where he once lived: 'Sit down, Shepherd Oak…And how was the old place at Norcombe?…I should like to see the old familiar spot, but faith, I shouldn't know a soul there now.'
'I suppose you wouldn't. 'Tis altered much.'
'Is it true that Dicky Hill's wooden cider-house is pulled down?'
'O yes – years ago, and Dicky's cottage above it.'
'Well, to be sure!'
'Yes; and Tompkins's old apple-tree is rooted that used to bear two hogsheads of cider….'
'Rooted? – you don't say it! Ah! Stirring times we live in – stirring times…Dear, dear – how the face of nations alter.'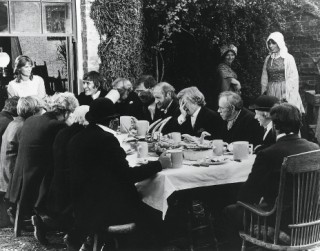 Julie Christie in John Schlesinger's 1967 film of the book: a still which makes a fascinating comparison with Helen Paterson's illustration on page39