Unsung Hero
Brian Faulkner celebrates the achievements of a Dorset runner who was the UK's first athlete to win a gold medal at the Olympics
Published in August '08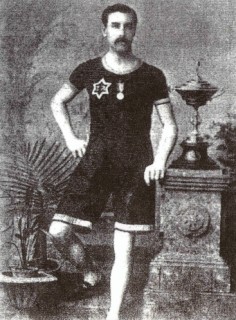 Charles Bennett wearing his gold medal
In 1900 a 29-year-old Dorset train driver made history by becoming Britain's first Olympic athletics champion yet, more than a century later, his name is all but forgotten.
Charles Bennett was born in 1870 in Shapwick, near Blandford, to carter Henry Bennett and his wife, Peggy. Little is known about Charles's early life, but the 1881 census shows the family living at Manor Farm House, West Woodyates, between Blandford and Salisbury. It is known that he eventually became a train driver, but his running career seems to have started seriously in 1892 when he joined Portsmouth Harriers. There are stories that, without a local team or track, his early training consisted of running across ploughed fields chasing horses, while living on a diet of boiled rice with a pinch of salt, and a cocktail of three raw eggs with sauce. In 1896 he moved to Finchley Harriers and it was not long before he started to win medals. His tactics during a race were to hang back until the very last moment then burst through the field.
By the time of the Olympics, Bennett had won the AAA 4-mile championship three times, had been national cross-country champion twice and had won the 10-mile title once. Although he added the mile title to his list of achievements in 1900, his winning time was not anything to write home about; as one sports writer remarked, it was 'not a vintage year for milers'. Vintage or not, it qualified him to run in the 1500 metres in that year's Olympics.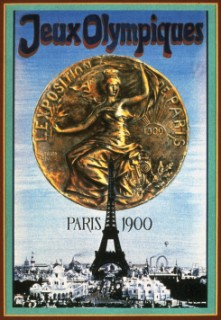 An official poster from the 1900 Paris Olympic Games
The 1900 Olympics were held as part of the Paris World Fair but the organisation and facilities, particularly for the athletics competitions, were described as a shambles. The 1500 metres, which Bennett was not expected to win, was held on Sunday 15 July over three laps of a 500-metre undulating grass field, which must have reminded him of his early training days. His cause was helped significantly when American John Cregan, who had clocked the fastest time in the world that year, refused to race because of his religious beliefs. What few reports there are of the race show that Bennett appears to have abandoned his normal strategy, taking the lead from the start. Local hero Henri Deloge tracked him all the way but, as they began the final lap, Bennett put in his kick and edged the Frenchman out by two metres, taking 20 seconds off Cregan's world best time. He celebrated his victory by going to the Folies Bergère.
Bennett won his second gold medal with a combined British and Australian team in the 5000 metres team race a week later. This was a two-horse race, as the United States team again refused to compete on a Sunday, leaving France as Britain's only opponents. The race was very tactical but, on the final lap, Bennett put in his trademark spurt and pulled away to win in another world best time. Sandwiched between the two gold medals was a silver, in a close-fought 4000 metres steeplechase.
There was virtually no press coverage of the Olympics in Britain but news of Bennett's achievements somehow reached Dorset. He was hailed as a hero when he returned home and was carried shoulder-high through the streets of Wimborne to a civic reception. The running shoes he is believed to have worn at the Olympics are kept in a Charles Bennett exhibition at Hillingdon Athletic Club.
Despite making athletics history, there is no record of him winning any more championships, or indeed continuing in athletics, and he eventually returned to his job on the Bournemouth to Waterloo railway and drifted into obscurity.
One reason for his disappearance from the athletics scene might have been a young lady by the name of Sarah Lena Lewis. Sarah, who came from Wiveliscombe in Somerset and was a dressmaker, was living at the time with her aunt and uncle in The Square, in Wimborne. In 1902 the pair married in Wellington, with Bennett giving his occupation on the marriage certificate as 'Gentleman'. It appears that Sarah wasn't all that happy with her husband travelling around the country to compete in athletics meetings and put her foot down.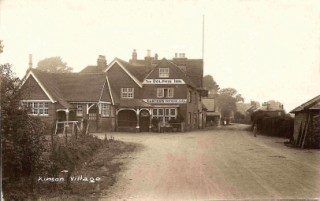 The Dolphin Inn in Kinson (now Gulliver's Tavern) around 1920
It is known that in 1903 he was the licensee of the Dolphin Inn (now called Gulliver's Tavern) in Kinson, which a local publication described as providing 'accommodation for commercials, cyclists, also good stabling facilities'. Charles and Sarah later lived at Holt Lodge, which fronted Wimborne Road in Kinson and his five children, including twins, attended the old Kinson school.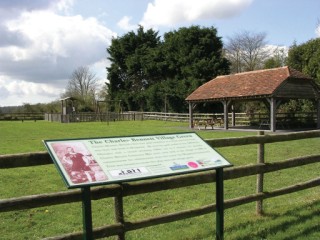 The Charles Bennett Village Green and play area in Shapwick
The Charles Bennett story might have ended there had not the Shapwick Community Trust wanted to build a play area for the village. The Bournemouth Athletics Club asked the Trust if they could organise a Charles Bennett Millennium Mile Race around the village to coincide with the start of the Sydney Olympics in 2000. On the day of the race, the spirit of Charles Bennett appeared in the form of an athlete dressed as Bennett, who ran ahead of the field carrying a replica of the Olympic torch. Runners came from all over the country, raising £3,500 towards the £50,000 needed to set up the playing field. 80-year-old Sydney Wooderson, one time world mile record holder, came from his home in Wareham to watch and, appropriately, the boys' race was won by Charles Bennett's great-great-grandson, Samuel Ward. Four years later, in September 2004, a Family Picnic Day saw the Charles Bennett Village Green officially opened. 'Charles Bennett has brought the village closer together and it's fitting that he's remembered in this way,' said Margaret Wetenhall, chair of the Community Trust.
Chris Bennett, Charles's only living grandson, said, 'We have no surviving trophies or medals of his but we have a manuscript in scrawled handwriting, which shows his achievements. I do not know whether it was done by him, but it could have been. The story goes he was a gambling man and he liked the horses.'
Bennett died at Holt Lodge in 1948 and is buried in St Andrew's churchyard in Kinson. The grave had been left untended for some fifteen years when the churchwarden gave Chris Bennett a map of the churchyard. 'It was something I had forgotten about and, had it not been for the centenary mile, it would probably never have been found again,' he said. 'I had some idea of where the grave was but it was overgrown with grass. I had some shears and a fork. I prodded and poked with the fork and suddenly there was a clunk. Just below the surface I found three sections of a square.' The gravestones read, 'In loving memory of Charles Bennett who died 18th Dec 1948, age 78 years. Also of his beloved wife Sarah Lena who died 13th February 1950 aged 75 years. Until the day break.'
The last word goes to Chris Bennett. 'We had always known that we had an Olympic runner in the family but he never really boasted about it. He ran just for the love of it and is definitely one of this country's unsung heroes.'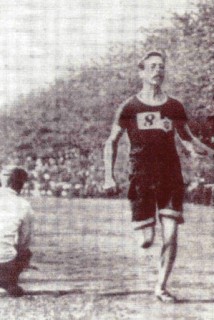 Charles Bennett winning the AAA 1 mile title in 1900