'The wonders of my garden'
Jeany Poulsen visits the garden of William Fox Strangways at Abbotsbury, today better known as the Abbotsbury Subtropical Gardens
Published in August '08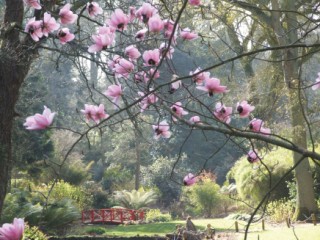 Abbotsbury's huge old magnolias provide brilliant colour, reaching high among the trees
On a warm August night in 1842, diplomat, plant and art collector William Thomas Horner Fox Strangways sat down in his Abbotsbury cliff-top mansion and wrote a letter to his nephew, Henry Fox Talbot, a fellow botanist and soon to be the inventor of photography. As usual, it was mostly about his remarkable rare plant collection, which thrived in this unusually mild spot, plus some family news. William, now 47, also mentioned that his elderly mother, Lady Ilchester, appreciated the weather 'as it allows her to take the air in the garden or terrace or to sit with the windows open, which she likes'. There were probably insects and moths buzzing in the still night air, and the sea, just beyond the great dark bank of Chesil Beach, was evidently very calm. 'We have been out on the terrace looking at falling stars…tonight Jupiter shines visibly on the sea.' But then William broke the spell (he was, after all, a man of science, a Fellow of the Royal Society since he was 25) by ending on a practical note: 'If you are curious in Rhubarbs I can give you some odd sorts.'
Even the wealthiest of gardeners have problems. In 1834 William had complained to Henry: 'The slugs eat my Muscaris and pick out the rarest.' In 1863 he wrote of problems with his elderly gardener: 'His gardening capacity was shown in too often chopping bulbs in two & trying to stick them together again…his other slip slop calling Amyris polygama [Chilean pepper tree] Amorous polygamy has left indelible impression in my memory.'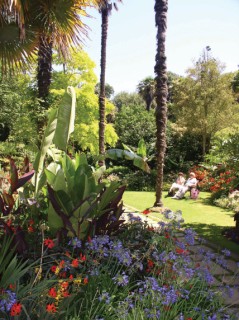 The colourful Victorian Garden lies within the original 18th-century walled kitchen garden. The Chusan palms from China are exceptional in being 65 feet tall.
The seaside house 'Strangways' or latterly 'Abbotsbury Castle' had been built as a summer residence around 1765 by William's grandmother, the 1st Countess of Ilchester (née Elizabeth Strangways Horner), in the Gothic style recently made fashionable by Horace Walpole at Strawberry Hill. Grandmother's controversial marriage to Stephen Fox when she was only 13 had been arranged by what we would now call a pushy mother. The couple did not live together for several years and, despite all, thereafter the marriage seems to have been successful. The novelist Thomas Hardy was fascinated by this tale, on which he based his short story The First Countess of Wessex in his collection A Group of Noble Dames (1891).
The couple's eldest daughter, William's Aunt Susannah (Susan), is thought to have helped her mother Elizabeth decide on the layout of the terrace and a rock garden sloping down towards the sea, where William and his successors grew prize-winning mesembryanthemums, aloes, agaves and other exotics.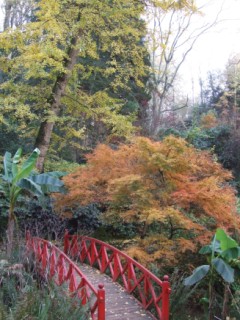 A fine collection of acers provides lively autumn colour
Susan mentions in her diary the provision of four Gothic stone arbours at each corner so that there was always shelter whatever the wind direction. These are clearly shown in a sketch of 1790 in the first edition of Hutchins's History of Dorset, and the two on the seaward side are sometimes just visible in late 19th and early 20th-century postcards, along with exotic plants and an intriguing structure down on Chesil Bank itself. In a later edition, Hutchins relates that in 1791 the second Earl 'erected a neat bathing house on the beach, which is accommodated with hot and cold baths', which were probably for bathing in sea-water. A fragment of its pointy stone window-frames with '1791' crisply carved into it now lies in Abbotsbury churchyard. At some point, a second castle garden wall was constructed further down the cliff and encompassing the rockery. Elizabeth also built a walled garden in a sheltered valley just a Chesil pebble's throw inland from the castle.
The Strangways family's love of plants and gardens was taken to rather extreme lengths by William's half-sister, Mary Lucy Fox Strangways, who at 17 agreed to marry Thomas Mansel Talbot (of Penrice Castle on the Gower Peninsula), a friend and contemporary of her father's. Lady Susan commented in her journal that 'her choice was thought extraordinary, as his time of life was thought very unsuitable for hers.' But when challenged on the matter, Mary replied: 'You have not seen that beautiful garden at Penrice!' They were married at Melbury in 1794.
New plants, bulbs and seeds were shared and tested for hardiness between Lacock Abbey, Penrice, Melbury and Abbotsbury. Some of these William collected himself while on diplomatic trips in Europe; others were sent from places such as Kew or Oxford or from contacts abroad. As early as the 1820s, William excitedly wrote to Henry: 'I have just this moment received a magnificent box of seeds from Mexico.' The genus Stranvaesia (now known as Photinia) was named after William, being a corruption of his surname.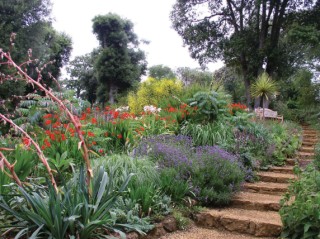 The Mediterranean Bank has been one of many successes in the restoration programme
Meanwhile, there were interesting developments around the walled kitchen garden, which forms the heart of today's Subtropical Gardens. The 1808 enclosure of the surrounding fields was followed by much tree planting, providing shelter from the salt-laden south-westerlies. The mild valley climate has resulted in these native oaks reaching a huge height at a relatively young age. Successive generations of the Strangways family enlarged the gardens, but it was William who planted the protective evergreen holm oaks that are so much a feature today. He was almost certainly responsible for the magnificent Caucasian wingnut tree which dominates the original 18th-century walled garden. Back in 1818, he had made a plant contact in the Crimea: 'The very lists make one's mouth water.' In 1864 William asks Henry if he has the Caucasian hickory Pterocary, ie. the wingnut.
The arrival of Peter McNeil and his family must have caused quite a stir in the village with their strange accents. He was one of the new, sought-after breed of well-trained Scottish gardeners, and William, who died in 1865, was very relieved to see him in charge of his increasingly famous collection. Queen Victoria had visited the castle and grounds in 1846 and expressed her gratification. The 1881 census lists gardener Alfred Dight, and by at least 1892 The Gardeners' Chronicle was printing Abbotsbury reports from head gardener Jospeh Benbow, who had trained at Kew and worked for some years at the famous Italian garden, 'La Mortola', created by Thomas Hanbury. In 1899 Country Life featured the gardens at Abbotsbury, and in the same year Lady Ilchester printed a catalogue listing an astonishing 5000-plus different plants growing there. M R Gloag, writing in 1906, describes a large recently-built and plant-filled winter garden adjoining the castle, its interior walls and glass roof covered in tender climbers.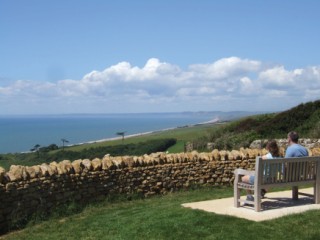 The newly planted Magnolia Walk leads to a superb
viewpoint over Abbotsbury Castle site and for miles each way over Lyme Bay and the Jurassic Coast
Throughout the 19th and early 20th century, intrepid plant-hunters (think leeches, malaria, poisonous caterpillars and worse) brought back remarkable new species, especially from remote mountain areas such as the Himalayas and China, notably the spectacular magnolias, rhododendrons and camellias which are so well suited to the Abbotsbury climate and woodland setting. Famous names such as Fortune, Campbell, Forrest and Wilson are well-represented among the plant labels, bearing witness to the plant-hunters' extraordinary bravery and determination.
In a quiet corner of the gardens there is a row of gravestones in memory of family dogs. Perhaps the most poignant is that dated 7 February1913, for the poor dog (a 'yellow retriever') must have been killed in one of the most dramatic events in the history of the gardens. On that evening, with a blizzard blowing hard off the sea, the castle housekeeper and maid had lit bedroom fires in readiness, as usual, for the family's imminent arrival. By morning, the much-loved castle was a smoking ruin. Luckily, no-one was killed (apart, presumably, from the dog) but the loss of irreplaceable paintings, books and antiques was immeasurable. The castle was handsomely re-built, with 68 rooms, but the rejoicing, and the huge financial investment, was short-lived: the use of poor building materials had caused irreversible damp problems. Along with a 'ferret-hutch' and 'a heavy coach-built brougham with lamps' listed in the 1934 demolition sale catalogue are lots 326 and 332 from the small and large Winter Gardens: 'All the subtropical and other plants'. Today the rather forlorn castle site on Buller's Cliff is only recognisable by a surviving outer garden wall (re-built at the same time as the castle), a few of William's pines and a drive still lined with tamarisk and pampas grass.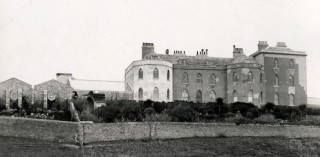 The original Abbotsbury Castle in about 1904, showing the Rock Garden with the fine new Winter Gardens (left) next to one of Lady Susan's 18th-century Gothic arbours. The ugly east wing (right) is a Victorian addition.
The loss of staff to World War 1, the Depression years and World War 2 represented a period of decline, echoed in many great gardens across the country. Lady Theresa Agnew and her first husband began Abbotsbury's restoration and expansion in the late 1960s with gardener John Hussey, followed by curator John Kelly in 1979. The gales and damage of 1990 coincided with the arrival of new garden curator Stephen Griffith. Since then, Stephen and his highly professional team have effected what the Royal Horticultural Society describes as 'a highly spectacular renaissance'. Enthusiasts and supporters include world-renowned plantsman Roy Lancaster, who ranks its collections among the best gardens in the UK. Now owned by Lady Theresa's daughter, the Hon. Charlotte Townshend, its thirty atmospheric acres are a joy to explore at any time of year.
[The author gratefully acknowledges the help of the Fox Talbot archive, whose website can be found at foxtalbot.dmu.ac.uk.]