The Hope Is Great
Lucie Dillistone visits Sherborne Girls and finds much more than academic excellence
Published in August '08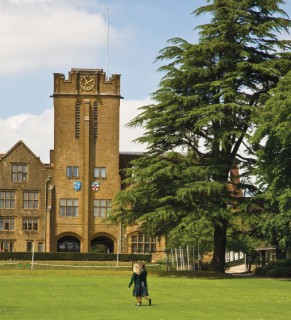 The main school building at Sherborne Girls
It seems surprising that Sherborne Girls, with its reputation for tradition and academic prowess, is still little over a century old. Somehow it should take longer to become one of the foremost girls' schools in the country.
Kenelm Wingfield Digby, who in 1898 was MP for North Dorset, felt duty bound to establish a non-Catholic girls' school in Sherborne which would run along similar lines to the then King Edward VI School for Boys. Wingfield Digby and his wife, Charlotte, were inspired by newly established schools such as Roedean, which with their competitive house games and prefect systems appeared directly to imitate boys' public schools.
This was a brave move within the context of a late Victorian society which generally regarded the education of girls as a waste of time at best. Undeterred, the Wingfield Digbys established a small council to further the idea and to secure the financial detail. Miss Beatrice Mulliner, then an assistant mistress at Cheltenham Ladies' College, was invited to become the first headmistress.
At the school's opening in 1899, there was a roll of fourteen (including six small boys), occupying premises at Ransome House, Greenhill. The school grew in numbers and accomplishments, and even by 1902 more closely resembled the vision of a secondary school for girls with high academic standards. With the roll approaching 100, Wingfield Digby gave an acre of land south of Bradford Road and the Governors purchased a further four. Thus in the spring of 1903 the present site was opened by the Marquis of Londonderry. A new boarding house, Aldhelmsted, was soon in use too. By all accounts the school at this time was a rather dour, foreboding place, quite unlike the comfortable clutch of well-kept buildings we see today.
Miss Mulliner was a formidable and contradictory formative presence, with rigid Victorian mores, insisting on checking that 'her girls' were from the right social stock before even deigning to meet potential parents. She reputedly wore elaborately decorated hats, had a penchant for driving a motor car (fast), and had the dubious talent of ice-skating backwards!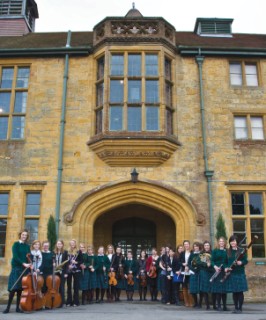 An instrumental ensemble of recent music scholars in front of Aldhelmsted West
By 1915 the Governors had purchased further land, increasing the acreage to 26. The school continued growing, with up to nine boarding houses including the now defunct Thurstan and Ealhstan (named after, respectively, an Abbot and a Bishop of Sherborne). Today there are seven boarding houses and the school is spread over an expanse of some 42 acres.
Sherborne Girls today is a national, even an international school. How, then, does it find a sense of place as a Dorset school too? For Jenny Dwyer, now coming to the end of her second year as Headmistress, the situation is clear. The town makes the school, and there is a genuine sense of belonging. The school community values its location and aims to contribute something to the town where possible. Thus the new Oxley Sports Centre, although an integral part of Sherborne Girls, is also a public facility, offering everything from children's parties to dedicated pool sessions for the over-50s.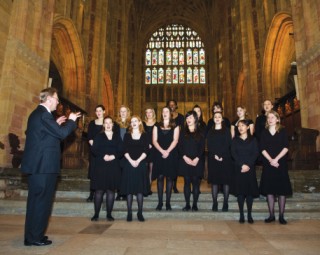 John Jenkins, the Director of Music, conducts the Madrigal Society in Sherborne Abbey
The proximity of the school to the centre of Sherborne helps generate a lasting bond with the town; indeed for many Old Girls, the Abbey plays a sufficiently meaningful part in their lives that they later elect to be married there. However, this very closeness to town, and the important, beneficial links to Sherborne Boys, can prove a double-edged sword. The girls are primarily boarders and must do their growing up under the occasionally critical gaze of others. That the vast majority manage to pass through their teenage years without incident, leaving the school as balanced, happy young women, well equipped for university or another chosen path, has at times been overlooked. Conversely, even the slightest indiscretion reflects on the school. Mrs Dwyer is a pragmatist who does not shrink from these issues. She adopts practical measures to ensure safe and sensible social conduct, but also creates opportunities in school which foster self-esteem. She has produced a platform of awareness, enabling girls to make the right choices with confidence. Participation in art and sports, and the sense of belonging within the wider community, all contribute to a balanced feeling of worth.
The academic achievements of the school are secure, but Sherborne Girls is about more than pure academia, though. The art and music which flourish here are particularly noteworthy. The art department is rather unusual, since it houses drawing and painting, design and technology, textile design, printmaking, sculpture, ceramics, photography and computer-aided design all under one roof! Inevitably there appears to be a cross-pollination of ideas and the result is an explosion of creativity, with bold paintings, delicate silverwork or acutely observed sketches from a Parisian art trip all vying for attention. Colour, detail and an almost tangible energy adorn the available space across the two levels. The girls' individuality comes shining through as they express themselves through a multitude of media with a proficiency that belies their years. No-one can visit the art department and leave unmoved; something will touch you.
Augusta Miller, the well-loved Director of Music at the School from 1973 until the appointment of John Jenkins in 1996, apparently declared music to be 'one of the most civilising aspects of education.' Barry Williams suggests in his book, So Many Opportunities, that this belief has been 'central to the School's history since its very early days'. The tradition of music has indeed long been strong in the school, with the first School Musical Society established in 1912 by Violet Hayward. The Society held their first performance a year later: a programme of works by Bach, for which they recruited tenor and bass voices from the Boys' School, setting the collaborative precedent which continues today. Musical events continued to foster both academic and social links between the schools, and the Sherborne Schools' Symphony Orchestra was founded in 1979.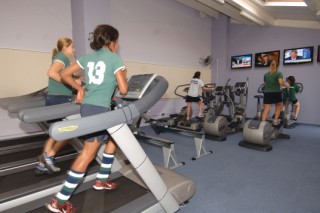 The very 21st-century fitness centre
Over 60% of pupils take instrumental or voice lessons, with many girls attaining Grade 8 or above. A small army of peripatetic instrumental specialists teach everything from double bass to harp. Two choirs, a madrigal society, numerous chamber ensembles, the symphony orchestra and sinfonia, quintets and quartets and a jazz group provide all the instrumental and choral permutations that could possibly be needed. Many girls also perform as soloists. At present these musicians lack an appropriate venue, although this looks set to change.
In April, Augusta Miller conducted a remarkable Old Girls' Concert at the Oxley Sports Centre. 'Gussie' Miller, still a Sherborne resident, led the Sherborne Old Girls' Chamber Orchestra and the Sherborne Old Girls' (and Boys') Chorus in a programme ranging from Bach's Magnificat in D to Gershwin and Massenet. Sadly, the school's most illustrious alumna, Emma Kirkby, was committed to perform elsewhere, although there was no shortage of other Old Girls. They are a breed with a huge love of music, whose loyalty to their respective Directors of Music is sufficient for them to choose to take time out from careers, study or motherhood (or indeed all three!) and return to Sherborne Girls to perform together.
With no shortage of dramatic talent at the school either, it comes as no surprise to learn that a new Performing Arts Centre is planned. This ambitious, £3.5 million building will be located next to the Oxley Sports Centre and will provide an impressive, professional space for all aspects of the performing arts, housing a substantial auditorium and stage. The entrance will include an exhibition space. This versatile venue is likely to enhance arts opportunities not only within the school but also within the wider community.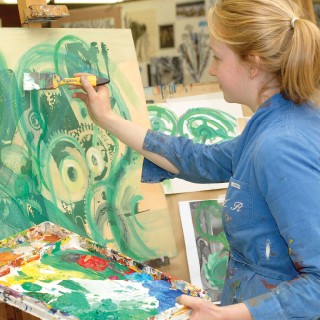 A Sherborne girl at work in the art department
Sherborne Girls is a place with high expectations of itself and of its girls – whether in academic life or music or art. The bar is raised high, but the passion of the staff helps pupils to achieve the expectations set for them. Mrs Dwyer would doubtless have clashed with the formidable Miss Beatrice Mulliner on many issues, but would have approved of her oft-quoted motto: 'The prize is a fair one, and the hope great.'