Planes For All To See
Compton Abbas Airfield is one of the most picturesque of its kind in the country. Tony Burton-Page paid it a flying visit.
Published in August '08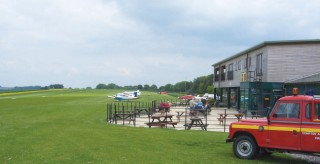 The recently extended patio area is the ideal place to sit and watch the air traffic. The fire truck on the right is required by safety regulations, but it has never had to be used.
Perhaps the first thing to say about Compton Abbas Airfield is that it is not in Compton Abbas. It is actually more than a mile east of the little village, almost (but not quite) avoided by the A350. This has caused enough confusion in the past for the airfield's 'How to find us' instructions to state: 'Please do not take the A350 from Shaftesbury or Blandford.'
In fact, the airfield is only just in the same parish as the village and, at 803 feet, it is twice as high above sea level as its namesake. It is this height which makes it special: it has the reputation of being the most picturesque airfield in the country – and deservedly so. Perched on the western edge of Cranborne Chase, it has a breathtaking view of practically the whole of the Blackmore Vale and on a clear day you can see, if not forever, at least well into Wiltshire and Somerset. Small wonder that visitors return many times, whether by air, by car, by bicycle or on foot. Clive Hughes, the owner and manager, says that it is not only an airfield but also a tourist attraction and local amenity. The restaurant, run by his wife Margaret, serves a thousand meals a week, which adds up to 50,000 a year. Since only about half the visitors have a meal, this means that there are roughly 100,000 visitors to the airfield every year. The other 50,000 come simply to sit and admire the view or watch the planes taking off or landing or, occasionally, practising their aerobatic skills.
It has been an airfield since the 1960s. There is a legend that it was a landing ground in World War 2, but there is no evidence for this, alas. The story of how it came to be an airfield is only slight less vague: apparently the farmer let someone land a Tiger Moth land on his field and allowed him to keep it there. From this, it grew, becoming busier and busier as its reputation spread among the flying fraternity.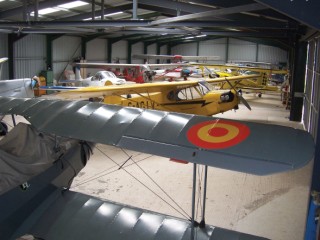 Hidden treasures in one of the hangars
Clive Hughes has run the airfield for more than twenty years. Aviation has been the focus of most of his life: for 24 years he worked for BA (which was BOAC when he started), graduating to management before leaving to start his own aircraft sales and engineering company. When the business expanded, more space was needed. The search led Clive to Compton Abbas and in 1987 he bought it, moving his home and family from Surrey to Dorset. Sales of aircraft, even of the lighter variety, took a turn for the worse in the recession on the early 1990s and since then Clive has concentrated on private flying.
From the start of his time at Compton Abbas, Clive has made a point of getting the local community involved with the airfield. When he arrived, he found that there was a great deal of negative feeling, but he soon realised that much of this was due to misunderstanding and (in the nicest way) ignorance. 'I can remember being asked why I allowed all these huge freighter planes to take off and land during the night. Well, we've never been licensed for night use – there's no air traffic control tower so pilots can't take off and land just using instruments – and the landing strip simply isn't big enough for a large freighter to land: it was all in people's imaginations. I was also asked what I was going to do about all the low-flying manoeuvres which went on in the area: I had to explain that I had no control over the Army Air Corps or the Fleet Air Arm!'
Knowing that there were many airfields where a wall had built up between the aviators and the outside world, Clive decided on the opposite approach. He went round to all the village halls in the area and gave a forty-minute presentation in each of them.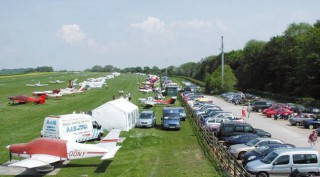 Rush hour at Compton Abbas airfield
'I used to begin by asking everyone who thought that aviation played no part in their daily lives to put their hands up. Quite often, there were no hands – and I loved that, because I would go on to ask if anyone used a supermarket and whether they liked runner beans out of season or mangetouts, and such like, and I would point out that they wouldn't have it unless it was flown in. Then I would ask if people used petrol or oil, and when all the hands went up I would remind them that the North Sea oilfields would be totally paralysed if the oilmen weren't flown to their rigs. Did anyone use electricity? I would mention that the National Grid was susceptible to breaks in out-of-the-way places: how did the repairmen get there? By air. So, by the end of my presentation, they would realise that aviation did play a part in their daily lives. As for all those pilots – how did they start, where did they learn? At little airfields like ours, of course.'
Thus Clive gained the approval of the local people. Furthermore, by making them welcome at the clubhouse (no 'Members Only' signs here) and expanding the catering side, he encouraged them to spend time at the airfield. The patio area outside has recently been extended, so there is even more room for visitors. While this aspect of the airfield has been developed, Clive is not going to increase the flying training. They have fifty students on their books at present, which is plenty for a small concern like theirs – and quite enough for an Area of Outstanding Natural Beauty to cope with.
'We simply haven't got enough space to get any bigger,' says Clive, 'and we're pretty busy as it is.' He points out that at this year's Pooley Day (an open day sponsored by an aviation equipment company), there were 400 aircraft movements between ten o'clock and six o'clock. An airport such as Gatwick has 900 in a day, and those are spread over 24 hours and have the benefit of Air Traffic Control and all the facilities of an international airport. 'And there wasn't a single incident,' announces Clive proudly, 'but I did have to close the airfield for the first time ever – for 25 minutes, because we ran out of parking space for aircraft!'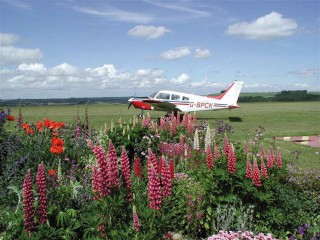 A Piper PA-28 taxies down the runway
The biggest change in recent times has been the development of the upper floor of the airfield buildings. Clive and Margaret used to live in the Tarrant Valley but they can now live on site, which is a huge boost to the security situation. In these days of heightened tension, an on-site presence is essential: in addition to the daily visits from the police, the morning and evening sweeps of the every inch of the premises and the eight night-capable CCTV cameras recording 24 hours every day, Clive can now do a security patrol every evening with his faithful German shepherd dog, Sacha. Even parked cars are not immune. Recently, a pilot flew off on holiday, having left his car at the airfield without informing anyone. It was spotted at the end of the day, and only after four hours' worth of CCTV footage had been scrutinised was it realised that the vehicle was not a threat. There were some stern words for the owner on his return.
Compton Abbas is one of only 142 licensed airfields in the UK, a figure which includes Heathrow, Gatwick and the like. The regulations which apply to the giants apply equally to Compton Abbas; their official airfield inspector was until recently the same one who inspected Heathrow. The large airports hold corporate licences; at Compton Abbas, all the licences are in the name of Clive Hughes, so he is responsible for the observance of not just UK law but European law, aviation law, employment law, health and safety law, food and hygiene law, and so on – the list is endless. But despite the Damoclean sword of personal litigation hanging over him, Clive still loves the life.
'We get all sorts here. A lot of people think that flying is only for the rich, and it's certainly not a cheap hobby; but people from all strands of life get bitten by the flying bug and a lot of them have to make huge sacrifices to keep doing it. Yes, we do get celebrities here; we trained Prince Michael of Kent to fly, and Guy Ritchie is learning here – so much for the stories of his partner Madonna trying to close us down! The quality of the food brings people here, too – Robert de Niro came for lunch one day, and I've known people to fly in from Birmingham just because of the sausages from our local butcher, Simon Harvell! What's most important to me is that people should come here and enjoy themselves, whether they fly, eat, drink or just sit and watch.'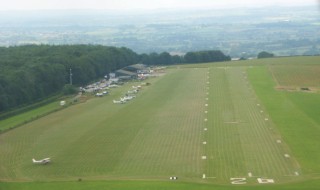 Looking westwards over the airfield towards the Blackmore Vale