Shaftesbury and the High House Press
Jeremy Archer looks at a 1930s publication on Shaftesbury and how the town has changed
Published in July '08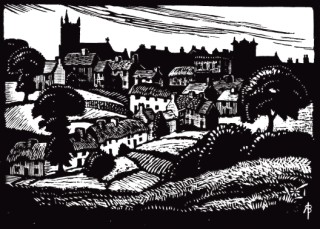 A view of Shaftesbury from Shaftesbury, the Shaston of Thomas Hardy, published by the High House Press
If you stand at the west end of Shaftesbury High Street and look east, there is only one window facing in your direction. It belongs to High House, on the south side, just opposite Muston's Lane: until recently it was a branch of Body Shop and now awaits new tenants. Between 1924 and 1936, however, High House was the focus of intense – and productive – artistic activity. While the ground floor housed a gift shop, James Masters, a schoolmaster, and his wife, Beatrice, occupied the upper floors, which had 'a marvellous view over Blackmore Vale'. The room on the first floor overlooking the High Street served a dual function, as a dining room and a printing works.
The High House Press was founded during the summer of 1924. Although small, it was actually a printing press and not merely a publishing venture. It was started with a small hand-printing machine and virtually no practical knowledge of printing. A larger press was installed in June 1926. The entire work of the Press – typesetting, press-work, editing and publishing – was done by Masters himself until September 1927, but thereafter his wife helped with the typesetting and the Press was run by them without any assistance. The type was hand-set and hand-printed: it was the only way they knew.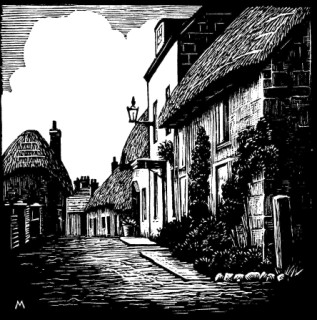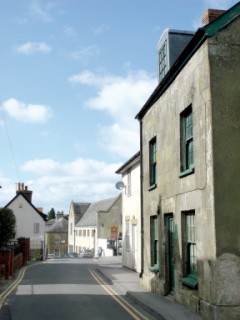 Coppice Street was one of James Masters's engravings for the book
As with most private presses, the High House Press began in a modest way, with small editions in marbled paper wrappers of translations of the classics or of lesser-known English poets and playwrights. As word spread amongst aficionados of the private press movement – then at its most expansive, before the Great Depression led to a sharp decline – James Masters's ambitions caught the prevailing mood. High House Press productions became more lavish and, over the next five years, prices of the ordinary editions duly rose from 2s 6d to 12s 6d, 15s or even 30s. However, collectors certainly received more for their money, with hardback bindings, specially commissioned illustrations, hand-made paper and even, on one occasion, hand-written initial letters. For three consecutive years to 1931, the First Edition Club selected a High House Press production as one of its 'Fifty Books of the Year'.
In 1932, John R. Biggs, who had recently obtained his Art Teacher's Diploma from Derby School of Art, was looking for a placement and duly wrote around to a number of publishers. James Masters offered him a position. Over fifty years later, Biggs wrote: 'Masters liked to talk about typography and seemed pleased to have a youngster around who was as enthusiastic as he was about hand-made paper, good press-work, letter and word spacing, appropriate margins, patterned cover papers and, most of all, the choice of typefaces.' Biggs not only lodged with the Masters at High House but also became intimately involved in one of the Press's most attractive and appealing productions: Shaftesbury, the Shaston of Thomas Hardy.
In fact Biggs actually led the way since, in his words: 'Masters had done a little etching but no wood-engraving. As the engravings for the drawings I had done in Shaftesbury developed, he became keen to try engraving himself, and asked me to show him the techniques. He learned quickly and soon produced a number of very proficient blocks which are included with mine in this book.' James Masters was modest about his achievements. For example, there is a proof of his engraving of Andrews Yard, on which he wrote: 'An old stone pump, Shaftesbury. My first attempt. Will try to do better next time.'
Having made his preliminary drawing, Biggs sat in the twelve-pane window described at the beginning of this article to produce an engraving of the view along Shaftesbury High Street. In his accompanying text, Masters wrote: 'Here is an unusual view which has the advantage of missing the modern "improvements" in the street.' Modern shop-fronts and corrugated iron roofs appear to be his particular 'bêtes noires'.
As he explained in his Foreword, James Masters's purpose in publishing the book was 'an endeavour to record some picturesque spots and corners as they appear today – or perhaps, by the time the book is published, as they were yesterday! Changes are swift, and one of the illustrations already represents a thing of the past'. He continues: 'Though modern "improvements" seem bound to creep into even so tiny a town, Shaftesbury has not yet been altogether spoilt.' Of Gold Hill, Masters chose to repeat Thomas Hardy's words in describing it as 'one of the queerest and quaintest spots in England'.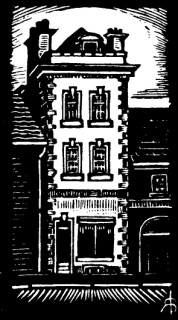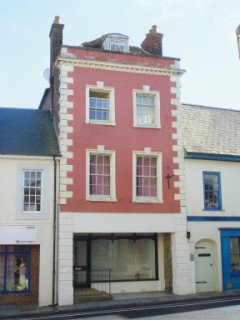 High House in an engraving by John R Biggs and as it is today. For twelve years it was a centre of creativity.
In all there were fourteen engravings, including the vignette of High House itself and a discarded view of Bell Street, which only emerged from the shadows when it was reproduced on the cover of the facsimile edition published by Christopher Driver of the Book in Hand, Bell Street, Shaftesbury in 1983. Nine of the engravings were by the professional, John R. Biggs, and five by the amateur, James Masters. The quality of engraving is uniformly good, thus amply bearing out Biggs's complimentary comments about Masters.
There were two editions of Shaftesbury: an unlimited edition on machine-made paper – in boards covered with either green or purple marbled paper – and a limited edition of 60 copies (of which 50 were for sale) on hand-made paper, signed by both artists, costing one guinea. As is the case with a number of the High House books, the 'ordinary' copies are rather more handsome than the 'specials'. The ink didn't take well to the surface of the hand-made paper, making both illustrations and text much less crisp. The grey cloth sides and black buckram spine are also distinctly drab.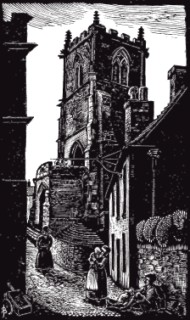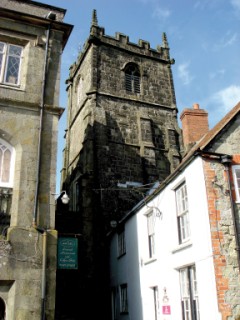 St Peter's Church
While some views have altered almost out of all recognition, many have barely changed. A degree of artist's licence was assumed by both Biggs and Masters, but seldom to the extent that the view is now unrecognisable. The most striking change is the dramatic reduction in the number of thatched dwellings, which comes as no great surprise. The view that has changed most is that along Coppice Street: at the bottom there is now a stone-built, post-War Post Office while, closer to the artist on the same side, a new supermarket opened five years ago.
In the summer of 1936 James and Beatrice Masters removed to 13 Abbey Road, Westbury-on-Trym, from which address the High House Press continued to flourish for a further four years. In all, the High House Press published 42 books for sale under its own imprint, of which no fewer than six were chosen as one of 'Fifty Books of the Year' exhibited by the First Edition Club.
Seven years after James Masters's death in 1959, Douglas Cleverdon, himself a most distinguished private press proprietor (Clover Hill Editions), selected the High House Press's Twenty-six Sonnets of the Divine Poet M. Francesco Petrarca for the 1950 British Council Exhibition of British printing. In the catalogue, he wrote: 'The High House Press was one of the least pretentious and most admirable of the private presses. All the work was done by James E. Masters, with the help of his wife, and showed a steady improvement in design and technique.' Next time you walk up Shaftesbury High Street, glance up at the first floor of High House, and spare a thought for the splendid endeavours that once took place in that room on the first floor.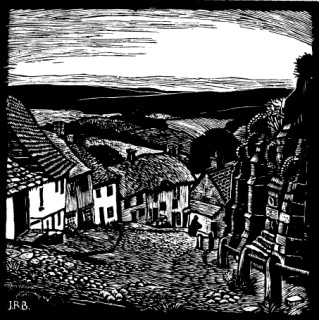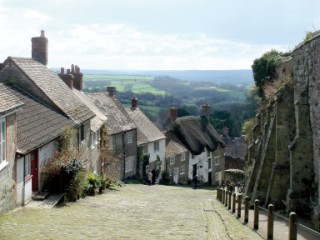 The classic view down Gold Hill is almost as effective in a woodcut as it is in a colour photograph