Stranger than we can imagine
The disastrous fire of 1731 may have destroyed much of Blandford but it had no adverse effects on the town's ghost population. Tony Burton-Page went in search of them.
Published in May '08
The Crown Hotel
The eminent surgeon Sir Frederick Treves, lover of Dorset though he was, did not have a high opinion of Blandford. In his Highways and Byways of Dorset, he rather dismissively says that 'there is nothing ancient left in Blandford', apparently because it 'developed the habit of having fires… It is simply a bright, flourishing country town'. Yet, despite its perceived youth, Blandford seems to have rather more than its fair share of ghosts: there are few buildings in the town in which strange occurrences or apparitions have not been reported. Indeed, the Ghost Walks organised by the Blandford Civic Society in recent years have had so many places to visit that they haven't had enough time to venture beyond the town centre.
Perhaps Treves did not realise that Blandford is home to what is probably the oldest inn in Dorset, the Crown Hotel (see the May 2007 issue of Dorset Life); and, as befits such a venerable hostelry, it has a plentiful supply of ghostly visitors – the spirits there are not only of the alcoholic variety. One of those most frequently seen is a lady whose black crinoline sets her in the 18th century: she apparently inhabits the first floor of the hotel. It was there that two members of the domestic staff were working together and chattering happily away. One of them was wearing a long black skirt and at one point her colleague followed her into one of the rooms – or so she thought, for on entering the room she found that there was nobody there. When she called to her colleague, she was answered from a room some way up the corridor. On a separate occasion, another member of staff was on the first floor, standing on a chair hanging pictures, and, on looking downwards, she distinctly saw a black skirt behind her legs. It hardly needs saying that when she turned round there was nothing to be seen. Her report of the incident was met with little more than 'Oh, you've seen her too, have you?'; in fact, she was seen so often that a few years ago clairvoyants from a psychic fair were called in and, in an interesting reversal of their usual role, asked her to leave. Their labours met with conspicuous lack of success, though, as she is still regularly seen, particularly on the first floor.
The Crown was once a coaching inn, so it is perhaps not surprising that a highwayman should be among the hotel's crop of spectres. A cloaked figure wearing a tricorne hat has been seen at the back of the bar and a similar figure spotted flitting through the restaurant. History records that in the early 18th century a highwayman really was shot dead in the courtyard while attempting to rob the hotel; the bar where his ghost has been seen is on the site of that same courtyard. The old stable block has, of course, become surplus to the hotel's requirements since those days, and the toilets for the Sealy Suite were built over them. Perhaps this goes towards an explanation for the apparition witnessed by a gentleman who was using the facilities in the customary seated position: he had the disconcerting experience of a horse's head poking itself through the wall as he was midway through his contemplation.
In the not too distant past, manager James Mayo had to deal with an angry complaint about security. A man and his wife had retired to their room for an afternoon nap but had been disturbed by a hand which appeared round the door that led to the adjoining room. When Mr Mayo went to investigate, he discovered that the door in question had been long ago sealed with paint, that it was locked and bolted, and that there were bunk beds against it in the other room, in which there were no guests staying anyway. No wonder that James Mayo takes, in his own highly appropriate phrase, 'a dim view of ghosts'. Perhaps as an astute businessman he sees that none of these spectral residents is actually paying for his stay.
Just south of the Crown is the bridge over the River Stour. At the halfway point of this bridge a small cross is carved into the stone. Legend has it that this marks the site of a suicide, although legend is less clear as to the identity of the victim. Was it the nun from St Monica's Priory in Spetisbury who jumped to her death after a dispute with a lover? Was it the nanny who drowned not only herself but also the children in her care? Or was it young Emily Smith, a woolsorter's daughter, who, bearing the child of a young man named Glynde, was subjected to the mockery of local lads when he deserted her? Emily could not bear the shame and tried to end her life at the bridge, but she only succeeded in killing her child, an act which turned her mind so much that ended her days in the asylum at Herrison. Whoever the cross is for, though, it is said that the spirits of all of these haunt the bridge. It has also been whispered that the cross is actually nothing more than a stonemason's working mark, but few Blandfordians would believe such an unlikely tale.
| | |
| --- | --- |
| | One of the stone dogs at the gates of Bryanston |
Two stone dogs mark the gates of the Bryanston drive, and one of these guards the bridge. There have been many reports that these dogs come to life at night, although the proximity of both the Crown and the Stour Inn may be responsible for some of these sightings. A phantom black dog is not unique to Blandford, but the ghostly pack of hounds accompanying a phantom Portman Hunt certainly is, and this has been seen and heard in the Bryanston woods by many witnesses. There are also tales of one particular canine which has no head; within living memory, a retired schoolteacher told of having seen it when she was a little girl. Erosion and devouring time are ensuring that the stone dog on the bridge is beginning to resemble its ghostly counterpart.
Blandford can boast not only a headless hound but also a headless sheep. The favoured spot for sightings of this alarming beast is, appropriately enough, Sheep Market Hill, just off the Market Square. (There was once a slaughterhouse in Shorts Lane, not so very far away.) Is it coincidence that the office of the Daily Echo at the bottom of Sheep Market Hill is so haunted as to become notorious? A group called Spirit Investigators have been there twice with all their electronic apparatus; none of them felt particularly comfortable during their time there, although none had to put up with the experience of having furniture moving around them which others had reported.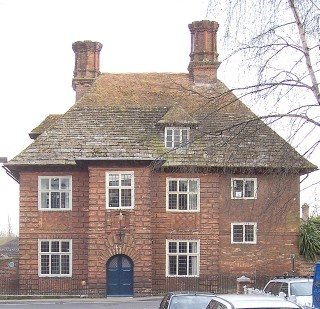 The Old House, spared by the 1731 fire
The Old House is one of the buildings which survived the 1731 fire, but its un-Georgian appearance has more to do with the fact that it was built a hundred years before that for three German Protestant refugees from the Thirty Years' War. One of them was a doctor of medicine, and the son of one of the others set up his practice in the house in the late 17th century. Does this have any bearing on the strange footsteps and dragging noises heard by a 20th-century neighbour when the house was empty? They were so real that the police were called in to investigate. They and their dog found nothing, but as they were closing the door to depart, there was a loud bang on the back of the door as if it had been kicked very angrily.
Was it the same police dog which refused to go into the haunted snooker room of the British Legion (formerly Coupar House)? The dog and its WPC handler stayed overnight after a spate of burglaries, but neither was prepared to brave the eerie atmosphere of a room where ashtrays and glasses shift around and snooker balls move on their own.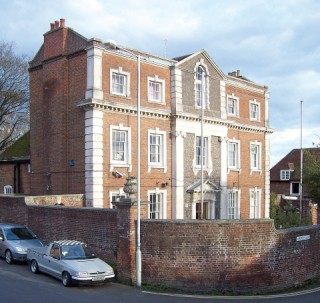 The British Legion, formerly Coupar House
Nelson's Wine Bar on Salisbury Street was once the Dorset Female Penitentiary. Perhaps some of these unhappy spirits are responsible for the flying wine bottle which was witnessed by the landlady; but it is too awful to speculate on their link to the oft-reported sounds of children's voices in the cellar.
The Ryves family is well known in Blandford history, and one takes any story concerning them with the utmost seriousness. One summer afternoon in the 1660s, George Ryves fell asleep in his garden and had a dream which was so remarkable that he wrote it down. He dreamt that a huge monster, making a rushing noise and belching forth smoke, was hurtling towards him. As it roared past, Ryves could see that in its long body were windows from which people looked out at him. What makes this particular story remarkable is that 150 years later the Somerset and Dorset Railway roared over that very spot in just such a shape. Even more remarkable are the tales of trains and whistles which are heard to this day in Blandford – forty years after the last train ran.
As the scientist J B S Haldane is reputed to have said, the universe is not only stranger than we imagine, it is stranger than we can imagine.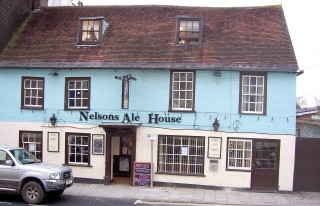 Nelson's Wine Bar, once the Dorset Female Penitentiary