Snakes alive
Geoff Marsh's experience with Dorset's resident reptiles
Published in May '08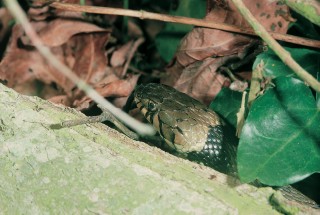 Grass snake hunting for food (Lytchett Matravers)
My mind was not on snakes or lizards as I worked hard to sort out last year's leaf litter. Some had rotted down well, but there were some pockets of leaves that seemed to be immune to decay. These leaves had to be separated as they were of no use whatever as a leaf mulch for the hellebores in the garden. I tossed the good leaf mulch into a wheelbarrow for use and to my surprise, a cluster of shrivelled-up white grass snake eggs appeared from deep within the heap of leaves. They had long ago hatched and the young snakes were long gone. I was obviously in a good area for grass snakes because I went on to find two more clusters of hatched eggs.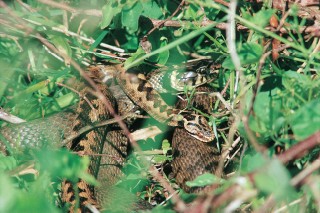 Grass snake and adder sunbathing together
(Lytchett Minster)
Grass snakes like damp conditions and are quite happy swimming in ponds and lakes, and on the damp clay soils around Poole Harbour there are plenty of suitable areas to be found. I have come across grass snakes at various times but their appearance can be somewhat unpredictable. I once watched one crawling along a hedgerow in Lytchett Matravers and all I had to do was wait patiently with my camera until it came close enough for me to get a close-up photograph. Strangely, a fox was walking along the same hedgerow at the same time! Another time, I watched in amazement a grass snake and an adder curled up together in the warm morning sun in Lytchett Minster, the adder finding the back of the larger grass snake the perfect place to sunbathe.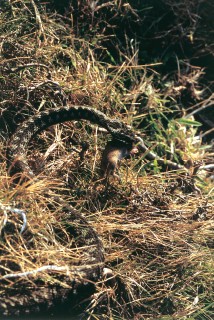 Male adder with prey (Corfe Castle)
On the heathlands near Wareham I quite often see adders. Spring is a good time to look for them as they emerge from hibernation. They like to soak up the first warmth of the year and at this time they can be readily observed.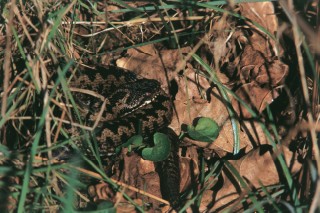 Male adder sun bathing (Lytchett Matravers)
I once watched a male close to a colony of sand lizards. Although adders will eat lizards, neither on this particular day took much notice of the other. One sand lizard was in the process of sloughing its skin, which they do shortly after emerging from hibernation and normally before they seek their first meal of the year.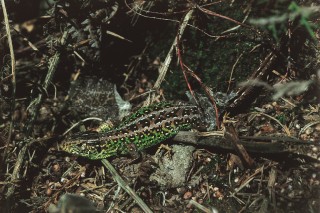 Sand lizard with freshly sloughed skin (Wytch)
Rather than sand lizards, small rodents and common lizards are more often the prey of the adder. Many times after seeing common lizards I have seen an adder, or visa versa. In one such place not too far from Corfe Castle, both species abound and doubtless there is a mutual reason for their abundance. On one spring morning I watched in amazement a male adder in the process of eating, or rather swallowing, a young field vole.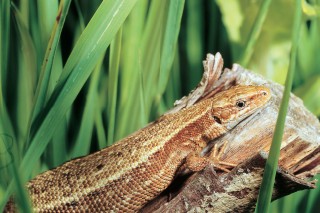 Common lizard sun bathing (Lydlinch)
As well as sand lizards, another speciality of the southern lowland heaths is the smooth snake. It is a snake that is hard to find, but with a little patience can be discovered where there is a good cover of mature heather. It is well camouflaged in the straggly branches of the heather, and it is not unusual to see it entwined some feet off the ground, looking more like an extra plant limb than a snake.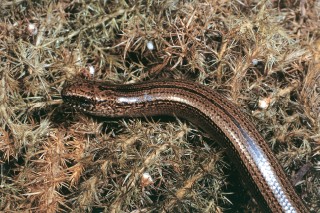 Slow worm sun bathing (Morden)
Easily overlooked, but after the common lizard probably our most common reptile, is the often forgotten slow worm: forgotten because there is no specific place to look for it. Always I have come across the slow worm unexpectedly when looking for other reptiles or hunting for other wildlife in well-established habitats such as woodland banks. It seems to be at home in several different types of habitat, the most important requirements being shelter and warmth. So it did not surprise me when I saw one in a garden hedgebank one autumn, not far from the compost heap.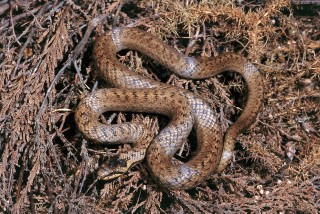 Smooth snake sun bathing (Morden Bog)