Inn with Freddie — The Angel Inn
The Angel Inn 188 Ringwood Road Ferndown BH22 9AP 01202 873778
Published in April '08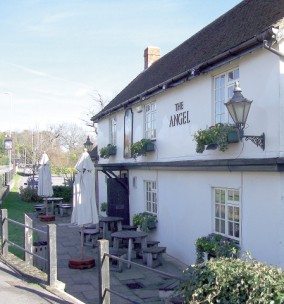 The Bible talks about 'entertaining angels unawares'. Mrs Freddie and I have never done that, we don't think, although we have entertained some fairly unangelic types in our time; what we can say is that being entertained by the Angel is a thoroughly enjoyable experience of which one could hardly remain unaware.
The Angel is technically in Longham but only just, because immediately after passing it, you enter Ferndown. In fact, most people would say that it really is in Ferndown, lying as it does to the north of the roundabout with the United Reformed Church on it: that's the one that looks as if it's been dropped in from New England. It's a strange, elongated village, Longham, in which you might find a light industrial unit alongside a gate with a horse looking over it, then an ugly modern house, then a couple of Lady Wimborne cottages. It's as if no planner has ever found it on his map – and it is all the more interesting for that.
The Angel is a long-standing pub, although within living memory it had no bar counter and drinks were just brought out from 'the back'. The licence remained in one family for 66 years, from 1910 when Thomas Reeks became landlord until 1976 when his son and daughter-in-law, Tom and Jesse, retired.
Today it is owned by Hall & Woodhouse, who seem to be embarking on a strategy to make their pubs more generous with their hospitality. This is reflected in everything from the size of their helpings to the space between the tables and is to be applauded from a customer's point of view. It must also make sense commercially – there's no point in having a pub with tables crammed together and rigorous portion control if the result is that no-one comes through the door.
The brewery also seems to be investing heavily in its pub buildings and just after our visit the Angel was due to close to be re-decorated and supplied with new furniture – even bigger tables. The menu is also to be upgraded, but all the old favourites will still be there. Simultaneously, £100,000 is being spent outside to create what Darren and Karen Godwin, the managers, call 'a garden fit for an Angel'.
Darren and Karen assured us that the atmosphere would not be lost by the improvements, which pleased us because we liked the feel of the place as soon as we walked in. It is quite open but there are bays which provide a feeling of privacy. Mrs Freddie summed it up as 'warm, cosy, open and buzzing'.
Taken together, the menu and specials board offer a wide choice, including some unusual items. Mrs Freddie started with eggs Benedict made to the classic recipe of poached eggs on bacon and a split muffin, in this case with a particularly good hollandaise sauce. People often scoff at prawn cocktail, which I chose, but doing it well is a challenge. This one came in a tall glass à la knickerbocker glory, which I don't think is as good as a wider dish as you can only get at the accompanying salad by eating through a solid layer of prawns. Some hardship!
For her main course Mrs Freddie chose a chargrilled tuna steak which she said was very flakey and had that lovely chargrilled flavour. She liked the roast Mediterranean vegetables that came with it, too. The sausages in the bangers and mash that I chose were perhaps a little on the dry side in both flavour and texture, but they came in a lovely onion gravy which more than made up for it. I liked the touch of the accompanying peas coming in their own little mini-colander.
Maybe Hall & Woodhouse are investing in their staff as well because there seemed to be lots of them and they could hardly have been more attentive. On their recommendation I drank an excellent cabernet sauvignon, while Mrs Freddie had a pinot grigio which she greatly enjoyed.
The Angel is open from 11 to 11 every day and food is served from noon until 9.30 from Sunday to Thursday and until 10 on Friday and Saturday. Hard work – but it pays off.