Eating Out with Freddie — Corkers Restaurant
Corkers, 1 High Street, Poole BH15 1AB Tel: 01202 681393
Published in April '08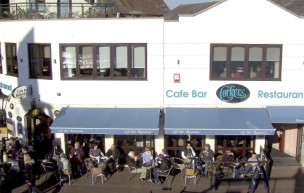 Although Corkers has always been one of Mrs Freddie's and my most highly regarded restaurants, it must be three or more years since we ate a proper meal there. We couldn't think of any reason for this fickle behaviour: it's just the way things turned out. Still, it may be to our readers' benefit that the long interval will have increased our objectivity. Whether or not this was the case, we were delighted to find that we liked it as much as ever.
Perhaps this was because not much has changed. The restaurant has been re-decorated in clean, light colours with stylish lamps and fabrics. But the curtains still remain un-drawn even on a winter's night so that one can enjoy the busy view over the Quay and its channel (while trying not to look at the monstrosity that is the sculpture called 'Sea Music'). The pictures of old Poole on the wall are still there and always interesting.
The thing that made Corkers in our view was when the owners, Nick and Caroline Constandinos, opened up the area beyond the bar some years ago to accommodate more tables. As well as increasing the capacity to more than eighty covers, it makes the restaurant a more interesting shape, gives it more of a buzz when it is full and, when things are quieter, provides a more intimate atmosphere. When we visited, there were an impressive number of diners for a wet Tuesday night in February, but it was still much nicer all to be in the smaller space around the bar, with the main part of the restaurant effectively closed off, rather than scattered around in a larger area.
Given Corkers' position, it is inevitable that the wide-ranging menu includes a lot of fish but this time, it was I who went down that route for my starter. My creamy fish soup was sensational: the first soup I have ever had with a separate sauce on the side. This was a sauce rouille which comprised chilli, garlic, mayonnaise and tomato purée. The idea is that you spoon a little of it into your soup as you go along and, given that the soup is already strongly flavoured, it gives the taste-buds quite a kick as an introduction to the meal. There was also gruyere cheese to sprinkle on the soup, which revealed once again my complete inability to deal with strings of half-melted cheese hanging from my chin; Mrs Freddie suggested that next time, I might ask for a pair of nail scissors alongside a knife and fork.
While I lived dangerously, she went for the calmer option of a veal and bacon terrine. This was very delicately flavoured – so much so that she found that she had to go easy on the good but strong port and orange sauce that accompanied it. There was what she described a 'nicely dressed' salad with it, too.
Mrs Freddie did opt for a fish main course: fillets of salmon, monkfish and sea bass in a lemon hollandaise sauce. Would you eat one at a time or a little of each in the same mouthful? Perhaps the answer gives a deep insight into your personality. Whatever the significance, Mrs Freddie chose the one-at-a-time approach and enjoyed each one, describing them all as 'meltingly fresh'. She said that the sauce, despite its bright yellow colour, was deliciously rich.
The fillet steak in my beef Wellington was as good as you would expect. So often this dish can be let down by stodgy pastry, but not this time, while it was positively enhanced by its very fine red wine gravy. A word of praise, too, for the vegetables, from the deliciously al dente green beans to rich potatoes au gratin.
It was nice to see a good old-fashioned sweet trolley, and even nicer to see the mouth-watering home-made puddings on it. After her rich main course, Mrs Freddie was content with a fruit salad doused in kirsch – 'the ideal way to end a meal,' she declared – while I had a banana crème brûlée which was just what it said, being satisfyingly banana-y, crémeux and brûlée.
We drank a 2006 Sancerre from Joseph Mellot which went surprisingly well with my beef, perhaps having some of the body of a red. The waiter who, with a charming female colleague, looked after us most efficiently rather regretted the fact that it was a screw-top but after some initial resistance, I have now concluded that this must be the most logical and efficient way of sealing a bottle of wine.
The secret of Corkers' success is that it is an honest place. The food is consistently good, it is friendly, cosy and comfortable while being elegant enough to make dining there an occasion, its position is a major plus-point and, at a touch over £25 for an average three-course meal, it is good value, too.