The fall of the House of Stalbridge
Alan J Miller on a father and son who took rather different views of their responsibilities to their north Dorset estates
Published in March '08
Richard Grosvenor, born at Motcombe House in 1837, was a distinguished politician, railway man and local squire who became the 1st Baron Stalbridge
A great gasp of amazement went up from the sea of upturned faces in the crowded saleroom at Gillingham as Sir Howard Frank, the auctioneer, made an announcement from the rostrum as he opened the proceedings on Wednesday 4 September 1918, the second day of the sale of Lord Stalbridge's Motcombe and Stalbridge estates: 'To prevent people coming unnecessarily tomorrow, I wish to announce that all the properties in the town of Shaftesbury as described in the sale particulars are withdrawn as His Lordship has already entered into a contract with Mr James White of London for £75,000.'
The amazement turned to anger, as many of those present who were residents and tradespeople of the town had been led to believe by Major Freame, His Lordship's agent, that they would have the first chance to acquire the freeholds of their houses and premises. Amid cries of protest, Sir Howard pointed to the front of the sale catalogue which said 'Except by sale by prior agreement' and insisted on proceeding with that day's sale.
Only a few of those present would have known how this branch of the Grosvenor family, cousins of the Dukes of Westminster, had come to possess so much of Shaftesbury, but readers of February 2007's Dorset Life will have seen the article by Brenda Innes on that very subject. Now Hugh Grosvenor, the 2nd Lord Stalbridge, was disposing of the great estate of over 13,500 acres which his family had built up over the previous one hundred years. As Shaftesbury people left the hall, there were questions of 'Who is this Mr White?' No answer was forthcoming then or now, for he never existed, but Gaskain and Benton did and these were the two amateur property speculators using the pseudonym 'White' with whom Lord Stalbridge had struck a deal before the auction.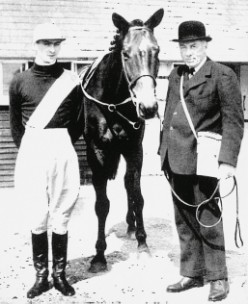 The 2nd Lord Stalbridge with Bogskar and jockey Mervyn Jones after their victory in the 1940 Grand National
Who were they? George Kenyon Benton was a sheep farmer of Westwell, Kent, and Denis Hinton Gaskain was a hop merchant with premises in Borough High Street, London. Their names appear in full on dozens of draft conveyances for properties in Shaftesbury. George Benton's grandson, who sold Ripple Farm at Westwell in 1996 and retired to Australia, has confirmed to me that his grandfather dabbled in land speculation but he never knew where George and his partner, Gaskain, got the financial capital to finance these deals. He could only surmise that they operated a system of 'roll-over' deals whereby they sold on the properties at a profit before they settled the original purchase price.
Shaftesbury Corporation was also displeased at having to deal with 'Mr White', who offered them all the town properties for £80,000, a figure they could not even begin to consider to meet, and it was left to a group of private individuals to raise some money to buy the town market house and cattle market and some business premises. This also caused resentment as many small business people and home-owners felt that they were being sidelined again.
The Grosvenors had acquired the Shaftesbury town properties in 1821 for political purposes. In 1825 they bought the neighbouring Motcombe estate with eight farms, and in 1854 the Stalbridge estate with many more farms from the Marquess of Anglesey. All these properties were to descend in stages to Richard Grosvenor, a friendly, genial man, between 1869 and 1891, during which years he had a distinguished political career. On his resignation from Gladstone's government in 1886 over the Irish question, he was created Baron Stalbridge of Stalbridge for his political services. His mother, the Dowager Marchioness of Westminster, had lived at Motcombe House for many years, but after her death in 1891 he decided to demolish the old house and build a new Tudor-style mansion in local-made red brick with Ham Hill stone dressings at a cost of £60,000.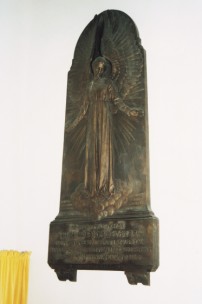 The bronze monument in Motcombe church to Hugh Raufe Grosvenor, only son of the 2nd Baron Stalbridge, who was killed at the age of 25 in a flying accident in Australia
He was also a very conscientious landlord and spent enormous sums of money on re-building most of the farmhouses and their farm buildings on the widespread estate. They remain today, distinguished by the Grosvenor wheatsheaf crest, as do the estate cottages in Motcombe and Westminster Buildings in Stalbridge as a monument to his concern for the well-being of his tenants. This was at a time when English agriculture was at a low ebb with small profits and he would have been unable to see any return on his investment for many years. He frequently had to remit rents to hard-pressed tenant farmers.
Stalbridge was also a man of wide commercial interests and he served as Chairman of the London and North-West Railway Company for twenty years from 1891; he was held in high esteem by the 80,000 workforce for his promotion of a company savings bank and pension fund. He made himself conversant with the design and construction of the latest types of locomotive and it was said that no director rode more miles on the footplate. But his generosity in money and goodwill caught up with him and, in circumstances which are still obscure, he and his wife had to abandon Motcombe House in 1905. They spent the rest of their lives in a flat in Bayswater with strict economies and sacrifices in an effort to keep the Dorset estates intact. He died after a long illness in 1912 and was buried in Motcombe churchyard, a sad end to the life of a man with such genuine concern for the people who depended upon him.
The Dorset estates passed to his eldest son, Hugh, as the 2nd Lord Stalbridge. Then a man of 32 who had a career in the army, he took up residence at Motcombe in 1914, but it was short-lived, for he re-joined the Northamptonshire Yeomanry and was awarded the Military Cross for his service in the First World War. When he returned to civilian life he proved not to be a man of the same temperament or range of interests as his father, having little interest in the running of the estates or commercial enterprise but devoted to sporting activities such as yachting, polo and the breeding of horses for racing. He may have resented the burden which the estates would impose upon him, especially when, after the years of terrible conflict, there was a feeling among high society that life was there to be enjoyed at any cost. Whatever the reason, it led him to start the sale of the estates in 1918. He had married in 1903 and he and his wife Gladys had a son, Hugh Raufe, born in 1904, but it was not a happy marriage and eventually they led separate lives.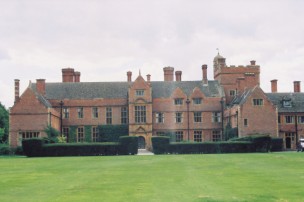 Motcombe House was built in 1893 by the 1st Lord Stalbridge to replace the mansion lived in by his mother, the Dowager Marchioness of Westminster. Today it is Port Regis School.
Lady Stalbridge was concerned that the sales would deprive their son of his inheritance but Raufe, like his father, was an avid sportsman and went along with his father's plans to raise finance for their sporting activities. In 1925, a few days after his 21st birthday, he signed a Disentailing Deed which renounced his life interest and allowed the conversion of the capital from the sales into stock investments. A special company was set up in Canada in 1926 to avoid tax and to provide Raufe with an income while his father was alive. In 1925 he had ridden his father's horse, The Saint IV, to victory in his first steeplechase at Cardiff and won the Cheltenham Gold Cup on Thrown In in 1926, but he failed to win the Grand National in 1927, being thrown at the first fence. He also crewed his father's yacht, Tally Ho, which was berthed at Warsash on the River Hamble where his father had a house, when it won the Fastnet Race in 1927. The following year he took up a post as ADC to the Governor-General of South Australia, where he could indulge his passion for flying, and it was there on 6 January 1930 that he was killed in an accident when his plane went down in the sea and his body was never recovered. His death was a terrible blow to his father, who remained separated from his wife while paying her an allowance of £2200 a year.
The sale of the estates was not completed until 1929 with a succession of sales at which there was little enthusiasm by the tenants to purchase their freeholds. The hard times for British farming had returned: after the First World War, in which the government had encouraged the industry by subsidies and guaranteed prices, it quickly abandoned them and exposed farmers once again to foreign competition.
Lord Stalbridge must have had only a slow return of capital but it did not deter him from pursuing his racing interests and in 1940 he won the Grand National with Bogskar, a horse he had trained himself. He died at his racing stables at Pound Farm near Newbury in 1949, and the barony of Stalbridge became extinct as his only brother Gilbert had died in 1939. Motcombe House had been bought in 1929 by Charlie Prideaux, a local businessman, to save it from demolition, but he never lived there and in 1972 his family sold the freehold to Port Regis School, who had leased the mansion with 150 acres since 1947. The senior girls' boarding house is known as Grosvenor Hall, a reminder of the family and its long association with north Dorset.