On the country house trail
Pat Sheehan re-visits some of his favourite East Dorset houses
Published in March '08
Not many with a genuine passion for Dorset's heritage could be unmoved by its wealth of country houses, manors and historic homes. No palaces survive as such but there are grand designs, some on a lavish scale. Much of our national legacy has been and is still being lost, either to accident or acts of war, declining fortunes or the ravages of time, but Dorset has been fortunate; some gems survive the centuries remarkably unscathed. Others, changing from style to style to keep up with each new trend, hide their old identity behind their clad or stuccoed walls.

A few, despite the sympathetic trappings of a later age, reveal a very different origin. Each has its special character and changing mood, which offer us a window into very different worlds – their architects and artisans, the wealth, the verve and vision of their builders and descendants. Each will cast a different spell on visitors today, depending on their receptivity and temperament. These are just a varied few that drew me in and left a marked impression.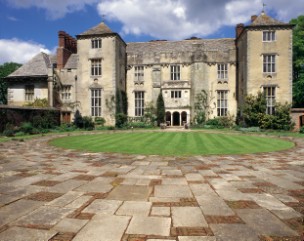 Evident within the fabric of Cranborne Manor are relics of embattled parapets, bow loops and machicolations. There was a great hall, undercroft and garderobe. It is at heart a medieval fortified house, reputedly a Royal Hunting Lodge dating from around 1207, making it one of the oldest and most important secular buildings in the country. Sir Robert Cecil, Earl of Salisbury, wisely made use of the solid structure in his 1605 designs, adding some refinement, taking little. His towers and loggias remain, along with terraces and courts and a subsequent early classical west wing which, with the patina that only passing time imparts, create a vision of renaissance charm and romance.
The sunless northern loggia is for me a haunted place, the greyness lifted in the summer months by white Moschata roses that cling to balustrading. Carved dates and centuries-old initials in shell niches resonate with unfamiliar energies to tease the senses. The depth of history here is more than can be fathomed in a fleeting visit, but the spell is quietly woven to ensure that I return.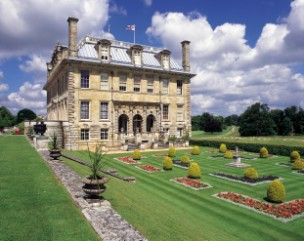 Kingston Lacy is reputed to be the site of a palace of the West Saxon Kings, and in medieval times 'the faire manor' where Margaret Countess of Beaufort, mother of King Henry VII, was born. All had vanished by the time Sir Robert Pratt commenced the red-brick, pedimented Kingston Hall in 1663. This was to be the new seat of Sir Ralph Bankes and his family, dispossessed of Corfe Castle in the civil war. Sir Charles Barry's subsequent extensive alterations for William Bankes around 1840 with complete cladding in Chilmark stone, whilst contriving a house of undoubted classical grandeur, obliterate much of the earlier important 17th and 18th-century work.
This might be the 'palace experience' in Dorset for some but it will be ostentatious for others. The entrance hall appeals to me with its 19th-century medieval flavour and the marble staircase steals my admiration. Nearby, snowdrops grow where Saxon princes hunted wild boar, these winter walks becoming classic new year treats. In 1981, the house, the vast estate and landmark ruins of Corfe were given to the National Trust.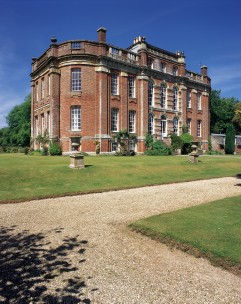 The fortunes of Chettle House, not surprisingly, were bound closely with Cranborne Chase. The Chafin family were rangers there in the time of Elizabeth I, but their early house has vanished. For several generations they retained this lucrative monopoly and took their role as guardians very seriously, by all accounts, but they still found time and energy to lead militia, to delve into national politics and to go into the Church. They were responsible for building Chettle House around 1710. Flamboyant in its vision and construction, in keeping with the concept of the Baroque, it took twenty years or more to build, as most materials were sourced locally, being manufactured and seasoned as required – sound principles which are now being rediscovered.
The unusual classic design in brick with rounded corners and contrasting Chilmark stone was for a while attributed to Vanbrugh, the celebrated builder of great palaces and nearby Eastbury House. Now it is generally acknowledged to be the work of Thomas Archer, who is known to have studied with Italian masters overseas. The state rooms are the epitome of elegance.
Deans Court, a former medieval deanery at Wimborne Minster, was purchased by John Hannam, MP for Poole, around 1550 following the Dissolution. As one of the Commissioners appointed to investigate the Chantries there, he was ideally placed to do so. Nothing remains of the sizeable old manor house now, but hearth tax returns in the 1660s show it had at least 24 fireplaces. The later red-brick classical structure with stone dressings was built by Sir William Hanham in 1725 with the north and east wings returning around the old buildings. The remains were eventually demolished in 1868 to create a new west wing.
Being Wimborne's finest mansion and so close to the town centre, it is remarkably well hidden behind its screen of mature trees, a haven of peace and tranquillity with wild flower meadows and the remnants of old monastic fishponds. Some years ago around midsummer, I was blessed with the chance to be alone there at the start of the day, aware that the sense of timelessness was all-pervading. In those quiet moments of enjoyment there grew perfect peace of mind, untempered by the weight of ownership or thoughts of envy. So that way lies contentment!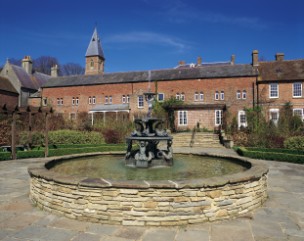 Although the Cistercian Order dates back to St Benedict's simple rule at Cîteaux in 1098, Stapehill Abbey was founded in 1802 by a small group of nuns fleeing revolutionary France. Led by the spirited Mother Superior Madame Rosalie-Augustin de Chabannes, who had narrowly escaped the guillotine, they arrived eventually in England seeking sanctuary. At the heart of the abbey complex is the original 17th-century farmhouse given to them by the sympathetic 8th Lord Arundell of Wardour. In its isolation on the great heath, it had been a Jesuit refuge in former, darker days when Catholic priests risked everything to say the Mass.
Curiously, it is this old house to which I am attracted, and I hold the farm in deep affection. It was here aged nine or ten I brought the cows home from the lower fields on sunny, summer Sunday afternoons; along the lane beside the Flemish-bonded brick enclosure wall. It was the early 1960s with the abbey in its heyday but the world was slowly changing. The red-brick church, the choir and belfry are mid 19th-century Gothic.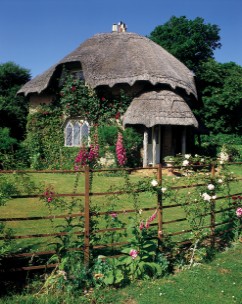 The Cottage Orné at Holt is the quintessence of rural fantasy, and it was one of my earlier successes at calendar photography. Perhaps it was more memorable for me because of a brush with the law in about 1984, which considered my tripod photography in broad daylight an obvious prelude to a later felony, unaware that I had the occupants' permission. The ornamental lodge cottage was built circa 1810 at the entrance to the park of Gaunts House in keeping with a certain fashion of the time. It was popular during the Regency period to have a small, rusticated, thatched cottage in the country as a holiday retreat or as a lodge to a larger house, perhaps mimicking Royal precedent of the summer house for tea at Kew and Windsor.
It is built of brick with the typically ornate and overhanging thatch with cusped eaves and a certain Gothic influence, in keeping with the genre of 'Romantic and Picturesque'. Other examples are the Round-House at Morden and the famous Umbrella Cottage at Lyme Regis. Larger versions include the Regency cottage at Wool and further west the famous Old Came Rectory.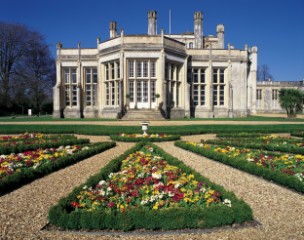 It was the sea views and the chines that drew the smugglers and former Prime Minister John Stuart, 3rd Earl of Bute, who built a villa nearby. He died in 1792 as a result of a cliff fall and his 'High Cliff House' was pulled down in 1794 before the crumbling cliff edge claimed that too. It was his grandson Charles who vowed to restore the estate to its former glory in 1830, using demolition materials from the French Manor House of Andelys and the Abbey of Jumièges.
As a fine example of the 'Romantic and Picturesque', Highcliffe Castle enjoyed a century or more of gracious living before the tide of fortune turned. The fall from grace was hastened by two devastating fires and decades of neglect. It is my regret that I never went to photograph the ruins in all their Gothic melancholy but it is comforting to see the weather-beaten oriel restored, gazing as ever on the Needles. The holm oaks cloak the cliffs most pleasingly and must give some respite from constant coastal erosion.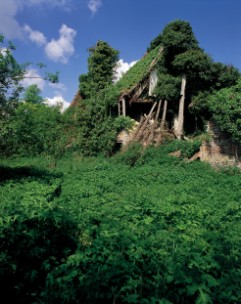 The way of all things and a salutary reminder of what happens when resources evaporate or the will to save fades. Once, Charlton Dairy Farm at Woodlands was a substantial 17th-century farmhouse of two storeys, built of brick with banded flint. Ominously, it bounds the nearby settlements of Brockington and Knowlton, which have almost vanished. However, it didn't miss the scrutiny of the Royal Commission on Historic Monuments, which in 1973 reported it as being in an 'abandoned and ruinous state'.
In the mid-1980s the skeletal remains could be seen from Knowlton Rings and, although ruins are potentially a fatal fascination for the unwary, incautious youth and natural curiosity attracted me to marvel at the way that nature, given less than half a chance, will move insidiously to tear a place apart. A swarm of bees evicted me and I never ventured back. Nearby, Witchampton's former 13th-century Manor House lies in ruins beside the River Allen, despite the Royal Commission's plea that it should be saved: another shutter closes on a window to the past.