Mrs Frampton's bustle
Jeany Poulsen gives a taste of life in Georgian Dorchester and finds that evidence of developments at that time can still be seen today
Published in February '08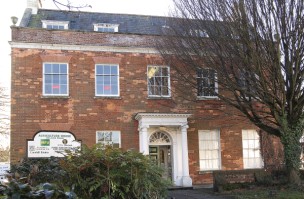 Formerly known as Wollaston House, what is now Agriculture House was used as the Hardye's School junior school from 1947 to the 1970s.
Mrs Phillis Frampton was passing a quiet afternoon at home in Dorchester in September 1799 when she happened to glance out of her front window and saw none other than the King himself at her garden gate. King George III was with his fifth daughter, Princess Sophia, and their attendants. Later, writing to her sister-in-law of her embarrassment, Mrs Frampton described the royal visit as 'most unexpected, and totally without any preparation'. The first reaction of this highly respectable, twice-widowed lady of the house was not altogether calm and collected, though entirely understandable in the circumstances: 'I screamed out, threw down everything about me, and flew out to them.'
She was met by the Hon. Lionel Damer, who warned her that the Queen, three other Princesses and their suite were also following on behind, Phillis, all a-fluster, hurried back inside to prepare the drawing-room and make arrangements for refreshments. 'By this time,' she wrote, 'they had all arrived, and I ran through the house to meet them at the front door.' The King surely added to her discomposure by calling out, 'Well run, Mrs Frampton.'
Her pleasant house, quite large by Dorchester standards and of brick under a slate roof, had been built in 1786 for Robert Stickland in what is now the town centre. It was known as Wollaston House after Mrs Frampton's first husband, Charlton Wollaston. According to her daughter Mary's Journal (published 1885), Dr Wollaston was 'a very scientific man, and his death was occasioned by opening a mummy, he having previously by accident cut his finger.'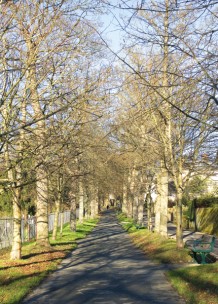 West Walk. The last remains of the Roman town walls had been cleared and replaced with the famous tree-lined Walks between about 1712 to 1743
Used as offices, the house is still a familiar, if rather over-exposed, landmark to those driving through to the Waitrose car park from High East Street, although one wonders how many people appreciate its fascinating history, especially since it was re-named rather boringly 'Agricultural House' by the NFU some years back. Ironically, it was to this same house that the six leading members of Tolpuddle's soon-to-be-famous 'Agricultural Labourers Friendly Society' were first taken for questioning in February 1834 by James Frampton of Moreton House and his step-brother, Charles Wollaston, before being thrown into Dorchester Goal to await trial.
Sadly, over the years the house has been shorn of its gardens, garden wall and fields once extending across to South Walk, which was laid out with Salisbury Fields in 1743; West Walk, Colliton Walk and Bowling Alley Walk had been laid out and planted back in about 1712. Altogether they mark the walls of Roman Durnovaria and even in Georgian times, and later, still marked the extent of the town. Mrs Frampton's Royal party of 1799 'proposed walking, and we all went through my fields to the walks round great part of the town…and they seemed much pleased….My garden and field were full of people to view the Royal Family.' Passing along South Walk, the party would probably have seen South Lodge (c. 1760), another detached, attractive house of similar size, but rendered, which still graces that part of the town.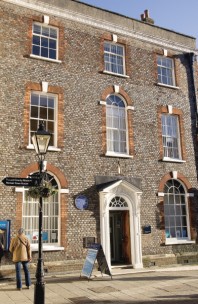 A fine late 18th-century house in South Street confidently demonstrates the decorative qualities of the then newly-popular brick
Over the centuries Dorchester had suffered greatly from a series of fires and Lucia Boswell Stone, writing in the 1890s, talks of her father's vivid memory of walking into town just before that of 1775: 'He was particularly struck by seeing the Mayor and Corporation sitting on fallen trees and debris…. The body corporate were smoking pipes and drinking Dorchester beer, a brew for which the town was famous then and long after. They were in full debate about how to restore the many houses destroyed by the fire.'
After this, thatched roofs were no longer allowed in the borough. Brick under slate, after centuries of the traditional thatch, local stone or timber-framing (such as 'Judge Jeffreys' on High West Street), would at first have seemed quite shockingly modern and brightly-coloured in 18th-century Dorchester, although the relatively well-travelled gentry would have seen its widespread use in counties to the east and in London long before. Brick had many advantages: it was fireproof, easily handled, versatile and highly decorative, and was widely used in the town from the 18th century both for new buildings and for re-fronting, a cheaper means of updating old properties. Many relatively unspoilt examples of both can be seen in High West Street; the clue is often in the roof-line behind the façade.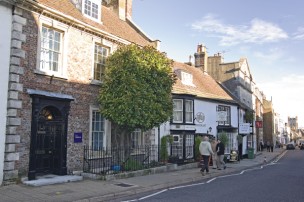 Many of these High West Street houses were re-built or re-fronted in the Georgian period, in marked contrast to the low, old houses they replaced
Brick was the perfect material with which the town's wealthier inhabitants could express their status, confidence and prosperity. The late 18th-century brick building on South Street (used by Hardy as the Mayor of Casterbridge's home and occupied since 1922 by Barclays Bank) is a particularly fine example whose façade has remained remarkably intact, unlike those elsewhere on the street now pierced by modern shop-fronts. As one architectural historian said, the building 'has an unmistakable air of superiority.' However, exposed brick was losing favour elsewhere, and the new Shire Hall of 1796-7 was built in High West Street with a Portland ashlar façade.
When Daniel Defoe had visited Dorchester back in the 1720s, he had described the streets as 'broad, but the buildings old and low'. Despite the numerous 18th-century improvements to the town, it would be wrong to imagine a complete transformation. Lucia Boswell Stone, born in High West Street in 1806, later recalled her childhood Dorchester as 'a quaint, old-world looking town: there were many small houses in odd nooks and corners; several very inconveniently close to the churches. One I especially remember on the south side of High Street, with pointed stone gables, over which an old grape-vine grew luxuriantly.'
At some unknown date the old Roman road leading directly east from Dorchester had fallen into disuse. It was replaced by a less convenient, circuitous route from the bottom of High East Street, up past Fordington church and across the Frome via the 'Old Bridge' that used to stand east of Fordington Mill. The terrain on this side of the town was marshy and liable to flood, hence presumably the old name for King's Road, Fordington: 'Standfast', where carts were forever getting stuck in the mud.
In 1746 an Act of Parliament was passed enabling Mrs Laura Pitt (née Grey) of nearby Kingston Maurward to have built a new bridge and a 1980-foot-long causeway across the 'moor' from the bottom of High East Street, thus providing some much-needed employment for the Fordington poor. Her £1500 London route, which almost matches the Roman one, is that used today, still passing over Mrs Pitt's 'Grey's Bridge'. The flow of traffic through Dorchester itself was eased by the demolition of inconveniently-sited houses and an Act of Parliament was passed for paving, lighting and watching the town. Sadly the 'spacious and handsome town hall, with a market house under it' has not survived. Built in 1791, its archway bestrode the entrance to the Bullstake (North Square).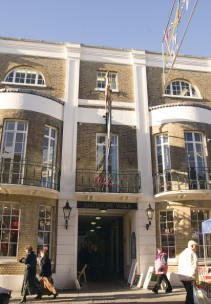 The Antelope and the nearby King's Arms were both re-built and enlarged in the early 19th century to handle the greatly increased coaching trade
Encouraged by the gradual improvement in the roads nationally, wealthy people started to travel for pleasure as well as necessity. Dorchester's economy and society greatly benefited from its position on the busy London-Exeter-Falmouth and London-Weymouth coaching routes, boosted by the Royal patronage of Weymouth which transformed that little seaside town into a fashionable resort. In the early 1800s Nelson's sea-captain, Thomas Masterman Hardy, often wrote to his Dorchester brother-in-law, John Callard Manfield, asking for a bed to be booked at the King's Arms as he would be travelling from London on 'The Mercury' or 'The Mail'. He also used 'Russell's Waggon' which had an office in the town, for sending various items to and from London including shirts, 'plows', a shrub, food, and of course the local beer. (Solicitor Manfield lived with his family in South Street; he became first an alderman, in 1801, and in 1804 Mayor of Dorchester.) Captain Hardy doesn't appear to mention the other major coaching inn, the Antelope in Cornhill, which was re-built in buff-yellow brick around 1815 with elegant and highly fashionable two-storey bay windows.
At ordinary, twice-yearly fairs, the High Street was full of cattle. Lucia Boswell Stone wrote that 'it was really dangerous to go down the street, especially for women…I was never allowed to stir out.' Captain Churchill, a family friend, died after being knocked down by a cow during the fair. The sheep fair was held in what is now Trinity Street. 'There were sheep pens across the road the whole way, only one narrow street reserved for passers-by.'
As for Mrs Frampton, after their walk she conducted the Royal party into her 'eating-room, trembling lest the Collation should not be as it ought'. This went well but her ordeal wasn't over yet: 'After the repast the female part went into all the bedrooms, and approved and looked at everything, everywhere….They stayed about two hours, and I hear from various hands that they were pleased with the day's amusement and thought all was so well conducted. This gives us comfort after our bustle.' Phew!