Dorset's first Labour MP
The 1962 South Dorset by-election highlighted bitter divisions in the Conservative party. Jason Tomes tells the story of an intriguing political drama.
Published in January '08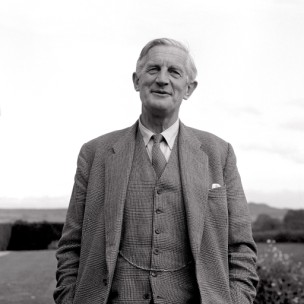 Piers Debenham, who split the Conservative vote by
standing in the by-election as an anti-Common Market candidate
How Britain should stand in relation to European integration has been a contentious question for decades. Current debate centres on whether or not to hold a referendum on the treaty that may or may not be tantamount to a European constitution. Forty-five years ago, the argument was over whether Britain should enter the European Economic Community (EEC) at all – and the voters of South Dorset briefly took centre stage.
Harold Macmillan's Conservative Government, resigned to the end of Empire, thought it time to join the continental bloc that everyone then called the Common Market. Edward Heath was negotiating in Brussels when in June 1962 a Parliamentary vacancy occurred. The rebellious and popular Victor Montagu – known as 'Hinch' from his courtesy title of Viscount Hinchingbrooke – had been Tory MP for South Dorset since 1941. He found himself elevated to the House of Lords on the death of his father, the Earl of Sandwich. Conservatives selected ex-MP Angus Maude, originally from Yorkshire, to replace him. The by-election looked a safe bet: South Dorset had been Conservative ever since 1910.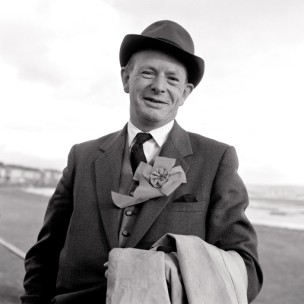 Angus Maude was the unsuccessful official Conservative candidate.In the following year he became MP for Stratford-upon-Avon on the resignation of John Profumo and later was Paymaster-General in Margaret Thatcher's first Cabinet.
It was therefore front-page news in the national press when a surprise Independent candidate emerged. Sir Piers Debenham from Briantspuddle, an opponent of British membership of the EEC, said that he wished to give people a chance to express their views on the matter. Some journalists depicted him as a simple country squire, fonder of trees than of politics. That was not altogether accurate. A cousin of Neville Chamberlain and erstwhile heir to the department store chain, Debenham had worked as a Government economist and tried to enter Parliament as a Conservative in Birmingham in 1950. He served locally as a county, district, and parish councillor and, six years earlier, as president of South Dorset Conservative Association.
The divisiveness which his candidature caused among Dorset Tories increased dramatically when he secured the endorsement of the new Lord Sandwich. Hinch, a fervent Imperialist, detested the Common Market. Loyal Conservatives called him a traitor to the party. Their candidate put on a brave face. 'I have known Lord Sandwich for long enough,' said Maude, 'not to be greatly surprised by anything he does.' Macmillan classed Sandwich (who had just become his brother-in-law) with 'the small group of people who really hate me'.The by-election was going to be livelier than expected, and television crews arrived to film it. Further interest arose from three other Independent candidates: a soldier, a sailor and an airman, who had learnt that standing for Parliament would earn them an automatic discharge from the services. 'It's a big fiddle,' one of them admitted on leaving Bovington Camp.
Electioneering in South Dorset in 1962 meant dozens of small meetings in school-rooms and halls from Chickerell to Swanage, plus larger rallies at the Alexandra Gardens Theatre in Weymouth, where the principal candidates had headquarters in promenade hotels. Lord Hailsham and Iain Macleod came to speak for the Conservatives; Harold Wilson and Bessie Braddock for Labour; Jo Grimond and Jeremy Thorpe for the Liberals.
The chief novelty was nevertheless the improvised Debenham campaign, with its crimson rosettes and hand-painted posters: 'Put Country before Party: Speak for England'. Encouraged by the Daily Express, anti-marketeers flocked from afar. Sir Piers laid stress on preserving the British Constitution and attacked the EEC as a federalist bureaucracy, 'set up by people who are frightened of their own democracy'. He was serious and sincere, but not an orator. Lord Sandwich, by contrast, provoked cheers and boos with his rhetoric. Defying Tory hecklers in Wareham, he extolled the magic of the Commonwealth and asked: 'What is wrong with the Government that it should take us crawling into Europe when in two world wars we fought like tigers for our independence?'
Nobody presented the pro-EEC case with anything like the same zest. This was because all three political parties were divided over the Common Market to varying degrees. Lawrence Norbury-Williams, the Liberal candidate, occasionally twitted the Conservatives with being late converts to Europeanism. More often, he avoided the subject and presented the Liberals as the only true party of change: 'The cobwebs must be swept away.'
The Labour Party was more hostile to EEC entry. Its leader, Hugh Gaitskell, had said it would mean the end of a thousand years of history. The smart young Labour man in South Dorset managed the issue cleverly. Guy Barnett, an Oxford-educated teacher who had lately been an aid-worker in Kenya, did not wholly rule out British membership, as that would have upset pro-Europeans in his party, but he set impossibly stringent conditions for entry. Farmers were warned that joining on the current terms would put a quarter of them out of business. When he could, though, Barnett preferred to talk about the cost of living, economic planning and science (with an eye to workers at the new atomic energy establishment at Winfrith). His campaign hardly had a flying start – there were only seven in the audience at Littlemoor when he made his first speech – but Labour escaped the sort of turmoil afflicting the Conservatives.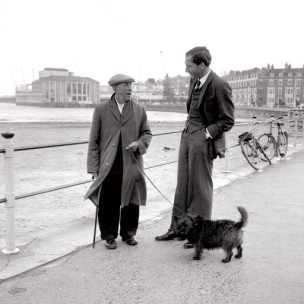 Guy Barnett, the Labour candidate, canvasses a constituent on Weymouth's windswept promenade.He lost the seat in the General Election of 1964 but sat as Labour MP for Greenwich from 1971 until his death in 1986.He held junior ministerial office towards the end of the Callaghan administration.
Angus Maude had to back Macmillan's pro-EEC policy, though privately he was sceptical. His tactic was to declare it premature to decide on the Common Market till the negotiations in Brussels were complete. When this failed to sideline the issue, he accused Lord Sandwich of pursuing a private agenda: Hinch hated being 'kicked upstairs' to the Lords, so he was hoping to use an Independent to keep his Parliamentary seat warm till a change in the law allowed him to disclaim his peerage and get back into the Commons. On this theory, Debenham was a proxy candidate – 'the Ham in the Sandwich,' joked Maude, who reportedly lambasted 'this slightly scatty stooge' as 'a megalomaniac moron'.
Such name-calling did not go down well, but Tories took heart from opinion polls showing them 9 per cent ahead of Labour. On polling day, 22 November, the Daily Telegraph asserted: 'There is no doubt the Conservatives will hold South Dorset.'Yet at midnight, Labour supporters outside the count at Weymouth Pavilion sang The Red Flag. Sensationally, Dorset had elected its first-ever Labour MP by a margin of 704 votes. 'We have broken through,' said Harold Wilson, 'in one of the most completely loyal blue Tory areas in the country.'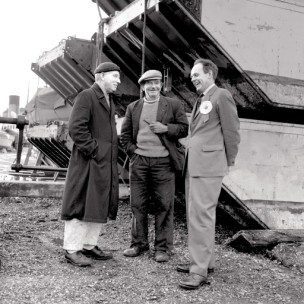 . Lawrence Norbury-Williams, the Liberal candidate, canvassing in the harbour area at Weymouth
Conservatives instantly blamed their defeat on Debenham, who had come fourth with 5057. Even more, they blamed Sandwich for backing him and splitting the Tory vote. Sir Piers, unrepentant, said that he would rather see a Labour Government than Britain in the EEC. There was speculation that fifty anti-Common Market candidates could be the deciding factor at the next general election. Macmillan called this hysterical and drew satisfaction from the fact that the combined vote of the parties in favour of going into Europe (Conservative and Liberal) exceeded that of those against.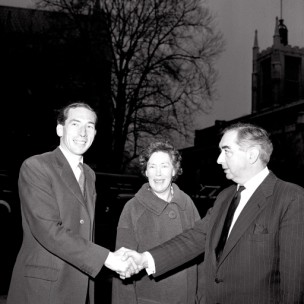 Guy Barnett, accompanied by his mother, is greeted by George Brown, deputy leader of the Labour Party, as he arrives to take his seat at Westminster
The impact of the by-election did not last long. Just seven weeks later, President de Gaulle of France vetoed British membership of the European Community, postponing the question for a decade. South Dorset reverted to the Tories in a three-party contest at the general election of 1964, and the constituency did not regain the political limelight until it once more became a marginal in 1997.